In the late 1980s and early 1990s the rug industry began to see an increased number of traditional broadloom showrooms expanding into the area rug market, thus adding another layer of competition to the specialty rug showroom that continues to this day. This was a logical next step—the natural progression if you will—as the broadloom industry sought to capture more sales.
For example, customers wanting to install wall-to-wall broadloom in the bedrooms of their home could now find an assortment of area rugs for their living and dining rooms in the same shop. While the selection of rugs was perhaps not as unique and upmarket as that which could be found in a specialty shop, convenience often prevailed, as did the competitive pricing offered by pooling all of the business with one vendor. In short, broadloom dealers expanded their business by offering lower price point rugs as a complement to their usual fare.
"I would have customers who were not able to be fully satisfied because I didn't have broadloom to complement the rugs I was trying to sell." begins Rosalind (Roz) Rustigian of Rustigian Rugs in Providence, Rhode Island—a family run showroom since 1930. "And in the end I would end up losing not only the rug sale, but also the broadloom—which I didn't carry at the time—because it was just easier [for the customer] to do it all in one place." This changed for Rustigian when in the mid 1990s she had an epiphany of sorts during ORIA's National Oriental Rug Show at AmericasMart in Atlanta. "Nourison (then known as Noury and Sons) won an America's Magnificent Carpets® Award for a power-loomed rug, and I could barely believe it. I knew that was the moment to act, I could see the writing on the wall, and I knew I had to make changes immediately."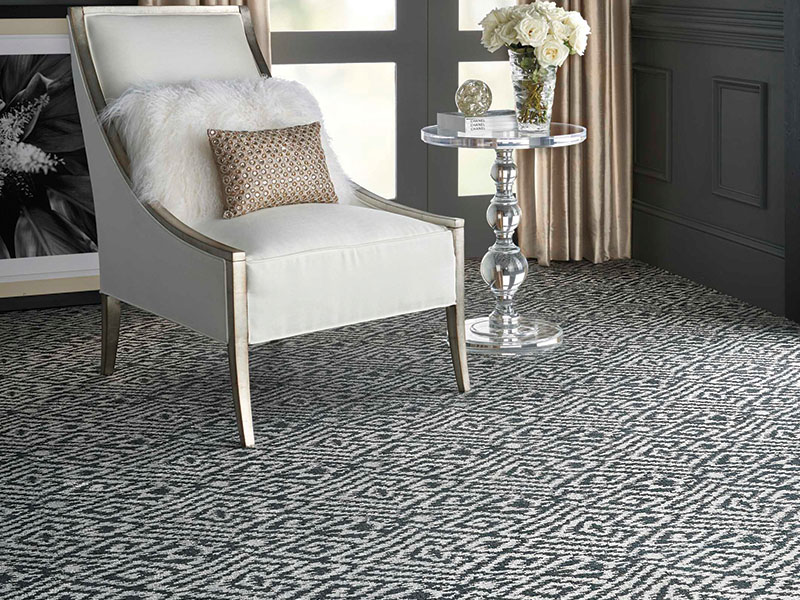 Twilight Jakarta in color Obsidian (shown above) is an Axminster woven broadloom product from Nourison available as part of their "Fifty to Infinity" custom program which offers hundreds of styles and colors in fifty standard sizes and shapes of fitted area rugs as well as custom. Lead time for a rug is approximately two weeks. Programs such as this are a great complement to handmade rugs and carpets allowing clients to be best satisfied, regardless of their overall requirements.
When Rustigian returned home that winter she gutted and renovated the second floor of her shop installing a broadloom gallery. Instead of directly following the model adopted by the broadloom dealers, she opted instead to offer broadloom which complemented her selection of higher-end handmade rugs and carpets—essentially reversing their model. This proved quite successful with her business in broadloom growing from zero dollars in sales to over six figures in just a few short years. Now on equal footing with the aforementioned traditional broadloom dealers, Ms. Rustigian was able to satisfy those customers who wanted a high-end area rug and complementary installed broadloom, as well as fitted rugs—the industry term for area rugs assembled from broadloom. "The work is the same…" Rustigian concludes, "…and just like a really good waitress I was able to increase my average invoice without [much] additional effort."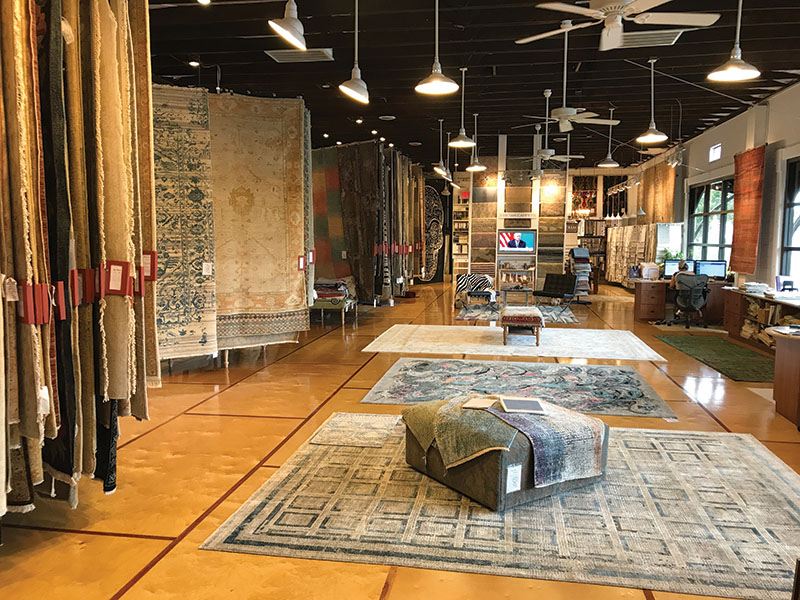 Fine Rugs of Charleston is the showroom of Rob Leahy located in Charleston, SC, and like Rustigian's before the epiphany, it was doing appreciable business in handmade up through the mid-aughts of this century. "We were doing a lot of really nice hand-knotted rugs up until about 2005-2006 when our customers started requesting more all-over repeating designs or perhaps something abstract." This corresponded with the emergence of broadloom makers who found they could design a fitted rug, assemble it from stock rolled goods, serge or bind the edges, and satisfy the customer just the same. "Roz all but twisted my arm, in her own way, insisting I add broadloom to my offerings." says Leahy "I don't do a lot of installed wall-to-wall carpeting but we do really good business with fitted rugs as well as stair-runners." He further credits his weathering of the 2008 recession to his broadloom business. "It really saved my shirt." He bluntly states.
Stair-runners are one of Fine Rugs of Charleston's major uses for broadloom with the firm installing two to three stairs per week. While it is certainly possible to make a hand knotted stair-runner even for curved, angular, or other complex sets of stairs, the immediacy—and price advantage—of broadloom means that relatively instant satisfaction is available for those customers unwilling or unable to wait. Leahy again, "[For our customers] this is often the final redecorating cycle as they settle into late retirement and the decision maker in the family tends to get what they want." Whether that is a fine handmade runner for the stairs and a Tibetan weave carpet for the living room or a purpose made machine-made stair runner and a stunning fitted rug with hand-serging, showrooms that offer both are able to capture the sale.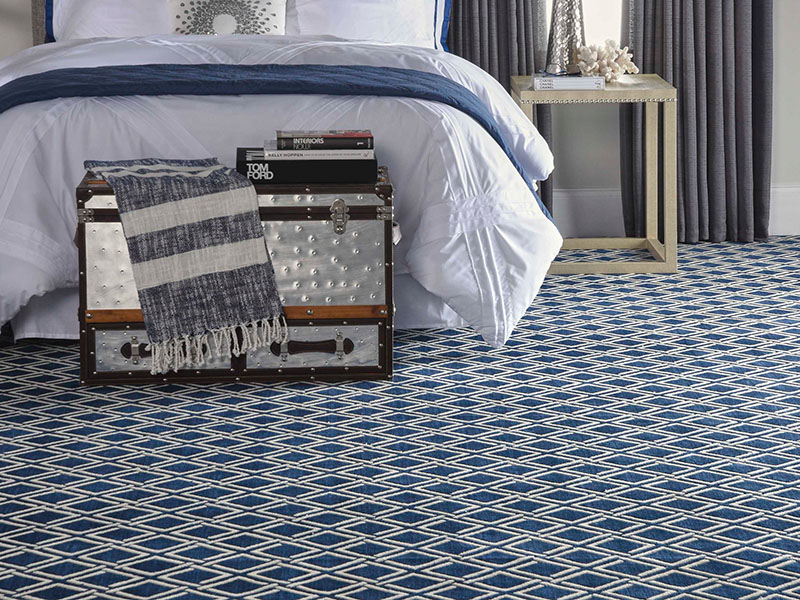 The addition of broadloom to a traditional specialty rug showroom may seem antithetical to some, robbing Peter to pay Paul as the saying goes, but on the contrary, broadloom offers features and benefits handmade cannot, allowing retailers to best satisfy the demands of today's consumers. "Time and flexibility in size are the two biggest factors." according to Leahy. A fitted area rug can be delivered in about two to four weeks whereas a custom handmade rug can be six months or more. Factor in other concerns such as pricing and performance and in many circumstances, broadloom is simply the better option.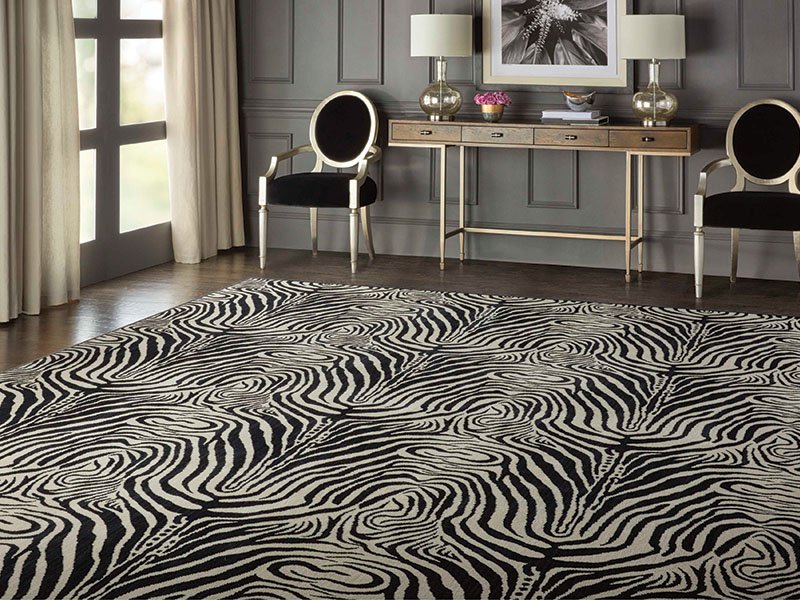 WILDLIFE PLAINS ZEBRA IVORY (above) Fitted area rugs assembled from broadloom offer competitive delivery times and pricing allowing dealers to assuage hesitation when customers want to go bold as with this rug from Nourison.
There are numerous North American based broadloom manufacturers as well as those from abroad who supply both Rustigian and Leahy. Stanton, Mohawk and its Karastan division, Prestige Mills (a division of Stark), Momeni, and Nourison are all vendors whose names surface repeatedly when discussing broadloom in a rug showroom. Most offer various degrees of customization programs allowing a retailer to order in a completely finished fitted rug without the need to have a workroom, owned or sub-contracted, though Leahy does caution that not all companies are created the same. "When you are dealing with a repeating pattern that the customer wants situated in a particular way, it is often better to order in the raw goods and do the work locally, but most of the manufacturers are catching on and improving the attention to detail in their work."
If for no other reason than being the impetus for change so many years ago, Nourison deserves a mention again for their forward-looking "Fifty to Infinity" program which offers high fashion fitted rug collections from traditional to contemporary, perfect not only for today's consumer habits but for retailers looking to enter the fitted rug and stair runner business. The firm is able to deliver a finely crafted rug, sized to fit, in two weeks or less. "Designers and discriminating consumers love the idea of customization, but don't like the long lead times usually associated with custom [handmade] rugs. Our Fifty to Infinity program allows the flexibility and high quality of custom but with a far more attractive, shorter turnaround," according to Gerard O'Keefe, Vice President of Sales at Nourison.
The quality standard for "broadloom" has continued to rise over the years and shows little to no sign of relenting.
Fitted rugs, stair runners, and even installed wall-to-wall now offer features that until a few years ago were all but unheard of. Options such as hand-serging and hand-binding now add a more crafted look to a finished rug and many companies now even offer Indian made handloomed rolled goods that can be finished by hand in North America yielding an attractive rug at a fraction of the cost and lead-time of a hanknotted piece. Further advances such as the remarkable rugs of Zarbaf Carpet in Iran further push the boundaries between hand and machine by producing power-loomed rugs made with hand processed and dyed wool, which are then finished by hand, including the addition of hand-tied fringe. While those who truly appreciate and admire handmade may argue it will never fully disappear, the market and global labor conditions are trending toward a greatly reduced presence, and so it seems dealers looking toward the future should be prepared to offer a breadth of selection which includes complementary broadloom.
Images courtesy of Nourison and Fine Rugs of Charleston