Capel Rugs is rolling out a large assortment of new rugs in the Capel Rugs showroom from April 2 to 6 at the April High Point Market in Market Square, Space 112. The new rugs represent a wide range of constructions, styles, and price points, and offerings include fresh braids, updated Oushak and Gabbeh patterns, and much more. The biggest introduction that Capel has made in recent years, these new rugs are designed to give retailers the stylish, high-value products they need to refresh their floors and drive traffic and business back to stores.
"Retailers are hungry for dynamic new rug designs," said Cameron Capel, president of sales and marketing for Capel Rugs. "Because of the many supply chain challenges brought about by the pandemic, their shelves have become bare. But now that the threat of Covid is waning, they are ready to restock and ramp up their merchandising activity with creative new designs."
Capel Rugs is expecting a busy High Point Market based on the volume of showroom appointments being made in advance of the show and the extra level of effort it has put into this season's product development.
"During the height of the pandemic, a lot of products we had in the pipeline had to be put on hold," Capel said. "Now, we're finally able to move these plans forward. As a result, at this market, we'll be showing a wonderfully eclectic mix of rugs, from high-value machine-made rugs and elegant hand knots to stylish new braids, updated Oushak patterns and subtle abstracts. There truly will be 'something for everybody,' which is welcome news to retailers and designers looking to create excitement for their customers."
Leading off the product parade will be Verve, a new hand-knotted collection from India made of 100% wool. The initial introduction will feature two colors - silver multi and ecru multi - with more colors likely to follow at future markets. Six sizes are available, including 2'6" x 9', 3' x 5', 5' x 8', 9' x 12' and 10' x 14', and a 5' x 8' model may retail for under $1,299.
"The Verve collection lives up to its name," Capel said. "These designs are distinguished by their vitality, energy and liveliness. Unexpected accents on understandable fields create a fresh approach for these updated Oushak patterns."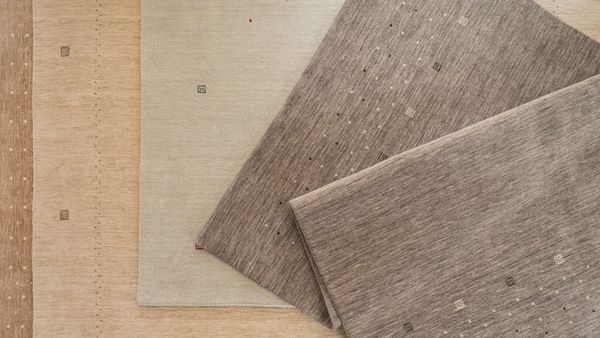 Also new is Gabby (shown above), a new hand-loomed collection made in India of 100% New Zealand wool. Simple yet elegant, Gabby's subtly colored Gabbeh patterns combine abstract geometric designs on open fields of color. Four colorways are available -- granite, linen, oatmeal and wheat. Sizes include 2'6" x 9', 3' x 5', 5' x 8', 8' x 10', 9' x 12' and 10' x 14'. A 5' x 8' rug may retail for under $729.
Hand-tufted in India, the new collection Camille uses 100% wool loop pile yarns, featured in four colorways - moss, pewter, icy blue and flax - with two classic motifs, including damask and quatrefoil designs. Camille is available in 2'6" x 8', 3'6" x 5'6", 5' x 8', 9' x 12' and 10' x 14' sizes. A 5' x 8' rug may retail for under $359.
Two new braided collections made in the U.S.A. also will be in the spotlight in the Capel Rugs showroom this market. Naturelle is an all-natural, undyed 100% wool area rug. The six-ply yarns provide strength and durability in this reversible rug with a thick, inviting texture. More than a dozen different sizes are offered, and the mix includes ovals, rounds and runners. A 5' x 8' rug may retail for under $679.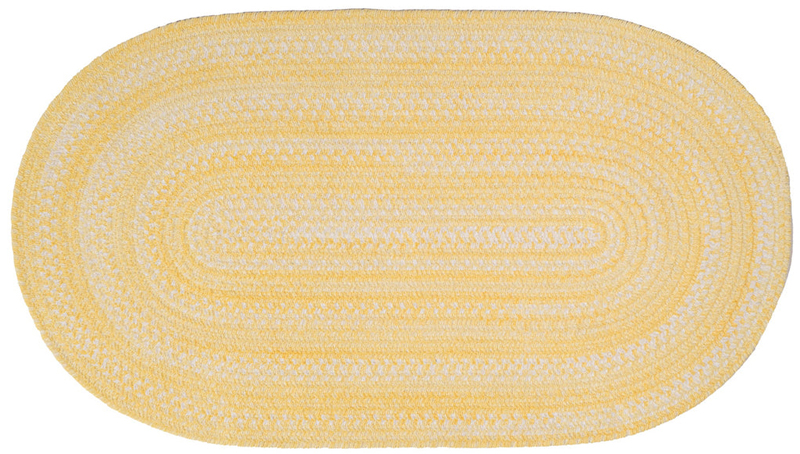 The second new braided design is Bambini (sunshine colorway shown above), a super-soft, 3/8"-pile cotton chenille rug crafted for children's rooms. Bambini comes in six colorways - aquamarine, cloud blue, periwinkle, sunshine, cool gray and pretty in pink - that are comforting and pleasing. The rug is reversible for extended wearability.
Bambini is offered in a wide range of sizes and shapes, including ovals, rounds, squares and runners. A 5' x 8' rug may retail for under $629.
In addition to these new designs, Capel Rugs also is introducing several other collections and line extensions this market:
Jardin is a new collection of colorful floral patterns in 100% wool with a tufted loop pile. Made in India, three colors are available -- rosa, fiesta and multi -- along with three sizes -- 5' x 8', 8' x 10' and 9' x 12'. A 5' x 8' rug may retail for under $449.
Zagros is a traditional, hand-loomed Gabbeh construction made of 100% New Zealand wool that features minimal patterning with simple, stylized figures and shapes. Three on-trend colorways with rich, saturated tones are offered -- verdant green, steel gray and cobalt blue. Zagros is available in 2'6" x 9', 3' x 5', 5' x 8', 8' x 10', 9' x 12' and 10' x 14' sizes. A 5' x 8' model may retail for under $729.
Avery, a new machine made collection in 100% New Zealand wool, features five patterns with a high level of detail and a vintage, laid back vibe. The range of earthy, subtle colorways includes stormy gray, stone multi, onyx/cream, slate/linen and merlot. Avery is available in 3'11" x 5'6", 5'3" x 7'6", 6'7" x 9'10", 7'10" x 11' and 9'2" x 12'5" sizes. A 5'3" x 7'6" model may retail for under $729. The collection is made in Moldova on Wilton looms.