As the 40th anniversary year of Kalaty Rug Corporation's founding in the USA draws to a close, the company is capping off the end of this milestone year with the debut of two new-and-exciting full-color catalogs that showcase the company's vast, impressive area rug product line.
Kalaty's ever-growing line of high-end handcrafted heirloom-quality rugs is chronicled in a 400+-page comprehensive catalog covering Kalaty's ever-growing line of high-end heirloom rug collections, which range from traditional to transitional to modern designs and styles. This comprehensive catalog also includes Kalaty's three high-fashion decorative accent pillow collections as well as Kalaty's versatile, designer-friendly custom-color rug program. Kalaty has also produced the company's first standalone catalog featuring its 15 popular K-TWO collections of fashion-forward rugs in all style genres, weaves and constructions at more affordable price points. Both of these new catalogs will be ready to distribute to customers this month as well as being available at the upcoming January markets in Atlanta and Las Vegas.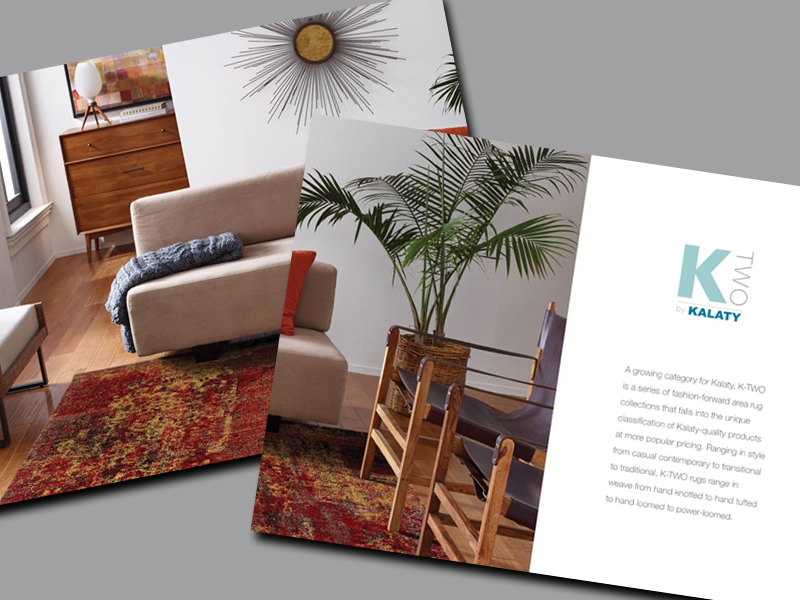 Among the company's most notable anniversary-year highlights: At the beginning of 2019, a new generation of Kalaty family members – Gabriel Kalaty, Warren Kalaty and David Kalaty – officially joined the company. Having this next generation enter the business during this all-important 40th anniversary year helps to emphasize that there's a bright future ahead for this family-owned-and-operated company.
Another anniversary milestone was the company's April 2019 return to the High Point Market, where a grand-opening party and designer seminar served as one of several combination at-market anniversary celebrations that were held at shows over the course of the year. "Not only did our return to High Point help us commemorate this important anniversary year but it also helped us send a strong message to existing and potential customers confirming our commitment to serving them at this all-important market," says Ramin Kalaty, company president. "And, at the fall High Point market, Kalaty chose to present more new product than it has ever shown previously at High Point in order to further showcase the depth, breadth and strength of our product line to our High Point customers."
Simultaneous to producing two significant new catalogs during its 40th anniversary year, Kalaty has overseen a vast website "remodeling" project, which has included a number of new tools and tech features that make the Kalaty website more user-friendly than ever. In addition to website updates, the company has also updated and added tools to its popular Kalaty app.
"Not only is our newly updated Kalaty.com faster but visitors to our website will now find it easier to navigate with such new tools as the ability to click on any rug in the line and be able to see it in a variety of room settings," says Ariel Kalaty, a company spokesperson. "And, in addition to updating our website, we have made major updates to our Kalaty app, one of our customers' most popular and most often-utilized marketing and business tools. Available for both Apple and Android devices, our dealers are able to access and check orders, make payments, track and check shipments, communicate with us via the app in addition to the ability to navigate through our vast rug collections."
The Kalaty family Oriental rug business originated more than 100 years ago in Iran under Mirza Kalaty's grandfather. Mirza Kalaty established the company in the USA in 1979, and today he and his five sons – Ramin, Mike, Farshad, Ariel and Kamran –run the company along with a new generation having recently entered the family business. Kalaty Rug Corporation continues to progress through design, innovative coloring and finishing, as well as through its commitment to provide customers with heirloom-quality area rugs and unparalleled service. Kalaty consistently maintains a vast inventory of area rug collections in a wide range of designs, colors, sizes, weaves, constructions and shapes. The company also takes pride in offering same-day shipping on most products.
Kalaty showrooms include: New York (295 Fifth Avenue, Suite 508), Atlanta (AmericasMart, 4-G-14), Las Vegas (World Market Center, B-455) and High Point (IHFC, G-369).
Published verbatim courtesy of Kalaty.