Area Rug exhibitors are moving into new showrooms and displaying tons of fresh product at the fall High Point Market.
The last High Point Market came at the perfect time—right as the CDC lifted mask requirements. But masks or not, everyone knew it would be a successful market.
Even though COVID-19 restrictions are tightening across the country, the rug industry is still looking forward to a stellar fall show. There's sure to be plenty of introductions on tap, and even new showrooms as rug exhibitors expand their offerings and aim to reach new customers.
This October market Harounian Rugs International (HRI) will host a grand opening event for its new showroom located in the IHFC Space D-431.
"The new showroom is more than double the size of our old showroom, allowing us to display our entire line and new introductions in not only full rugs sizes but sample swatch sizes as well," says HRI's Greg Jordt, executive vice president of sales and market. They will all be displayed in a very open 'easy to work' floor-plan."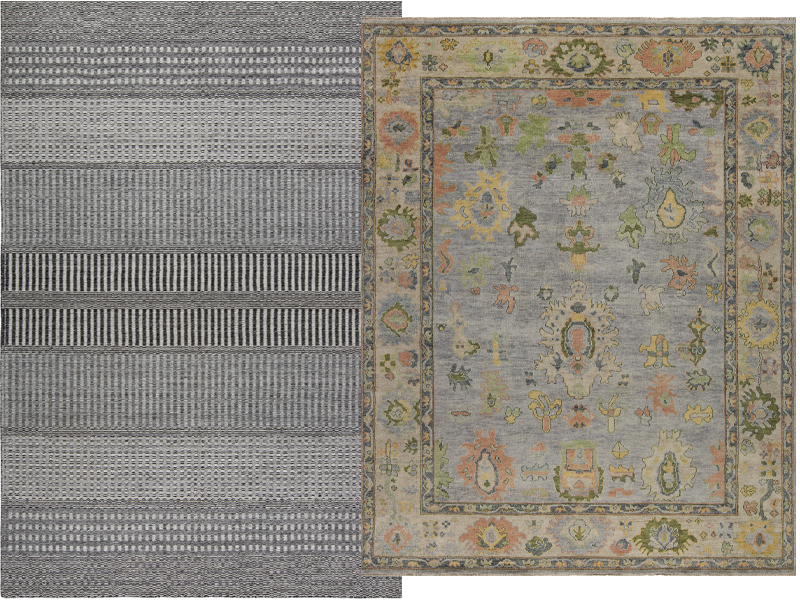 HRI's new Kilim (left) and Madison Collections
Jordt also says he's looking forward to the opportunity for the sales team to present to current and new customers in the new showroom. "We will be offering special discounts on purchases, with giveaways and raffles plus cocktail parties to celebrate," Jordt says. "Our new introductions will be historical for our 60 year old company—from expanding our exclusive performance Sunbrella® collections, to classic old Oushak designs colored in bold fresh contemporary colors, to heavy bold textures in PET yarns in soft washed earth tones and subtle blues and greys as well as hand loomed collections from Nepal and India."
Overall, Jordt says the company did not know what to expect going into the market last June, but they are beyond surprised by the traffic and business they experienced. "We are looking forward to a continued upward trajectory in our appointments and traffic as well as market orders as retailers and designers go back to markets for inspiration."
Exquisite Rugs has also expanded its showroom into a space three times the size of its previous High Point Market showroom. The new location will still be in IHFC, but in the Hamilton Wing, on the second floor in Suite H-220. The company will also celebrate its 40th year at market with a Champagne Celebration on Saturday, October 16th from 10 am to 12 noon.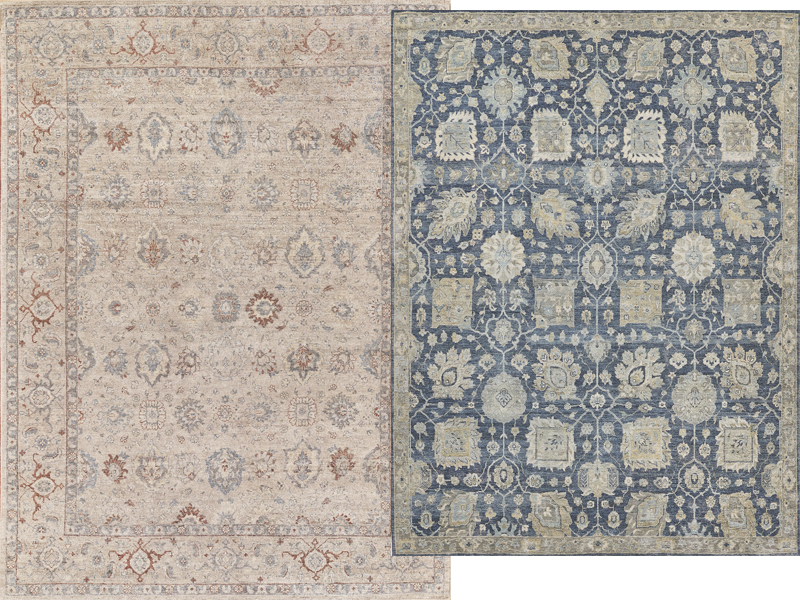 New Harper (left) and Heirloom Collections from Exquisite Rugs.
"We're looking forward to a larger space to showcase our diversity of products and to fortify our niche in the rug market for the medium to high-end
customer," says Hersel Bani-Esraili, president. "This market we'll be highlighting our in-house design team's creativity with the launch of 12 new collections of rugs they have been working on for the past year. We saw an upswing in traffic in June and we believe October will be even better. People visiting the market are ready to shop and we believe that with the shorter supply in high-end rugs combined with the fact that we have not slowed down production, we'll have a very successful market."
Feizy is also taking over an additional showroom in Showplace booth 2300 to bring more visibility to the brand. The smaller 3,500 square foot showroom will show all of the company's collections.
"It will provide access to people who don't get over to Market Square or want to able to maximize their experience by staying between showplace and IHFC," says Justin Yeck, Feizy's vice president of omnichannel sales marketing and product development & design.
In addition to the new showroom, the company will debut six new pieces in the Thom Filicia Home collection, which launched at the June market. The company also plans to debut another 60-70 new pieces in October and will have a meet-and-greet event with Filicia to introduce him to Feizy clients.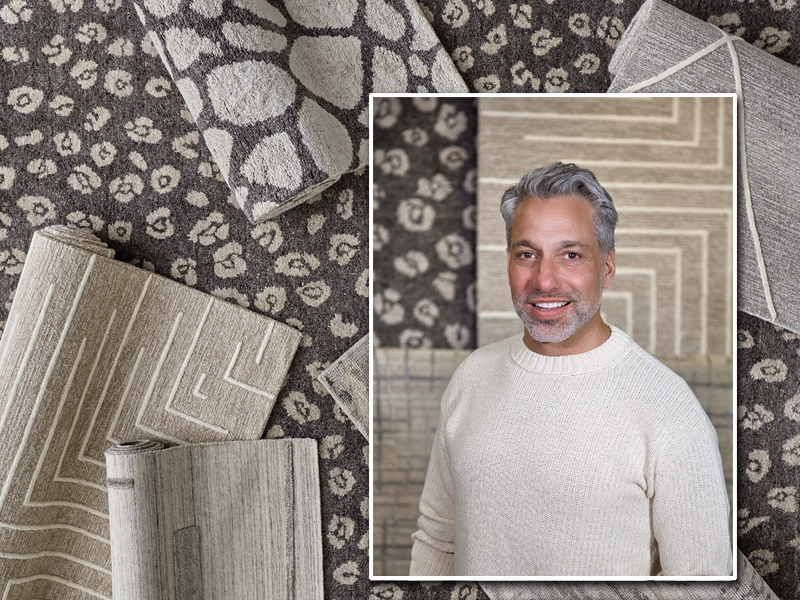 Feizy will add six new designs to the Thom Filicia Home Collection and hold a meet-and-greet with the designer (inset), as well as debut dozens of other designs. 
"Our business has been strong—in triple digit growth over pre-pandemic numbers," Yeck explains. "And what's most exciting for us is that it's been led by the fact that we have product in stock, have strong stock position for new introductions, and we're launching product as it's on the water or fully in stock, so there aren't long lead times for clients."
Kalaty plans to bring one of its largest new product presentations ever to High Point, IHFC Showroom G-369, and Ariel Kalaty, company spokesperson and one of Kalaty's five principals, says the company is looking forward to seeing customers they may not have seen in as much due to the shutdown and the abnormal market schedules.
"Despite such conveniences as zoom meetings and virtual showroom tours, nothing takes the place of face-to-face in-person interactions with our market customers," Kalaty says. "Although there was a June High Point show, this will be the first High Point Market on the normal spring-
fall schedule in over a year, and we're excited to get reacquainted with customers old and new."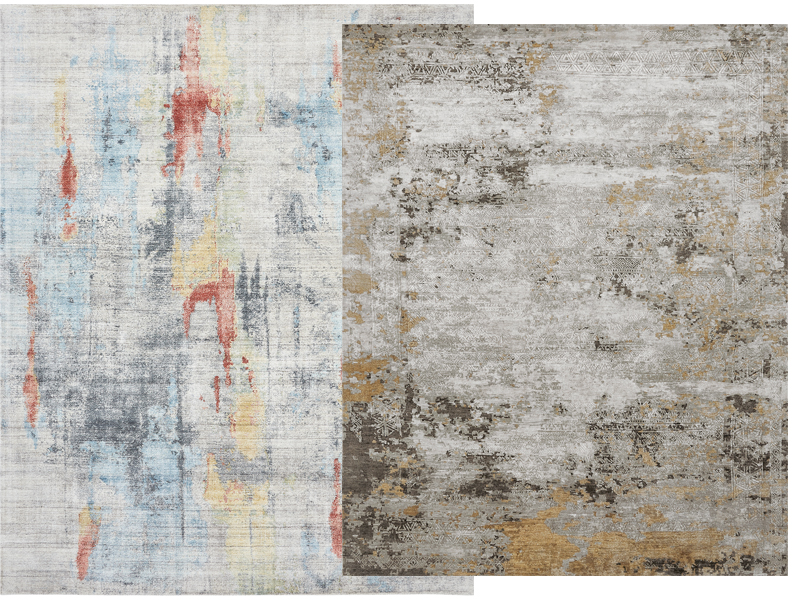 Designs from the Lucid (left) and Milano Collections are part of a vast array of new intros and additions from Kalaty.
And while they acknowledge that there are a number of variables at this point in time regarding the Delta Variant and changes that could affect plans for the fall High Point market, they can't help but be optimistic about what we have to offer our customers.
"We have a vast array of new rug collections and additions to existing collections across all styles and constructions to offer customers who haven't seen our latest rugs for the past year or so," he explains. "With markets reopening on the regular fall-spring and winter-summer schedules, we are cautiously optimistic that the economy will normalize, and market attendance will soon return to pre-pandemic numbers."
Creative Touch will offer special market pricing on a few collections, including its Vintage Overdyed, Kilim, and Vintage Anatolian collections. They will also include select pieces from the Modern collection, as well as the Oushak collection. The company will also have plenty of new designs to show attendees as well.
"We have new designs in both our Bosphorus and Van Collections, featuring texture and muted hues," says Baki Ildiz, president and owner of Creative Touch. "Our designer collaborations with Artxtiles and Mannarino Designs are still center stage for their bold designs and innovative color schemes. We're also excited to speak to everyone and learn more about their favorite design inspiration of the moment, which inspires us to create more."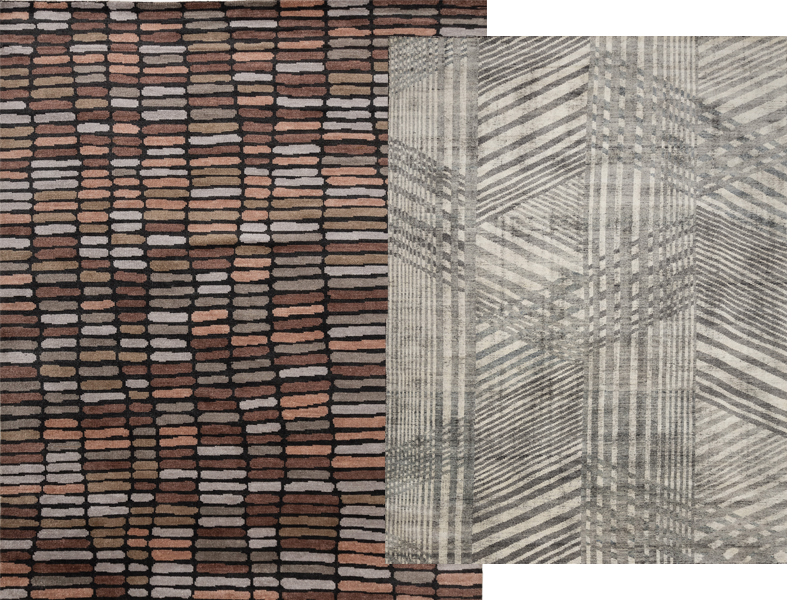 Look for several new designs in the Bosphorus (left) and Van Collections from Creative Touch.
Ildiz says he has noticed an increase in the demand for well-made rugs that are able to withstand a multi-functional home environment (multi-purpose rooms that the whole family can use), which is a sign of optimism for the industry. "Consumers are becoming more aware that investing in a quality product will be aesthetically pleasing now and for years to come," he says. "The resurgence of a more traditional rug motif among buyers also shows a renewed appreciation for the art of rug making."
KAS Rugs, IHFC G-270, will also bring several new designs in its best-selling collections to market and the company will debut its ladder rack program. The ladder rack program is a program where customers are given a ladder rack when they buy 12 distinct rugs at $1,000 minimum to display. The idea is to pair it with a sofa grouping or other furniture grouping to showcase rugs in a new way. The racks hold 12 rugs (front and back) and are easy to move. The customer is responsible for all freight.
Fresh rug designs at market will include new tropical looks, new looks in glam and shine from the Luna collection, new textured looks, and additions in KAS' super soft Merino collection. They will also show new designs in the shrink poly and viscose Generations line, fun new abstracts in the colorful Illusions collection, as well as new PET yarn and Jute Kauai collection.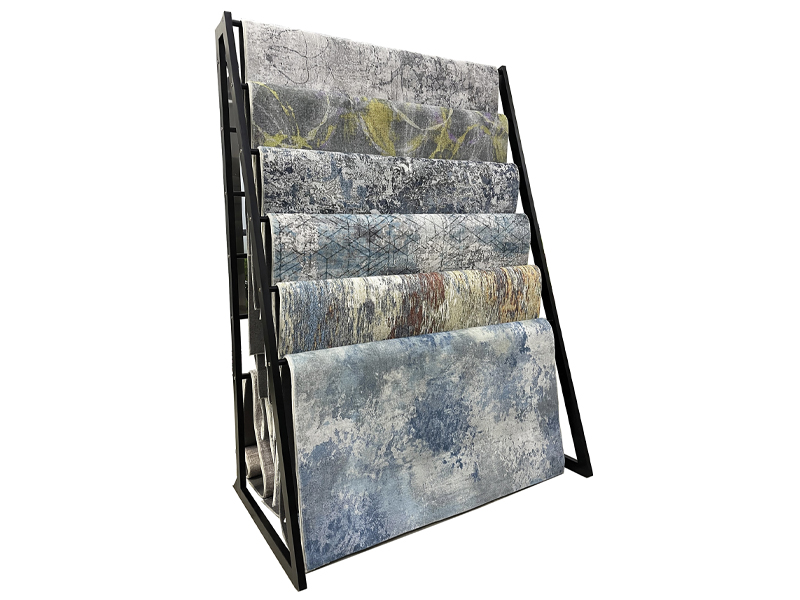 KAS will debut its new ladder rack program in High Point.
"We are excited for High Point market, as it will really be the first market most all of our reps will be attending at once in some time," says Wendy Reiss, vice president of sales and national accounts. "We have done a number of shows but have kept staffing somewhat minimal. It is always exciting to see beautiful, new trend product. Combine that with familiar friendly faces and great enthusiasm and it's wonderful all the way around."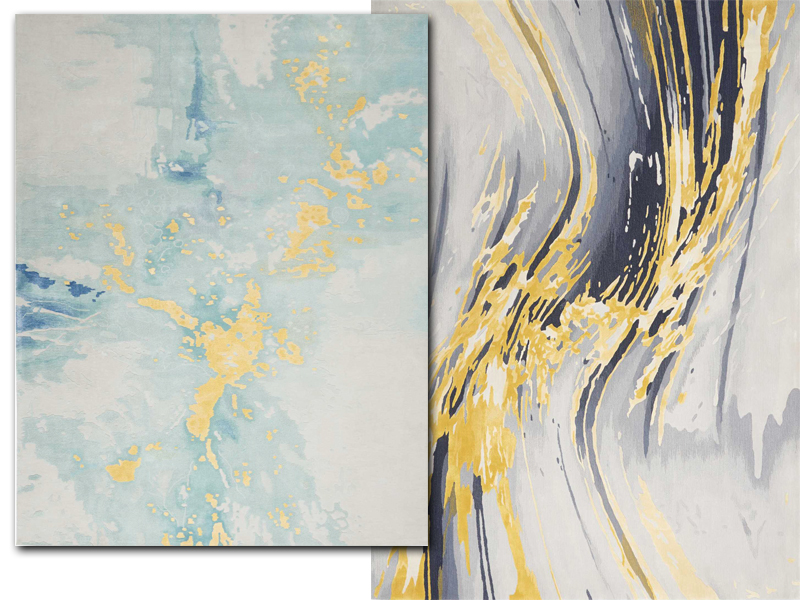 Additions to Nourison's Prismatic Collection (above) feature splashes of gold laid over cool blues and neutral grays.
Nourison, IHFC IH-101, is introducing new designs in its lively Prismatic rug collection. The two designs feature splashes of elegant gold laid over cool blues and neutral grays. One of the company's best-selling lines, pieces in the ­Prismatic's have unique designs that the company says have been extremely popular at market and with its customers. Hand-tufted from a wool blend and woven with gently shimmering silk-like fibers, the collection includes 3D-like designs and captivating color palettes for a charismatic effect.
"We are looking forward to meeting in person at High Point with our customers and meeting new potential customers that attend the show," says Nourison president Alex Peykar.
highpointmarket.org Fall Market—October 16-20, 2021
RUG IMAGES COURTESY OF THEIR RESPECTIVE COMPANIES; MARKET IMAGE COURTESY OF HIGH POINT MARKET.