Transplanted Techniques Define the Modern Era
In the Fall 2017 issue of Rug Insider we explored traditional Iranian felt making at the hands of Peace Industries in the article Revivalist Modern, pages 39-41. But seeing as no one country or region holds a monopoly on the technique it is such that we now explore traditional Turkish felt making, made modern and transplanted as it has been to Massachusetts. This is the story of The Ram and The Worm.
 "At the moment it's just me and my dad, but we do hope to one day expand—to bring on two or three more feltmakers and move into a larger space, so that we can make bigger rugs," begins Jo Hesse of boutique felted rug firm The Ram and The Worm. "Felt rugs shrink 40-50% during production so big rugs start out really big, and you need more than two sets of limbs to work on them." Time honored. Traditional. Ancient. All words that have at various times been used to describe the craft of carpetry, that is, the craft of hand-knotted carpet making. They apply equally to an even more ancient technique of fashioning wool into useful forms: felting.
Hesse again: "Our rugs are made by hand and by foot according to traditional Turkish methods. There is an almost primal physicality to the process—we kick, throw and roll the felts entirely without mechanization. The ancient techniques employ only a few tools: a "mother rug" to felt inside of, a stick, a watering can, and a whisk. But the primary tool is the feltmaker's own body."
Throughout the history of human civilization, technology has long played a role in shaping our existence; the handmade rug and carpet trade are by no means an exception.
Feltmaking is considered to be the oldest textile technology, developed in Central Asia in concurrence with the domestication of sheep. The simplicity and the intimacy that exists between the maker and the rug are hard to find in the mechanized, globalized, modern world.
Hesse then likes to contrast this primal intimacy with the relative sterility of the modern mechanized and industrialized world, noting that for emerging consumer cohorts, there is a return to these values of craft. "And there is a real hunger for those values now, as people seek to reconnect in more meaningful ways with what was hidden from them during the last two industrialized centuries. I think that my generation covets things made by artists in ways that they can understand, not by factories shrouded in mystery. Even in feltmaking countries, kicking machines and other forms of mechanization are being used nowadays. So what we're doing—going back to the pre-industrial roots of the craft—is really a rarity," states Hesse.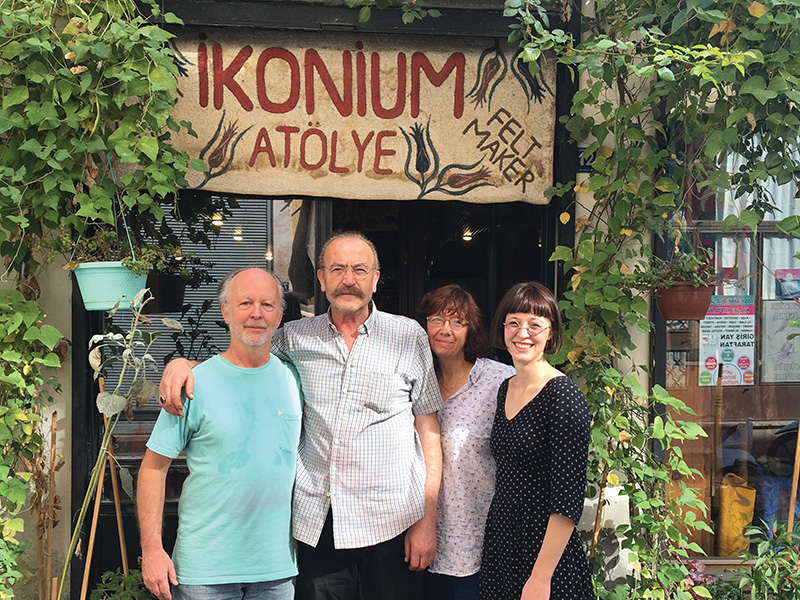 Kent Hesse, Mehmet Girgiç and his wife Theresa, and The Ram and The Worm principal Jo Hesse shown in Konya, Turkey.
The "shrouds of mystery" as Hesse so eloquently states have long been the mechanism by which the modern rug trade operates. Prior to the age of digital connectivity, it was all but necessary to engage with rug makers though intermediaries, agents, importers, and the like. But now, in an era in which virtual farmer's markets exist in the form of e-commerce platforms such as Etsy, the dynamic of connecting individual makers of handcrafted and often esoteric products directly with their buyers has shifted radically. It's the twenty-first century technological solution to the age-old problem of connecting those who make with those who buy. For Hesse and this author, there is a strong belief that this more transparent connection is key to reaching emerging consumer demographics.
"Since it isn't pixelated like a regimented hand-knotted carpet, the design potential [of a felt rug] is unrestricted. It's literally like painting with wool. Chaos in every direction!"
"I learned to felt while studying art in Germany and taught my dad, Kent Hesse, to do it when I returned to Massachusetts. While in Germany I traveled to Turkey often and fell in love with its culture. One summer, kismet brought me to Konya and to Mehmet Girgiç, one of "the living human treasures of Turkey" according to UNESCO's Convention for the Safeguarding of Intangible Cultural Heritage," says Hesse before continuing. "A year later my dad and I went back to Konya together to study for a more extended period of time with Mehmet and his wife Theresa —coincidentally herself an expat from the Berkshires. We wanted to experience some of that intangible heritage, which I would argue is a knowledge that is, in fact, only tangibly imparted—communicated through hands and not through words."
When I met Jo Hesse it was earlier this year at The Rug Show in New York. Her lively spirit and enthusiasm for the rugs she's making not yet diminished by the tarnishing effects of commercialization. It's the perfect balance between artist and seller, maker and marketer. In many ways her fledgling boutique rug firm is a twenty-first century prototype of the nascent maker culture, again made possible by both globalization and the ability of makers to connect directly with consumers. Whether the connection is between felt and maker as Hesse passionately describes, or between maker and consumer as I hypothesize, these connections are key to both Hesse's spirit as maker and as sample of her decidedly younger consumer demographic. It's all about real connections.
"Turkish rug makers have traditionally felted inside woven reed mats. [Editor's note: The Ram and the Worm employs a modernized version made from recycled plastic.] The rug's surface design, made from thin strips of cut 'raw felt,' is laid out first and then covered with many layers of carded, fluffy wool. The wool is then wetted to encourage felting," begins Hesse as she describes her process. "We learned to disperse just the sparest amount of olive oil soap-infused water over our wool in the traditional way, with a whisk-like hand broom and a watering can, just one can per rug, an eco-friendly method reflecting a deep cultural respect for the significance of water."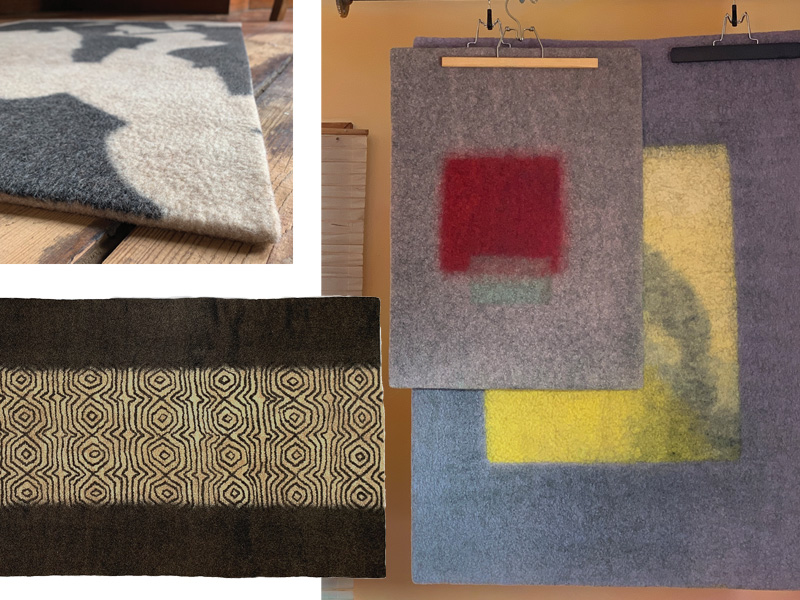 The unstructured 'chaos in every direction' as described by Hesse allows for both fine detailing of design and unexpected edge treatments in the felt rugs she produces. Right, small felt rugs hang on display in Hesse's The Ram and The Worm atelier. 
As subtle commentary on the nature of modern consumption, it is worth noting that Hesse finds environmentally friendly aspects of the product in even the most ancient of traditions. In examining not only her craft, but the entire craft of carpetry one cannot help but wonder if similar time honored, yet totally apropos features and their associated benefits can be found to help modernize the craft.
"The damp wool is then rolled around a stick inside the mat and kicked back and forth across the floor for several days. After the fibers have begun to fuse and form a fabric, the rolled-up rug is thrown repeatedly and rotated rhythmically. Throwing a whole water-logged rug for hours on end is hard work, but the rhythms we learned from our master, Mehmet, create the momentum needed to make it possible, even for a small woman like me, to do alone," describes Hesse. "After several days of felting inside the mat, the rug is ready to be rinsed and then rolled with hands or forearms for several more days. Finally, when the wool is the consistency of hard leather the felting is complete."
The finished rug is sound-absorbing, a refuge from the noisy world; it exudes tranquility. Its ancient structure abounds with possibility—an ideal canvas for an artist. "Since it isn't pixelated like a regimented hand-knotted carpet, the design potential is unrestricted. It's literally like painting with wool. Chaos in every direction!" says Hesse regarding the flexibility of design before continuing, "I hold the colors in my hands and smoosh them around between my fingers, pulling them apart and stretching them across the floor to create gigantic paintings, which then shrink and blend as they're felted.  When I used to paint on paper, I painted things. Now that I paint with fiber, I paint colors. 
The slowness and tactility allow me to acquaint myself with them, and the softness invites me to explore."
Photographs courtesy of The Ram and The Worm