As both a leader in the fight to eliminate illegal-child-labor in global supply chains and an observer of the hand-knotted rug and carpet industry over the past twenty-five years, GoodWeave CEO Nina Smith has seen a lot. She shares with Rug Insider Magazine her thoughts on some of those who have affected real change within the industry.
Every rug tells a story: A tale of a thrilling trip to a Turkish bazaar or a downtown showroom where you bought it; a spill from a wild party or child's spit up. Maybe that rug has followed you from home to home, city to city, recreating a space and a feeling even as everything around it changed.
For me, as a labor rights advocate for more than two decades, the fabric tells the story of the individuals who wove it and those who ensured its ethical production. It's a story of intrigue and beauty, skill and passion. It's also a story of women.
I'm the CEO of GoodWeave International, the leading global nonprofit organization ending child labor in global supply chains. Today, we certify a range of textiles as child-labor-free, but it's transforming the rug industry—from designer's inspiration to producer's creation to a customer's home—that is the warp and weft of GoodWeave. 
In these pages, I honor and elevate the voice of the self-proclaimed "mother of GoodWeave" in Nepal, the trailblazing female entrepreneur who became the first U.S. licensee, and a colleague who stops at nothing to rescue children. These disparate perspectives have a common thread—brought together through the making of a rug and resulting in freedom and education for more than 30,000 kids.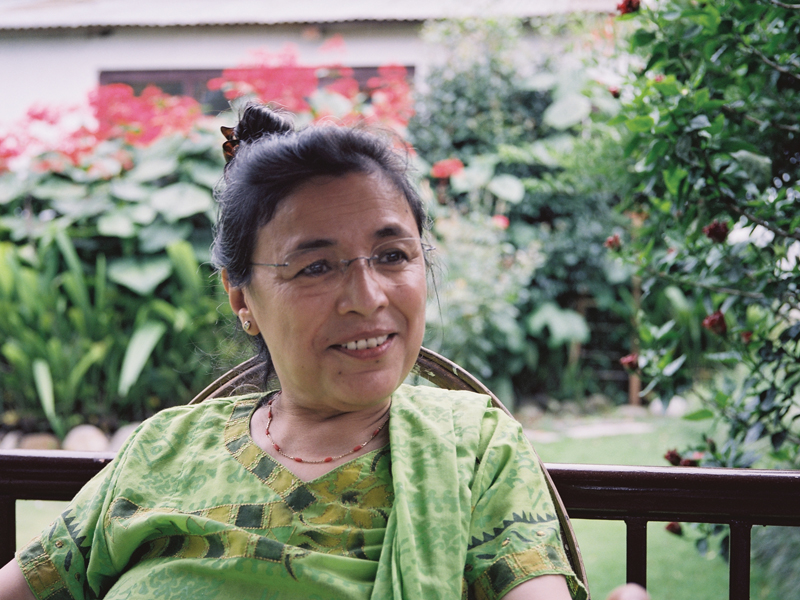 SULO
How did a Nepalese woman from royal lineage with a degree in math end up in the carpet business? In her own words, followed by her characteristic giggle, "I'm a little not normal average person."
Sulo Shah was raised in a privileged family in Kathmandu, Nepal. After returning from Germany where she studied math, Sulo landed a position with The Royal Nepal Academy of Science and Technology in the 1980s and set out to bring education reform to Nepal. After years of disappointment as her efforts for change were thwarted, Sulo decided to take a different path. "I thought of my family background. I come from a business family. All my brothers are doing business. The daughters aren't. If my brother can do the business, why not me?"
In the early 1990s, when carpet production was a growth industry in Nepal, Sulo was approached by a German designer. Reluctant at first, Sulo found a way to apply her logical mind to carpet production. She treated it like a research project, studying outputs and incomes over the course of a year. Ultimately, Sulo created her own system that would run smoothly and fairly for her women weavers. When asked about the integrity she brings to all facets of her business, she explains, "I look with different angles. I don't know why, I have a chip in my head, whatever you do, you do properly."
As her Formation Carpets was taking form, so was GoodWeave. With her model factory, Sulo was invited to join a young scrappy movement to end child labor in her industry. She spent several years visiting ministries, the Chamber of Commerce, and various authorities in Nepal—all of whom were skeptical at best, corrupt at worst.  She describes this time as being "pregnant with GoodWeave."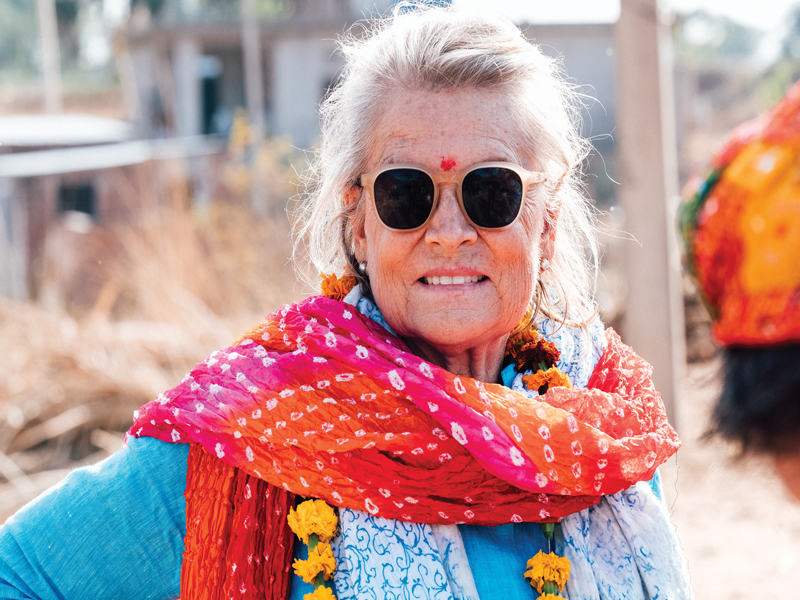 STEPHANIE
And if there was a second matriarch of GoodWeave, it would be Stephanie Odegard.
In the 1980s, Stephanie visited Nepal as a consultant for the World Bank, charged with helping build the country's emerging rug sector. A former Peace Corps volunteer, Stephanie spent years working to preserve and promote artisanal crafts in developing countries. She founded Odegard Carpets in 1987, centered around lush, elegant Tibetan carpets.
Stephanie was a pioneer on all fronts. "Probably the most outstanding memory is when I did my first rug show. I had this feeling of being excluded. Because I was the only woman, I wasn't part of the 'club'."  Stephanie's designs were also singular.  She introduced the first borderless, finely knotted Tibetan rugs in the West. "Nobody had seen anything like that."   
As Odegard Carpets was getting established, so was GoodWeave (then Rugmark) to address the rampant child labor being documented across the South Asian carpet industry, then entering a boom. Even though she had never witnessed the problem herself, she wanted to demonstrate that her production was clean and fulfill her goal of using her business as a vehicle for social change. Stephanie joined forces with GoodWeave as a co-founder, while other trade leaders denied the facts. This was a catalyzing moment for Odegard Carpets, as well as GoodWeave, the carpet sector, and the corporate social responsibility movement, which was just beginning to unfold.
"Women are willing to look at social justice issues with more open eyes. And we don't cut corners," Stephanie reflects.  "If you cut corners to increase profits, then you can become the cause of the problem." 
Today, Stephanie Odegard Handmade Environments and Odegard Carpets are among the 170+ companies globally that have committed to GoodWeave and to sourcing child-labor-free rugs—but she was the first.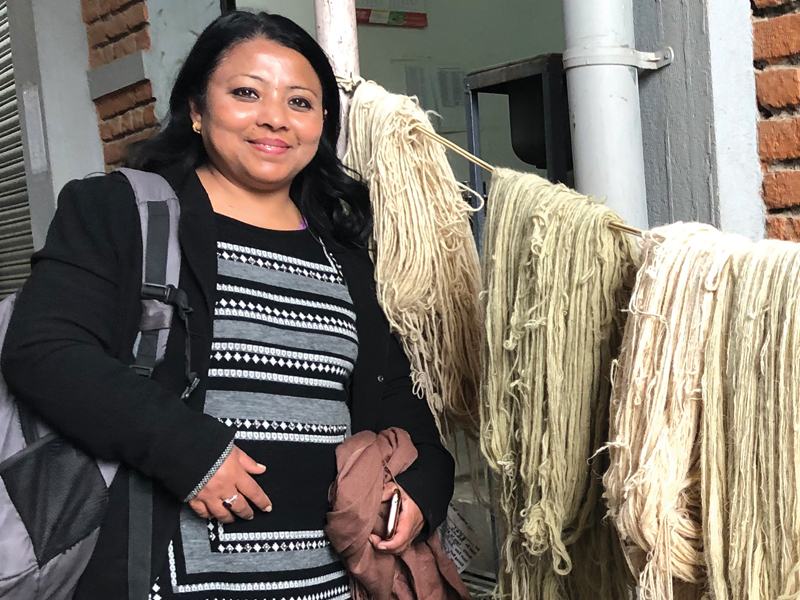 SAMJHANA
"Sometimes they would yell at us or throw things."
This was just another day at work when Samjhana Pradhan started as a GoodWeave carpet factory inspector.  That was 20 years ago.  Samjhana has been part of the GoodWeave Nepal team since 1999.  Her role is a difficult one. She heads up the inspection and monitoring team, and makes surprise visits to production facilities—sometimes factories and other times home-based looms—in order to identify child labor and educate producers about their responsibilities. 
Several years back, Samjhana and her team found a frightened child in a factory. Manju had a broken femur and a wound that was not healing. Her life was in danger and her parents only saw her as a burden. "We took her to the hospital where she had surgery and then brought her to live at our transit center (Hamro Ghar or 'Our Home' in Nepali)  for children who cannot go home," shares Samjhana.
Manju completed school while under our care.  And now she is married with two children and living happily. Samjhana sometimes sees her in Kathmandu. She tells Samjhana, "I got a life from GoodWeave." 
A mother herself, Samjhana has seen many rescued children grow up. Most of them thrive and eventually pursue their own livelihoods.  Some are teachers, social workers, and entrepreneurs. They are becoming the next generation of changemakers.
As I reflect on GoodWeave's 25th anniversary and what has kept me fighting for justice and protection for children, these forward-thinking entrepreneurs and courageous staff have given inspiration, solutions, and tireless work without cutting corners. At every step of the supply chain, every stop along the journey of a rug, and every chapter of our organizational life, women have led the way.
Image of Sulo Shah copyright and courtesy of Formation Carpets. Image of Samjhana Pradhan copyright Nina Smith, courtesy of GoodWeave International. All other photography copyright Studio M, courtesy of GoodWeave International.