­­The women in top executive posts within the area rug industry make up a small but mighty group. A historically male-dominated field across domestic manufacturing to importing firms alike, our industry has been slow to promote female leadership into the C-suite.
Sadly, we're not alone.
Female participation in the workforce hit its lowest rate this year since 1988 due in part to the pandemic. In the U.S., COVID-19's impacts translated to five million-plus women pushed from their jobs.
These sobering statistics are from IBM's "Women, leadership, and missed opportunities: Why organizations' good intentions are not good enough," research report released in March.
Organizations "want to change, but most are moving too slowly," IBM warned. A troubling key takeaway from the report is that the number of women serving in senior leadership positions has barely improved over the past two years, "with no gains in board seats or the C-suite." Most concerning: "Today there are fewer women in the pipeline to fill executive roles than in 2019."
As it relates to our industry, this trend is unfortunate—considering the area rug category's dominant consumer, noted Amy Van Dorp, Executive Director of nonprofit organization WithIt—Women's Leadership Development Network.
"From what we know when we look out across the home furnishings industry, and that includes rugs, we know the shopper is a female," she said.
Our industry's corporate ladder "has a broken rung," she continued, citing an average 70 percent male/30 percent female ratio at the corporate level.
The solution, Van Dorp suggested: "Women need to be mentored more, supported and sponsored by people in their organizations."
WithIt, which will celebrate its 25th anniversary next year, is dedicated to accomplishing just that. "The home furnishings industry is facing tough competition for new talent against other major industries, including tech, fashion and other manufacturing industries. We need to do a better job of supporting and mentoring young female talent to be able to retain them and help them grow our industry," Van Dorp explained.
One of those women is Susan Inglis, co-founder and executive director of Sustainable Furnishings Council (SFC), a coalition of manufacturers, retailers and designers dedicated to raising awareness and expanding the adoption of environmentally sustainable practices across the home furnishings industry.
A WithIt member for about 20 years, Inglis was also the 2009 recipient of WithIt's annual WOW Award for education.
"One of the toughest challenges we as women face in our industry is patronizing attitudes," she observed. "It's extremely unfortunate and so damn annoying because it makes our jobs all the more difficult. Women in our industry are still overcoming these kinds of hurdles."
Since SFC launched in 2006, the nonprofit organization has been on double duty to encourage women's advancements professionally and raise awareness about the importance of environmental conservation as it relates to the home furnishings industry.
October was Breast Cancer Awareness Month, and in tandem with the national recognition of this important women's issue, Rug Insider Magazine paid tribute to our industry's leading ladies. We spoke with a cross-section of some of the top female forces running the business, driving needed change, and mentoring the industry's next generation of women leaders.
Here they are, in their own words:
­­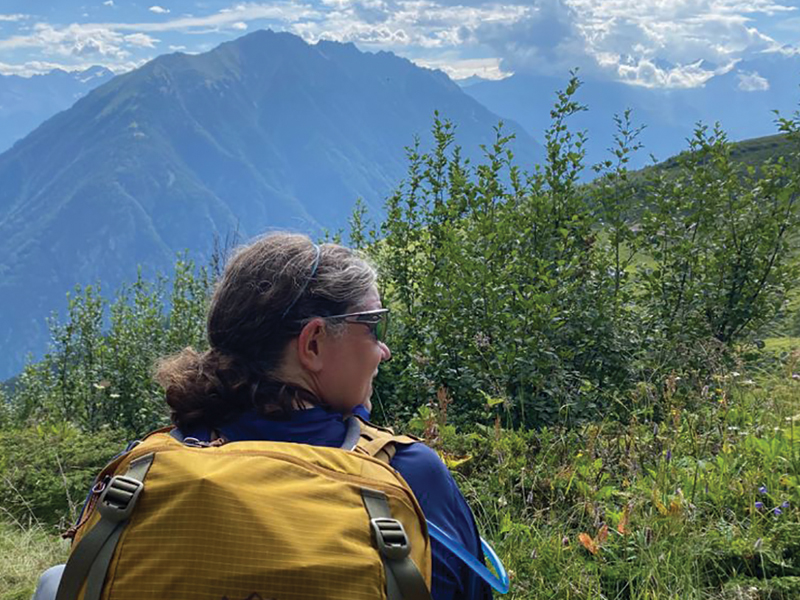 LESLIE ATIYEH — Atiyeh International
Title/Job Description: President, overseeing marketing, production, operations, business administration, customer service—typical small business owner tasks.
What is the hardest part about being a woman leading a rug business? The most difficult and emotionally taxing side of being female is trying to be tough during negotiations. And also, balancing the fact that even if we paid more for production it is possible the extra doesn't trickle down to the workers who need the benefit.
What is your favorite part of your job/role? I find the most joy from seeing photos of our rugs placed in homes of people who really appreciate the enduring beauty and the practicality of handmade wool rugs.
What is the best career advice you ever received? Price isn't everything. Service and relationships are equally, if not more important.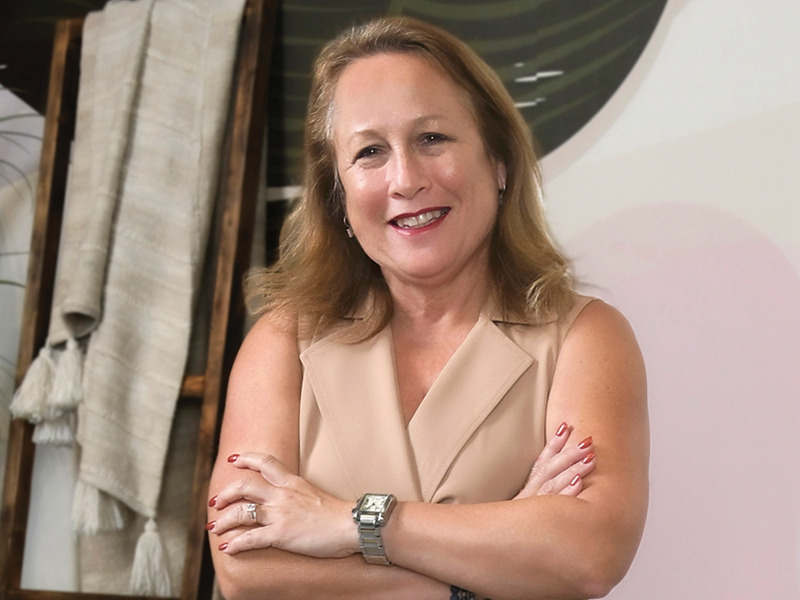 LINDA MINJARES — Classic Home
Title/Job Description: Vice President, Textiles and Rugs. I lead these product categories—pillows, bedding and rugs—from the beginning of the product cycle to the end, starting with the strategic business planning through merchandising and design, product development, production management, sales and distribution. This includes liaising with the marketing team.
What is the hardest part about your job? Being a woman in a male-dominated industry is difficult, but I also started at this company coming from the apparel world without rug product knowledge. I had two strikes against me: being a woman, and my lack of experience in the rug industry. Many of our producers are into their third or fourth-generation male family members running their businesses. I am sure I was an anomaly for them. It was so much easier and comfortable for them to work with the previous rug designer who was male and extremely knowledgeable about rug construction, etc.—he still works with us at Classic Home, and I have learned a lot from him. It has taken time to gain the trust and respect of our long-time rug producers. When we add new suppliers, the process starts all over again. It is all worth it.
Favorite part? The tradeshow experience and seeing customers' reactions when we launch new products. It is so exciting to hear the wonderful feedback on a product that has taken months to design, develop and finally bring to market. 
Who is your mentor? In the rug industry specifically, Harpal Singh—the owner and CEO of our company. He started Classic Home 30 years ago and has an exceptional amount of knowledge and history in rug making. He has taught me so much and continues to guide me as we continue to develop the business.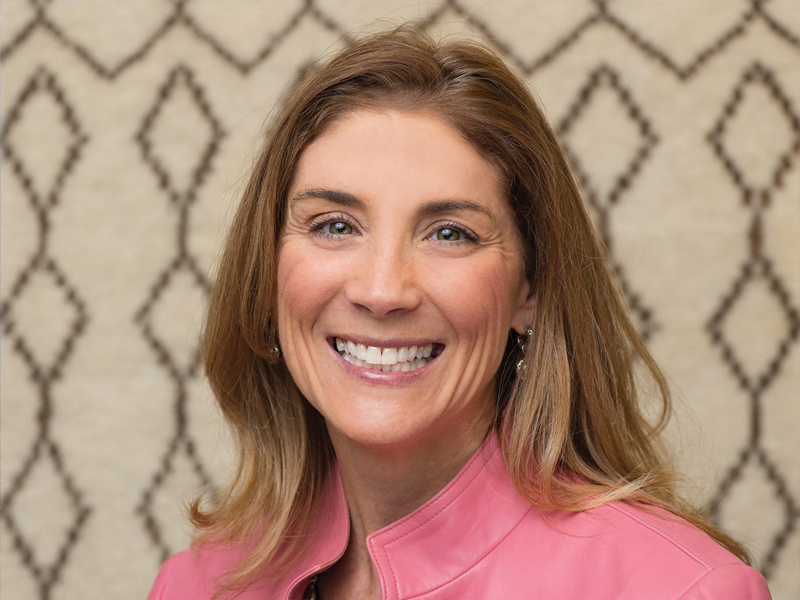 CAMERON CAPEL — Capel Rugs
Title/Job Description: President of Sales, Marketing + Imports
What is the hardest part about your job? This has always been a male-dominated field, but it has changed so much over the last 10 to 15 years. There are many more females in leadership roles today —even among the buyers I work with. Traveling overseas as a female for this position can be challenging, as you deal with countries where women aren't thought of as equals. Things are changing, though, and I am proud to be a part of the change.
Favorite part? I like meeting with buyers, establishing relationships, building partnerships, and helping customers develop and expand their rug business. I also enjoy working with design and color to develop a new rug collection.
Do you have a mentor? I'd have to say, I looked up to my father, and learned by osmosis, even. As a family business, I was always around him and conversations always seem to go back to rugs and the business.
Best advice? Be honest, be fair, do what you love.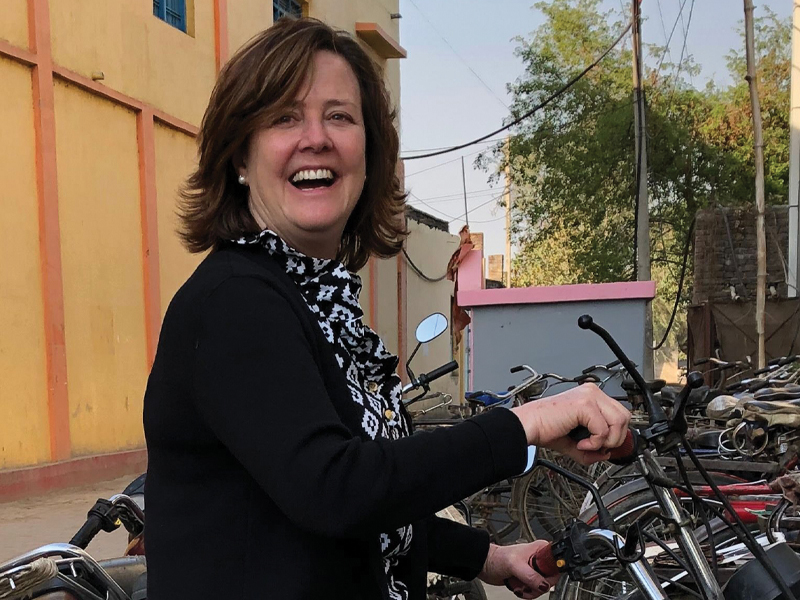 CHRISTINE CHAPIN — Company C
Title/Job Description: Co-founder + Colorful Living Officer, overseeing design and product development of our branded rugs and textiles and creating a licensed collection of upholstery for Norwalk Furniture. I also partner with the sales and marketing teams to develop programs for our wholesale and retail customers.
What is the hardest part about your job? Juggling the demands of work and family, especially with travel. As our boys grew, I had more flexibility to travel a lot and loved being with our rug makers as we developed each new collection.
Favorite part? Creating our designs and products. I love working with color and fibers. While our products are handcrafted, finding innovative ways to work with fresh color, yarns and weaves is so satisfying.
Best Advice? One of my art teachers always challenged our class to take risks with our painting, whether with color or technique or subject matter. I constantly hear myself repeating her words of advice—"Don't worry, the art police are not showing up!" Basically, take a risk.
ASHA CHAUDHARY — Jaipur Living
Title/Job Description: CEO, carrying on the legacy that my dad started when he founded his company, Jaipur Rugs, in 1978. Our mission is to support this 40-year-old vision and bring the craftsmanship of our beautiful, artisan-made product to the world of design.
What is the hardest part about your job? To always believe in myself and my capabilities and have the confidence that I could achieve my dreams and be a role model for other women around me.
Favorite part? I love being able to work with products and beautiful design. I also love that my job allows me to collaborate with people—whether that's spending time with our artisans in India or meeting with our suppliers or customers. It's so rewarding for me to build relationships with people and watch our team and artisans flourish. 
Who is your mentor? My dad has been my biggest mentor and supporter, and I wouldn't be where I am today without his support. Growing up in India, I was exposed to my dad's business, Jaipur Rugs, at a very young age. He started his business working alongside so-called "untouchables," which defied deep-rooted practices of discrimination. I watched him endure tremendous scrutiny, live outside his comfort zone, and shatter all norms as he grew his company into a global operation. The values that my father led with and lives by—love, compassion, empathy, and perseverance—are deeply ingrained in who I am and how I lead today.
Best Advice? Love yourself and love what you do, and everything else will fall into place.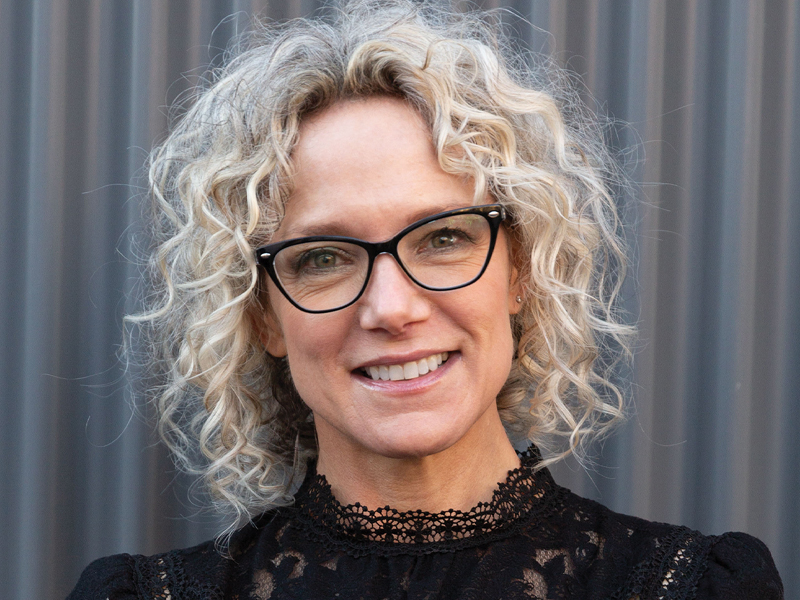 EMMA GARDNER — emma gardner design, llc
Title/Job Description: Principal + Chief Designer
What is the hardest part about your job? Because our company is so small and we work with individuals—dealers, designers, architects and clients—I honestly haven't found being a woman especially challenging. I also have a great partner. We have a clear division of labor but also work very well in concert, without our egos getting in the way.
What do you do in your free time? I read a lot, travel as often as I can, and I love to eat, drink and be merry with friends and family. I also meditate, exercise and love to cook.
Who is your mentor? My boss at a job I had at iVillage before I moved definitively into design and started my own company. Jackie Needleman was the most quick-thinking, responsive and generous person I'd ever met. From her I learned that it was possible to do so much if you kept moving forward, meeting each challenge without pausing to dwell on what came before it or where it fit in the larger context. It was a kind of being present that I strive toward when I meditate, too, where you just greet each moment as it comes and are able to give that one thing or, importantly, that person, your full attention. I'm not always successful at it but the lesson continues to energize me.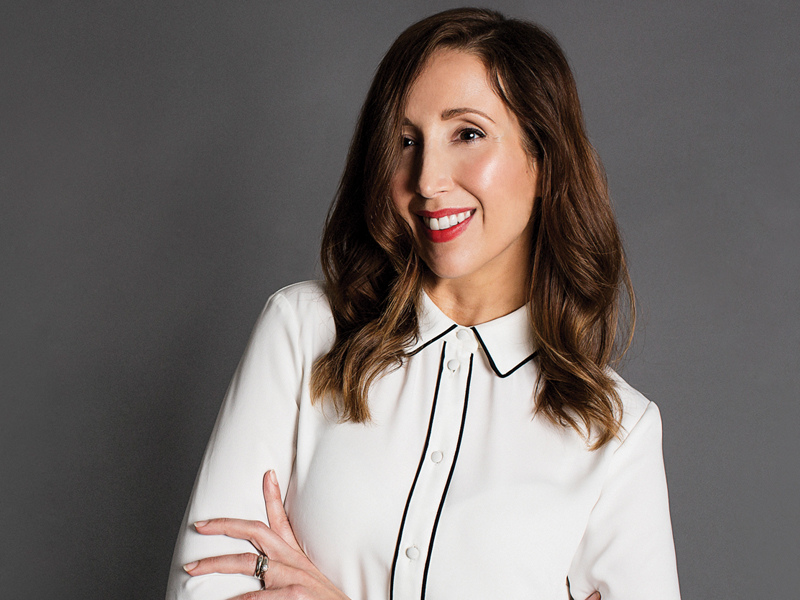 ANA CUNNINGHAM — Creative Matters
Title/Job Description: Vice President + Partner. Aside from working with the executive team to set the course for Creative Matters, what gets me excited—and sometimes keeps me up at night— is collaborating with an international roster of interior designers and manage collections and custom design projects, from hospitality to corporate, as well as overseeing our marketing and sales initiatives.
What is the hardest part about being a woman in a leadership role?  Times and expectations continue to change. However, I think we can agree that one of the challenges we have faced over the years as women in business and in leadership positions has been confronting the narrative of what a woman's role in our society is, should and can be. Creative Matters was started in 1988 by three women and continues to be run by three women as a successful, international business. I believe that's because, even to this day, we never take "No" for an answer, we put our heads down and we do everything in our power to create trusted relationships and great work.
Favorite part? Working with a fantastic team of people! Not only is our team at Creative Matters dedicated and hardworking, they are uniquely talented and passionate people. With many long-standing team members, we're not only colleagues but a great group of friends as well. We like and respect each other.
What are your personal interests? Everyone who works at Creative Matters is encouraged to explore their creativity beyond the boundaries of rug design. Each month our team gets together for "Art Day"—a hands-on team workshop that allows us all to roll up our sleeves and experiment with a different creative activity. For instance, in July of this year our Creative Director, Leah Phillips, ran us through a needle punch tutorial. And before that, we explored landscapes in watercolor. During the pandemic we kept our Art Day practice going by filming a number of #StayAtHomeArtDay videos, which we shared.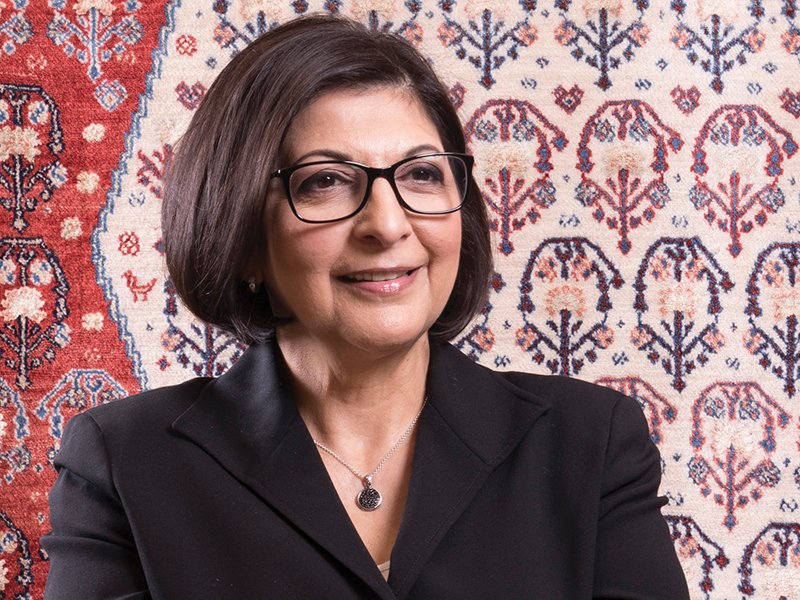 SUZANNE HAGOPIAN — Hagopian World of Rugs­­
Title/Job Description:  Third-generation owner. My responsibilities are endless! I help to create and communicate our vision and mission for our company, establishing and implementing our core values and overall strategic goals. On a micro level, my responsibilities include purchasing hand-knotted and antique rugs for three locations, merchandising and inventory management, running our Birmingham showroom, working with the sales staff and with customers … I even answer the phone!
Most valuable lesson learned from your mentor? I have had so many mentors and people who have influenced me in my life—but my father being the most influential. He taught me so much about life—and you can apply these rules to anything you do in life:
Your word is everything.
Do the right thing and people will notice.
Leave a place better than you found it.
Treat people as you would like to be treated. Share your knowledge. Working with my father, my brother and my sister has taught me how to compromise and listen to different ideas and how to solve an issue by working together.
What do you do in your free time? I enjoy walks and hiking and being in nature, tasting wines and trying new foods, spending time with my mom. She and I share an interest and passion for history, ancient civilizations and animals. We read and watch documentaries together. Also, I love connecting and cooking with family and friends, going to the theater reading, visiting art galleries and traveling to new places.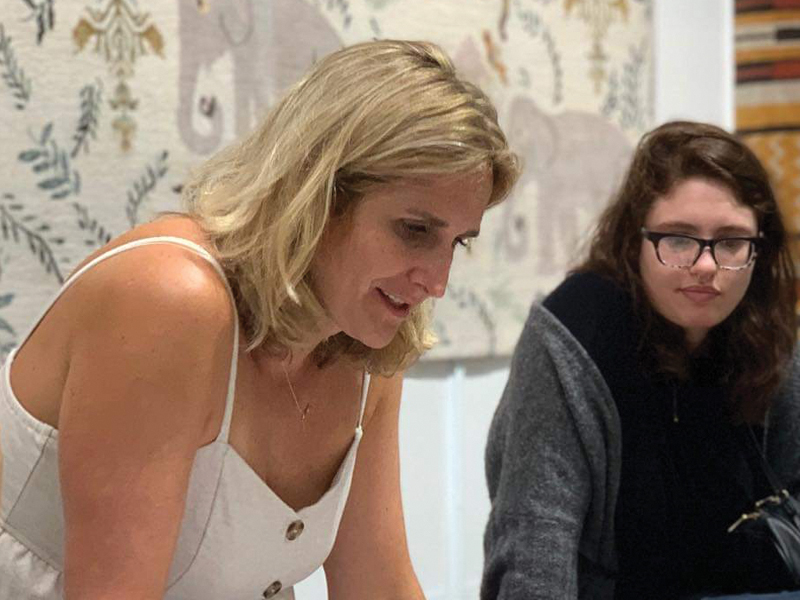 ERICA KURTZ — New Moon Rugs
Title/Job Description:  COO + Designer. Being the leader of a small but mighty, family-owned company means that my role is wide ranging—encompassing everything from customer service, to HR, to seeking out new partnerships and increasing new business pipelines. Of course, my core roles include coordinating with our production team in Nepal and working on new designs for the company. I especially enjoy working with our clients on custom and large-scale projects.
What's the hardest part about your job? I think the biggest challenge or frustration for me is that my male counterparts often hold the expectation that the "real boss" behind the business must in fact be a man. I think there's an underlying lack of respect and a level of condescension that, as a woman, I will need help or advice, that I can't really do the job without a man's help or make the big decisions by myself. Surprisingly, I have come up against this with some American business contacts, not just foreign markets. Having grown up in this industry watching our business evolve from the beginning, I really know most of it viscerally. I started helping at trade shows and in the showroom when I was in middle school. I have worked in pretty much every role in the company and have created many of our current processes. While my father started the company, I have been running it and designing our lines for over 10 years now. 
Favorite part? The time I spend traveling overseas in Nepal and the other places where we do production. I really enjoy that time on the ground, whether it's designing, learning about new techniques, doing R&D, or working hands-on with our team in Nepal. I love the connection and being part of the process from the ground up.
Best advice? "It's not brain surgery people, it's just rugs!" Sometimes I forget that! I don't like to disappoint or have things not be perfect, so I get pretty intense when I'm in the middle of juggling projects. It's good to be reminded that my job is all about beauty and artistry, and that these are works of art that will enhance someone's life and home. It's not life or death, but still very important to the people who are making the investment. It's a fine balance.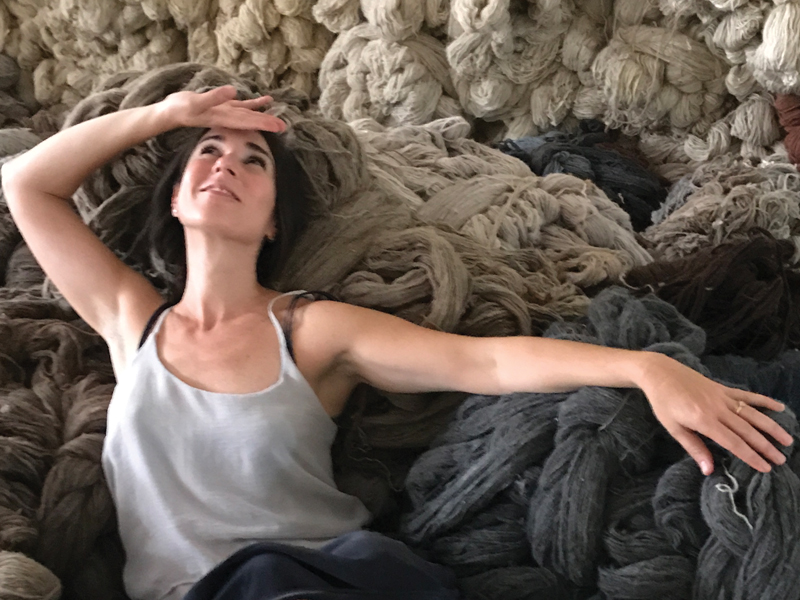 REBECCA LURIE — Kush Rugs
Title/Job Description:  Owner, doing a little bit of everything. In the course of trying to answer this question, I got caught up in client scheduling, shipping logistics, bookkeeping, staff advising and counseling, lease negotiating, customer dog petting, and production planning. On my list to do before I leave today is product pricing and some marketing planning.
What's the hardest part about your job? If I am at Kush with my staff and an industry person walks in wanting our business, he will approach everyone else before he looks at me. Similarly at trade shows and buying trips, I am largely left alone. This used to irk me, but these days it's just freedom. If I want something I'll say so. But for the most part, this gives me the space to listen and observe before deciding whether or not I want to engage with a new partner.
Favorite part? The reason I got into this industry 20 years ago is because I wanted to fund my travel and be close to the art and craft of South Asia. So it goes without saying that trips to visit our producers overseas is my favorite part. But now that we have such a great team and are growing quickly, I also love the challenge of growth management and system development. When you have good people in place you can create anything you can imagine. It's deeply satisfying.
Best advice? Identify the individual strengths in your employees and do everything you can to tailor their roles around those strengths.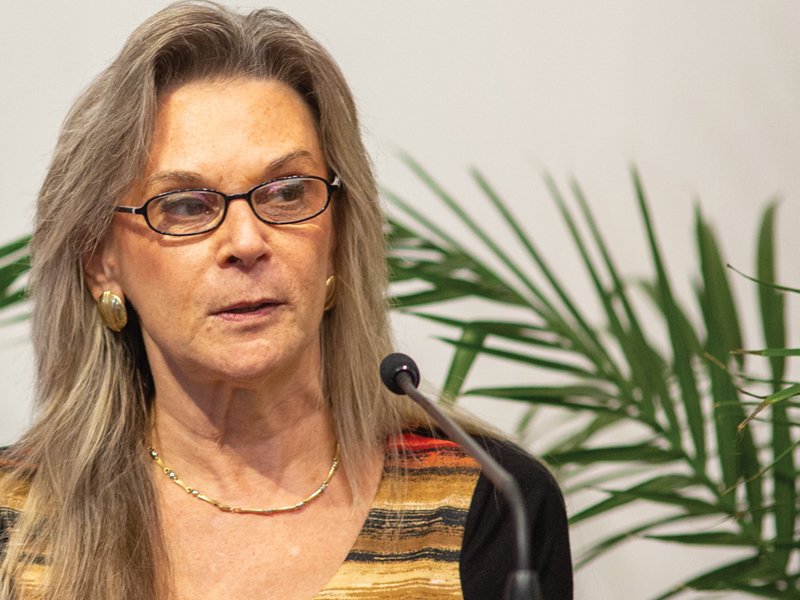 ROZ RUSTIGIAN — Rustigian Rugs
Title/Job Description:  Owner. I do all of the buying, all of the accounting, and have worked with a software expert to design our own inventory, purchase orders, billing and MIS system. With great enthusiasm I attend markets in the U.S. and abroad and have even participated in a pilot project with USAID that took me to Kabul and Mazar. I have also done lectures in Germany and Afghanistan to rug exporters to try and give them a realistic picture of how they could better satisfy an American customer. Most of all…I fell in love with the rug business [and consider it] my highest and best accomplishment from which all else flows.
What's the hardest part about your job? Not much, actually. I keep my eye on the ball and deal in any way I can, despite age (not a problem any longer!) and gender discrimination, with wit and good humor. I am not going to change the world but I can pretty easily make it work for me and I can demonstrate three things about dealing with me. My suppliers will laugh heartily and enjoy the interchange, they will sell goods to me, and I will pay for those goods in a timely manner.
Favorite parts? The people, the characters, the quirks, and the scenes that are so culturally different from ours but have become such an adored part of my participation in the rug business.
Best advice? In Atlanta in (I think) 1996, Alex Peykar received the award on behalf of Shaw Industries and Nourison for the best machine-made rug at a $149.00 price point.  Alex had no idea that he was paving my way to be viable in the future, as he was essentially saying that handmade rugs were simply not enough anymore.I returned from Atlanta on that Monday morning, evicted my tenant from our second floor, and I started our broadloom business.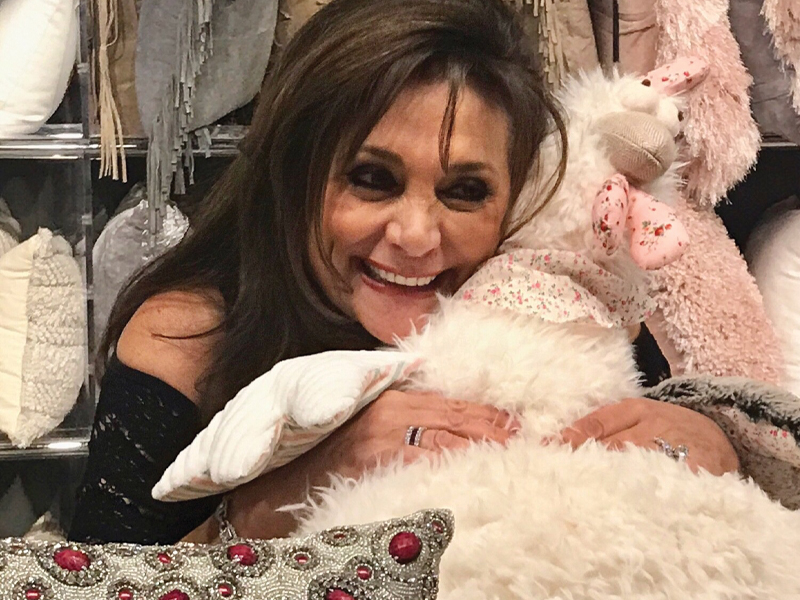 MINA PEYKAR — Nourison Industries
Title/Job Description:  Founder, Mina Victory accessories division. Most of my time is devoted to product development and meetings with e-commerce, licensing, sales reps and my team. I am blessed to work with wonderful people. I also attend all the trade shows and love working with customers to be able to create new, suitable products. I also oversee pricing and presence of our product in the market.
Who are your mentors? My mom, dad, and my husband, Alex. As a child and a young girl, my mom and dad always told me, 'You are not less than a man, set your goal and achieve it.' Also, by traveling with my husband, I learned a lot about style, color and trend. He is my true mentor.
Are you a mentor? I am humbled that my daughters and now my two granddaughters (both 17 years old) always tell me that I am their mentor and role model. During one of the overseas trade shows I attended, I spent an hour with a very talented young girl upon her request. She is now one of our major vendors in India, often writing to me that I have always been her role model and mentor. I tell her it is her talent and foresight that will take her places.
Best advice? Don't get upset if others copy you. Just take it as a compliment.