It's hard to understand what being in business for ninety-five years actually means. Think of all of the major events that happened over that span of time—two world wars, a great depression (and great recession), 9/11, COVID-19, etc. For Couristan—celebrating 95 years of business this year—the anniversary is a testament to their resilience and innovation.
The family-owned company was founded in 1926 by brothers Basil J. Couri and George J. Couri—aptly referred to as the Couri Brothers—in New York City when they began importing fine handmade area rugs from Persia.
"Importing area rugs from Persia was a difficult task," says Ron Couri, the CEO and president of Couristan, Inc. "As a child, I would listen to my father and uncle tell stories of their travel adventures. The journey began by ship to England, then a second vessel to the continent. Once in Europe, they would board the Orient Express and then drive through the desert to Persia. The entire trip took 32 days!"
The first area rugs the company imported were Sparta Rugs from Smyrna, an ancient city that is now part of Turkey. Right from the start, the company affixed its Couristan trademark labels to the back of each and every rug it imported. This mark was composed of the family's surname "Couri," and the frequently used suffix "stan," referring to the region of small weaving villages from where the rugs were imported.
As the company grew, Couristan became a trusted name, and its high-end floor covering designs became widely popular. By 1927, the company began broadening its horizons by rapidly importing handmade area rugs from India and soon incorporated under the name Couristan, Inc.
The company continued to expand, importing hand-hooked rugs from China and hand-braided rugs from Japan, as well as importing quality residential broadloom products, which proved to be pivotal in the ongoing success of the company, with carpet sales becoming a major part of Couristan's overall business.
Today, Couristan operates internationally with several entities. The North American sales and distribution corporation is comprised of two main divisions—with a nationwide residential sales team focused on over 40 area rug collections and over 200 residential broadloom products, and a contract-hospitality sales team spearheading the company's specialized custom carpeting business.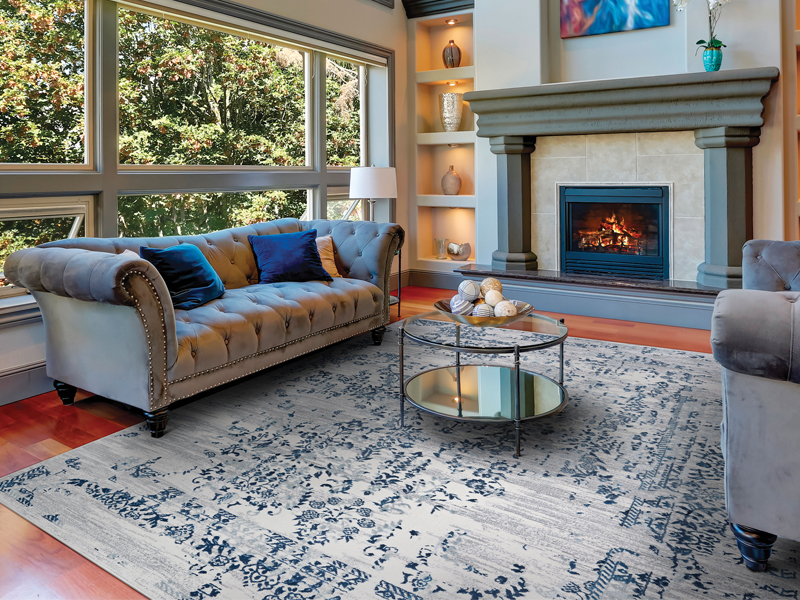 But the Couri brothers wouldn't have gotten far without following their core values—which still hold true today.
"We concentrate on trust, style, quality, and innovation, and our long-standing position of success is a direct result of providing customers with the highest levels of design, value, and customer service," says Couristan Chairman George Couri. "Product development—in terms of fiber usage, constructions, innovations, and color usage—is paramount within our company, and it will never be compromised. It's imperative that we provide our authorized dealers with products at the right price point without compromising quality."
"Product development—in terms of fiber usage, constructions, innovations, and color usage—is paramount within our company, and it will never be compromised."
Additionally, George adds that it's important for Couristan to provide marketing tools to help support its dealer base while raising its own brand awareness among the consumer demographics. Digital, video and social media marketing have become important elements as they continue to build their brand recognition.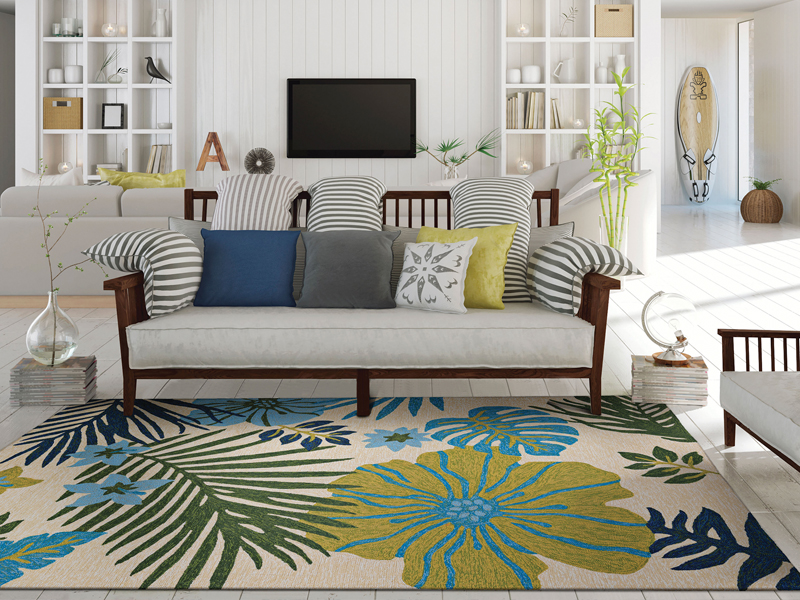 Over the years, Couristan has become a leader in the industry, and part of that success is due to its annual Trend Report, which has become a hallmark of the area rug industry. This year, the identified trends are all about getting "Back to Basics" and breaking free while allowing "nature to cleanse the end-users souls as we all rediscover our own wellness." There's also a video component to the report this year that invites viewers to take a closer look at each trend.
The five key trends identified this year—Traditionally Grounded, Mountain Textures, Into the Wilderness, Water Views, and Free Spirit—have inspired a full range of the company's recent introductions and award-winning products—from the textured appearances within the company's new Brocatelle and Couture collections, to new outdoor styles and designs offered in the company's renowned Old World Classics Collection.
Speaking of outdoor, Couristan has also been a big player in the outdoor category for nearly 20 years. In 2003, the company introduced its award- winning Recife outdoor collection that helped revolutionize the area rug industry.
"Power-loomed of 100% Courtron polypropylene, UV-stabilized, and mold- and mildew-resistant, the introduction of Recife to the market was a major turning point for the company, setting Couristan apart from every competitor and opening new channels of distribution," Ron says. "Today, the company offers a vast assortment of cutting-edge indoor/outdoor area rug collections—representing over six dozen SKUs—and leads the industry as an innovator of this widely successful category."
"We have an intent eye on the future as we look to embarking on the next milestone which is 100 years. Through depressions and recessions, we managed to deliver."
While the pandemic has put a hold on any celebrations Couristan planned to have for the anniversary, George says he's excited about the milestone.
"We are extremely proud of our long-standing position of success as a family-owned and still-operated business," he says. "We have an intent eye on the future as we look to embark on the next milestone which is 100 years. Through depressions and recessions, we managed to deliver."
IMAGES COURTESY OF COURISTAN