Kalaty Rug Corporation heads to the fall High Point Market with one of the company's most extensive new-product presentations at their IHFC – G369 showroom. High Point customers will discover the latest slate of high-end handcrafted artisanal area rugs across all décor style genres … and, as always, Kalaty places its primary emphasis on the newest hand-knotted collections as well as additions to existing best-sellers.
"We invite current and prospective High Point customers to see firsthand what's new while discovering the superior quality of our yarns and weaves, our meticulous attention to detail, our impressive size and style range plus Kalaty's flexibility through our exciting custom size and color programs," says Mike Kalaty, a company spokesman.
"We strive to demonstrate how effortlessly our area rugs enrich the beauty, warmth and enjoyment of rooms in homes of all types and sizes – from apartments to condos to cottages and cabins. In answer to the demand for rugs sized for grand installations, we offer a series of mansion-size rugs designed specifically for today's largest homes. High Point showroom visitors will also be able to see our vast color range and touch all of the luxurious textures found throughout our vast product line of updated-traditional, high-energy contemporary abstract and graphic patterns as well as our innovative transitional looks. High Point visitors can also take advantage of a number of market specials and get a glimpse of what's to come from us at future markets."
 
Highlights for High Point
 
Three collections are new for High Point:
The hand-knotted 100% premium hand-spun wool updated-traditional Celine collection
The modern-meets-traditional hand-knotted wool-Silkette™ Forte collection
The elegant eclectic designs of the wool-Silkette™ hand-knotted Kosta collection.
Additionally, there are a number of best-selling existing collections with additions including: the hand-knotted Amalfi collection of Oushak inspirations; all-new designs for the Natori Lhasa collection by world-renowned fashion designer Josie Natori; new additions for the boldly colored flatweave Soumak Chroma collection of tribal and Southwestern designs; new geometric and abstract patterns added to the high-end power-loomed Celeste collection; new modern abstract patterns added to the Tibetan-weave Orion collection; charming Oushak inspirations added to the softly colored Magnolia collection; new vintage-inspired classic designs added to the Khotan collection; exciting contemporary abstract designs added to the Juno collection; ruggedly handsome tribal and Southwestern additions to the Mojave collection. There are many more new-and-exciting Kalaty area rugs to discover in High Point; plus, the aforementioned new high-end sophisticated rugs are in-stock and ready to ship.
For High Point customers looking for stylish high-end oversized rugs, Kalaty continues to offer the Mansion-Size collection: 37 specially selected designs in a range of sophisticated colors and décor genres chosen from among the company's best-selling high-end styles now available in such grand sizes as 13 x 18, 14 x 20, 15 x 22 and 16 x 24.
 
Newest Kalaty High-end Collections
 
Celine Collection
Stylish "broken" designs and motifs fused with modern fashion colorways elevate the allure of each rug found in this exceptional updated-traditional low-pile collection. Meticulously hand-knotted using premium hand-spun wool yarns.
 
Forte Collection
Modern meets traditional in this unique collection where contemporary abstract designs intermingle with traditional elements in border areas, creating an unusual fusion of color and pattern. Meticulously hand-knotted using a combination of premium wool and Silkette™ yarns.
 
Kosta Collection
Meticulously hand-knotted using a combination of premium wool and Silkette™ yarns, this outstanding updated-traditional collection features popular fashion-forward colorways that have broad appeal for both traditionalists and modernists alike. Each rug in the collection is finished with a special process to create a low pile or zero pile.
 
Existing High-end Collections with Additions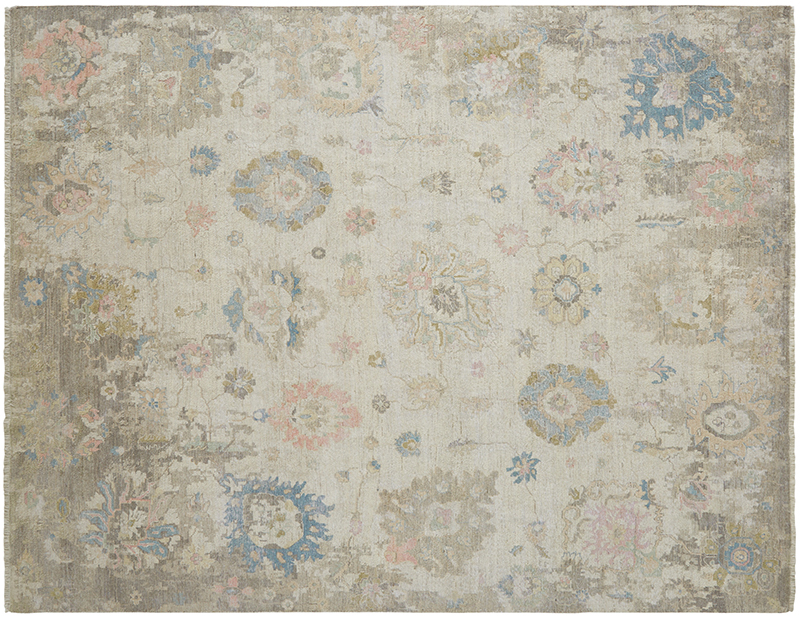 Amalfi Collection (design AF-1290 pictured above)
Influenced by classic Oushak designs and other timeless motifs, this high-end collection speaks to today's sophisticated décor tastes through harmonious combinations of pattern and carefully curated fashion-forward color palettes. Meticulously hand-knotted using 100% premium hand-spun wool, each of these stylish rugs features a zero pile for today's sought-after vintage look.
 
Elara Collection
Borderless modern inspirations with erased effects and high-low carving, this collection makes a high-fashion tonal statement. hand-knotted in a Tibetan weave using a combination of premium wool and Silkette™ with a loop-and-pile weave that is hand carved for a three-dimensional look and feel.
 
Khotan Collection
Equally at home in both traditional and modern settings, this vintage-inspired collection emulates classic motifs and designs found in treasured antique Khotan rugs. hand-knotted using a combination of fine wool and Silkette™ yarns in stylish easy-to-live-with colorways.
 
Juno Collection
Modern abstract studies in dimensional texture and high-energy explosions of color are hand-knotted in a Tibetan knot weave using 100% Silkette™ yarns. Specific designs within the collection are hand-carved in order to impart special high-low textural effects.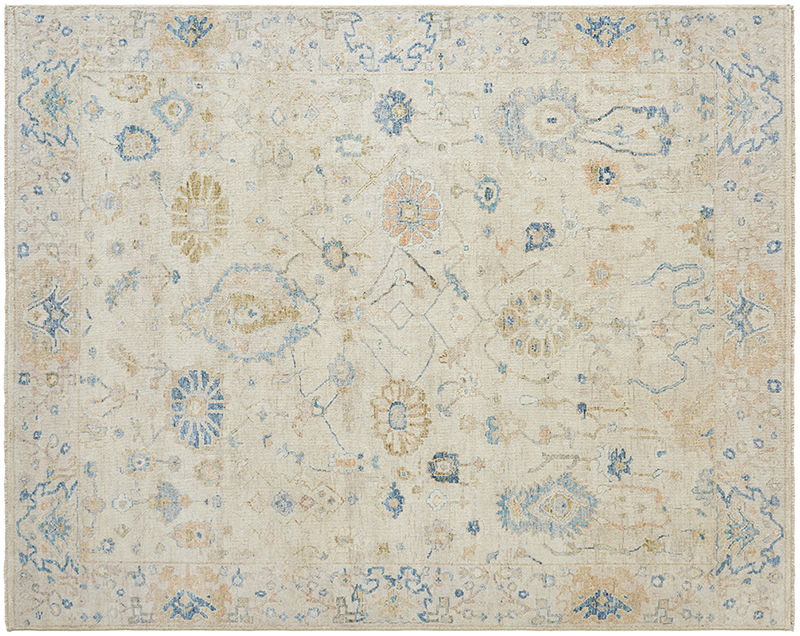 Magnolia Collection (design MG-187 pictured above)
A collection of softly colored "new-traditional" rugs inspired by classic Oushak designs. Each rug is meticulously hand-knotted using 100% premium hand-spun wool yarns and sheared to a low pile for today's trendy vintage-chic that appeals to both modern and traditional tastes.
 
Mojave Collection
Infinitely stylish with a rugged handsome appeal, this uniquely casual collection of tribal and Southwestern patterns and motifs is meticulously hand-knotted using 100% premium hand-spun wool using 100% premium hand-spun wool yarns.
 
Natori Lhasa Collection
Fashion industry icon Josie Natori showcases her East-meets-West design aesthetic by "bringing art into life" in a rug series in subdued color palettes inspired by her own abstract prints. Each rug is meticulously hand-knotted in a Tibetan weave using a combination of premium wool and Silkette™ further highlighted by high-low carved textural effects.
 
Orion Collection
Chic on-trend modern designs and colors comprise this exceptional collection of contemporary abstract artistic expressions. Each of these extraordinary rugs is meticulously hand-knotted in a Tibetan weave using a combination of premium wool and Silkette™ yarns and then finished with intricate hand carving for special high-low textural interest. 
 
Soumak Chroma Collection
Bold colorways in a variety of tribal and southwestern patterns have been added to this exciting double-sided flatweave collection. hand-knotted in a Soumak weave using 100% premium wool yarns on a cotton foundation, these versatile reversible rugs feature a distinctive herringbone texture that is characteristic of the classic Soumak weave. Design SK-1191 is shown below.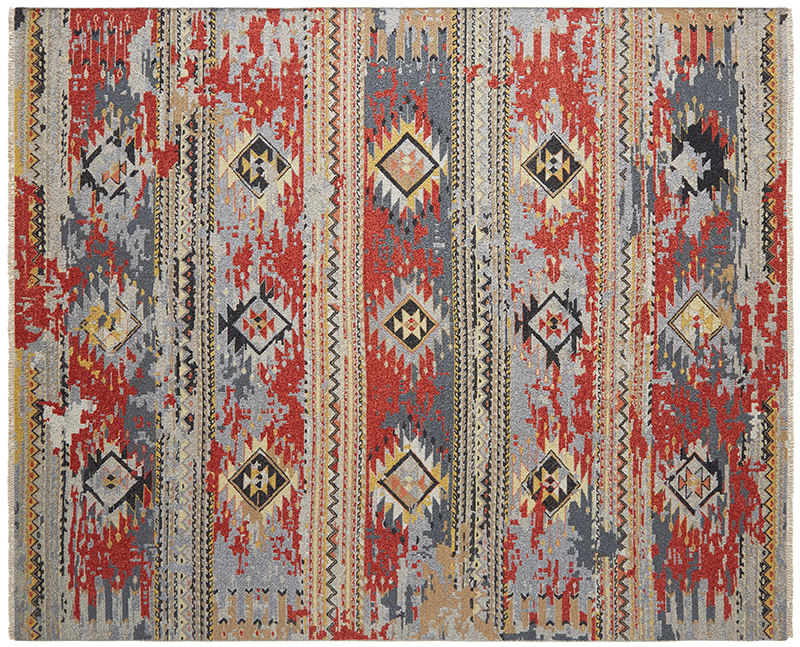 Oushak Collection
hand-knotted in a Turkish-style weave, using 100% premium hand-spun wool, these perennially popular rugs remain in a special class of their own. While colors within the collection range from classic traditional colorways to updated-modern tones more in keeping with today's tastes and lifestyles, all of these timeless designs and motifs retain the unique characteristics so prized in antique Oushaks.
 
Celeste Collection
Creative abstract patterns and designs in modern-chic fashion colors, power-loomed in a multi-textural high-low weave using a creative combination of Silkette™ and acrylic yarns. An especially fine power-loomed collection displaying a knots-per-square-inch equal to many high-end hand-knotted styles (620 KPSIE).
 
kalaty.com