Kalaty Rug Corporation starts the 2023 market season with an impressive product presentation at the company's Las Vegas (WMC, B455) showroom where winter market customers will discover the newest array of high-end fashion-forward area rugs in all style genres, which includes hand-knotted designs in sophisticated colors, patterns and styles, as well as a number of exciting additions to best-selling high-end collections plus line extensions to the company's popular-priced K-TWO series of open-distribution collections.
The company's legendary artisanal crafting and attention to detail are showcased at Las Vegas through creative uses of color and texture in high-energy graphics and contemporary abstracts, through refreshing new color palettes that give classic traditional styles a modern update and through tone-on-tone neutral and natural hues for handsome new transitional looks. Showroom visitors also will be able to get previews of what's to come at future markets.
Newsworthy winter 2023 Las Vegas introductions include the new Oushak-influenced Amalfi collection with fresh modern colorways and zero-pile; additions to the Celeste collection of distinctive geometric contemporary and abstract designs; new modern abstract expressions added to the Tibetan-weave Orion collection; six energetic boldly colored additions to the reversible flatweave Soumak Chroma collection; additions to the charming Magnolia collection of softly colored Oushak inspirations; the high-low textural styling of the new eclectic power-loomed Kamaria collection.
All of the aforementioned new collections and additions are in stock and ready to ship. And, for Las Vegas customers looking for oversized rugs, Kalaty continues to emphasize its Mansion-size collection, which is made up of 37 best-selling designs in an array of colors and style genres from existing high-end hand-knotted Kalaty collections now available in "mansion" sizes: 13 x 18, 14 x 20, 15 x 22 and 16 x 24.
"Once again, we invite our Las Vegas customers to discover more than just what's new in that we also encourage customers to learn more about our superior quality, our updated color and style genres, our vast range of sizes, our carefully curated materials and weaves, as well as our renowned attention to detail," says Kamran Kalaty, a company spokesman. "This winter, we look forward to another face-to-face market where we can demonstrate just how effortlessly our area rugs elevate and enhance the beauty, warmth and enjoyment of interior spaces of all sorts."
Newest Kalaty High-end Collections

Kandra Collection
Modern meets vintage in this eye-catching collection that fuses Oushak designs with interesting erased effects and artful abstract flashes of chic colors. Meticulously hand knotted in a Tibetan weave using a combination of premium wool and Silkette™ yarns in appealing colorways, these fine rugs are an ideal complement for most any style of décor.
Amalfi Collection
Influenced by classic Oushak designs and other timeless motifs, this high-end collection speaks to today's sophisticated décor tastes through harmonious combinations of pattern and carefully curated fashion-forward color palettes. Meticulously hand-knotted using 100% premium hand-spun wool, each of these stylish rugs features a zero pile for today's sought-after vintage look.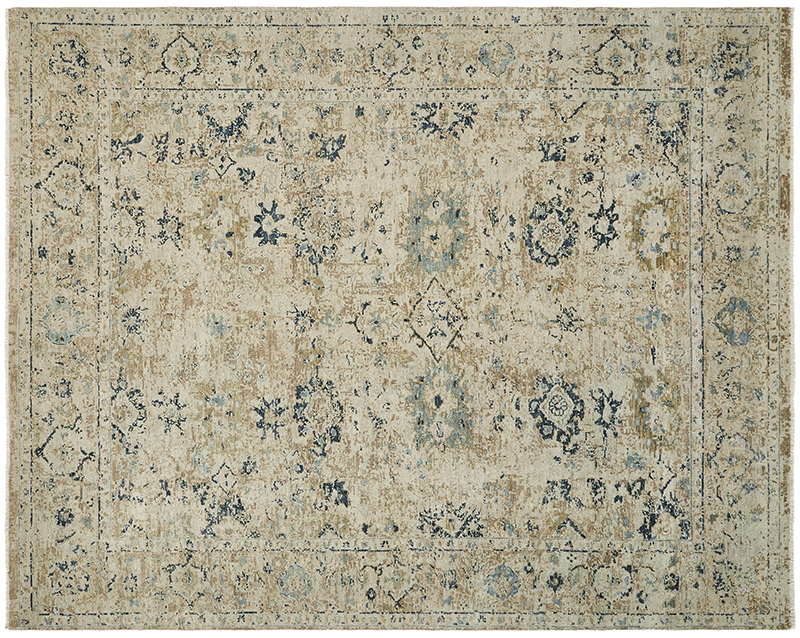 Lyra Collection (shown above)
A stunning collection of high-end classic traditional florals and other desirable motifs meticulously hand-knotted using premium hand-spun wool yarns and featuring zero pile. Available in an assortment of today's favorite designer colors for that extra-special allure.
Kamaria Collection
A collection of high-end updated-classic and contemporary designs available in stylish color palettes and in handsome on-trend high-low weaves. Power-loomed using a luxurious combination of Silkette™ and polyester yarns, this especially fine collection displays a knots-per-square-inch equivalent (930 KPSI) that would be nearly impossible to achieve in hand-knotted styles.
Additions to Best-selling High-end Collections
Soumak Chroma Collection
Charming double-sided flatweave Soumak designs rendered in excitingly fresh colorways. Hand knotted in a Soumak weave using 100% premium wool yarns on a cotton foundation, each of these versatile reversible rugs features a distinctive herringbone texture which is a unique characteristic of the classic Soumak weave.
Magnolia Collection
A collection of softly colored "new-traditional" rugs inspired by classic Oushak designs that are meticulously hand-knotted using 100% premium hand-spun wool yarns that are sheared to a low pile which imparts an appealing vintage-chic quality that is simultaneously modern as well as traditional.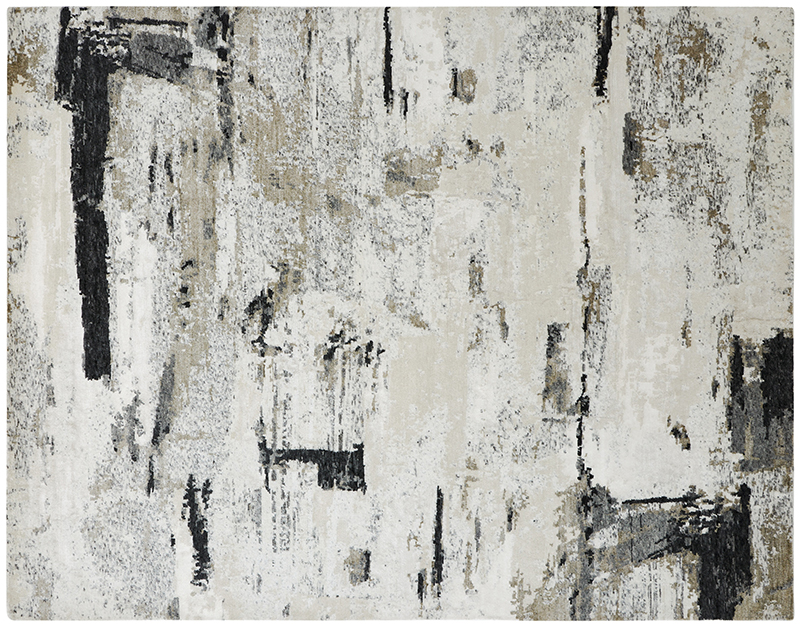 Orion Collection (featured above)
Chic on-trend modern designs and colors comprise this exceptional collection of contemporary abstract artistic expressions. Each of these extraordinary rugs is meticulously hand knotted in a Tibetan weave using a combination of premium wool and Silkette™ yarns and then finished with intricate hand carving for special high-low textural interest.
Adana Collection
Vibrant pops of popular designer colors bring a modern update to the motifs and patterns found in this heirloom-worthy collection of classic Oushak rug designs. Meticulously hand-knotted using a combination of premium hand-spun wool and Silkette™ yarns, this collection reaches a new level of fashion chic through fresh, cutting-edge color palettes.
Celeste Collection
Creative abstract patterns and designs in modern-chic fashion colors, power-loomed in a multi-textural high-low weave using a creative combination of Silkette™ and acrylic yarns. An especially fine power-loomed collection displaying a knots-per-square-inch equal to many high-end hand-knotted styles (620 KPSIE).
Elara Collection
Borderless modern inspirations with erased effects and high-low carving, this collection makes a high-fashion tonal statement. Hand knotted in a Tibetan weave using a combination of premium wool and Silkette™ with a loop-and-pile weave that is hand carved for a three-dimensional look and feel.
Harlow Collection
Meticulously hand-knotted using a combination of premium hand-spun wool and Silkette™ in a fine Turkish knot weave, each of these modern abstract rug designs has the unique look and feel of artisanal contemporary masterpiece.
Kingsley Collection
Updated-traditional and abstract designs in modern fashion colors, power-loomed in a multi-textural high-low weave using a creative combination of Silkette™ and acrylic yarns. Bound by hand and finished by hand, this is an especially fine collection displaying a knots-per-square-inch equivalent (620 KPSI) to that of many high-end hand-knotted styles.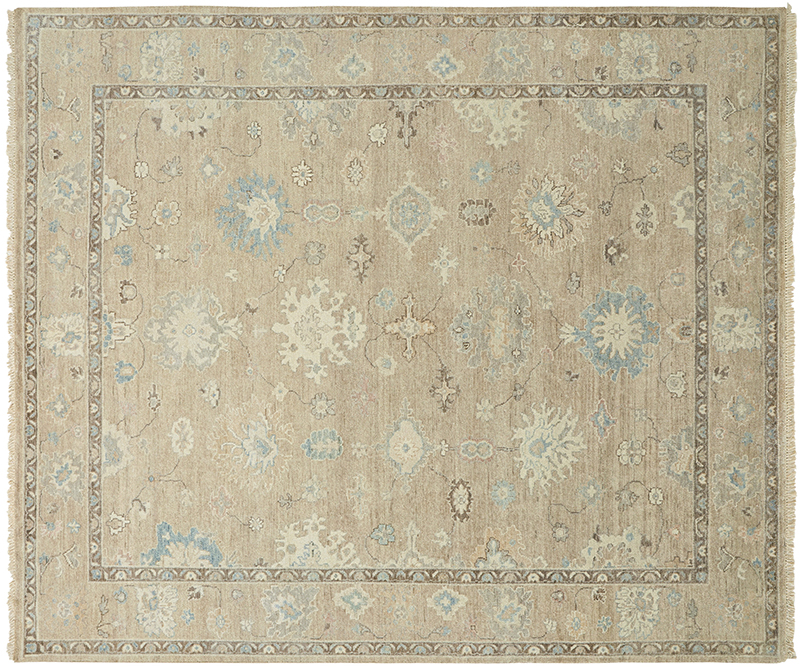 Oushak Collection (shown above)
Hand-knotted in a Turkish-style weave, using 100% premium hand-spun wool, these perennially popular rugs remain in a special class of their own. While colors within the collection range from classic traditional colorways to updated-modern tones more in keeping with today's tastes and lifestyles, all of these timeless designs and motifs retain the unique characteristics so prized in antique Oushaks.
Zafra Collection
Hand knotted in a Tibetan weave using premium hand-spun wool and Silkette™, these elegant modern abstract rug designs feature the unique look of fine Indian sari silk thanks to a special dyeing technique that imparts an effect that is usually only found in sari silks.
Licensed N Natori Serengeti Collection Additions
N Natori Serengeti Collection
Designed by fashion designer Josie Natori, these new power-loomed additions feature mostly animal-inspired prints that tie back to the designer's renowned clothing line from the World of Natori. Colors found in the new rugs – as well as the rugs in the initial Serengeti collection – provide expression without overpowering. Machine-made using easy-care polyester yarns, the knots-per-square-inch (KPSI- 260) of these fine rugs is equivalent to that of many hand-knotted rugs.
K-TWO Series News
The K-TWO by Kalaty series of open-distribution rug collections has reached an impressive 29 collections with the latest collections – Pelle, Petra, Lumina and Omnia. Styles within this series of popular-priced rug collections range from relaxed transitional designs to high-energy contemporary abstracts and geometrics to updated-traditional patterns while weaves within the series include hand-knotted, hand tufted, hand-loomed plus power-loomed.
Pelle Collection
Ruggedly handsome 100% hair-on cowhide patchwork rugs featuring a number of innovative modern geometric patterns in black, white, ivory, stylish neutrals and warm brown tones. Each rug design is composed of leather pieces that are individually cut, stitched together and then hand bound and backed.
Petra Collection
A collection comprising tribal influences as well as designs of a more modern idiom incorporating perennially popular palettes of natural and earth tones. Power-loomed of long-wearing, easy-to-care-for polypropylene yarns.
Omnia Collection 
Color is key to this collection of printed power-loomed rugs made of 100% polyester yarns. Each of these artful abstract rug designs features fashion colors that are fused together in ways that are uniquely … and simultaneously … both modern and traditional.
Lumina Collection
For those looking to refresh the look of their rooms, the rugs in this collection are just the ticket. Power-loomed using a combination of polypropylene and polyester yarns, these stylishly simple modern designs and updated-traditional patterns provide an abundance of mood-changing looks to reinvent any space.