Zollanvari International will present at Maison&Objet Paris on January 19 - 23, 2023 highlights from the 10 collections produced over 2021/2022 in celebration of their 75th Anniversary. The company will also present a multitude of new design additions to existing collections for 2023, and the latest decorative objet d'art from its Home Décor range.
After an absence of over two years, Zollanvari International returns to Maison&Objet all guns blazing. In 2022 the company celebrated its Diamond Jubilee with several in-house events and online exhibitions, but most importantly developing ten individual new collections, starting with the Lion Collection—inspired by the emblematic image of the Zollanvari brand icon—and ending with Glitch Gabbehs, the latest collection launched last autumn for 2023, which is an ingenious fusion of traditional Gabbeh iconography and Glitch art – a visual style characterized by using digital or analog errors for aesthetic purposes. The collection is the brainchild of SoFarSoNear Studio Milan (SFSN), with whom Zollanvari has developed several lauded and award-winning collections over the past ten years.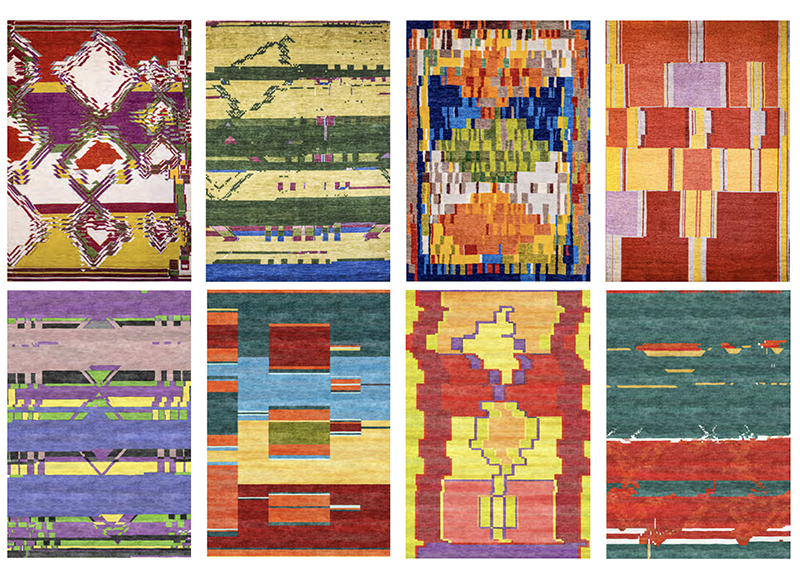 The online exhibition 'Glitched – a New Era for Gabbehs' (designs shown above) is currently live and includes all the designs in all available colorways. The collection is exclusively available to order from the Zollanvari Online- Shop website, which has been revamped for the launch of the Glitch Gabbehs Collection.
The collaboration with designers has been a hallmark of Zollanvari's quest to break boundaries in creating carpet art. The Lion (all except one design by SFSN) and Architectural Textures collections were created in close cooperation with the Viennese product design studio NOV24 and the close association with the Soheila Shayegan Studio in Cyprus is the keystone to the company's extraordinary flatweave production – from Baneh kelims to the ever-growing Zillu collection.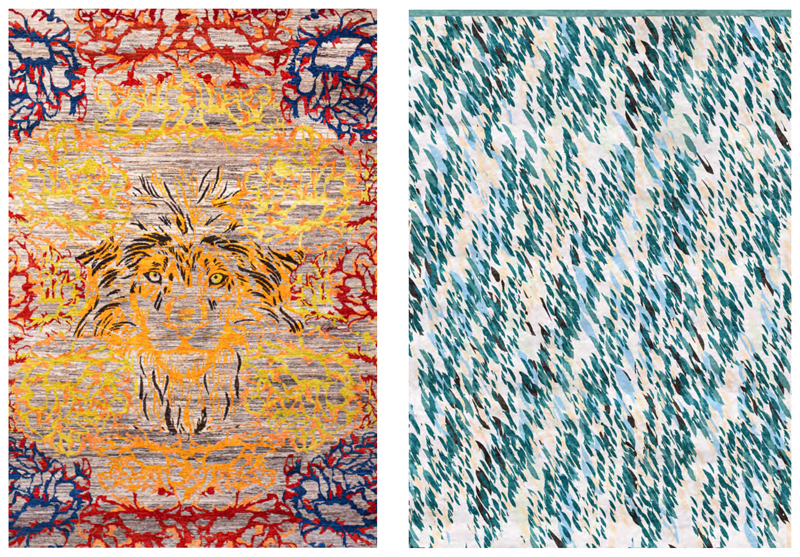 Designs from the Lion Collection
As Reza Zollanvari puts it, "We have never shied away from trying something new, pushing the boundaries. We are always innovating, finding inspiration in weaving traditions from across the globe, but always giving the designs the Zollanvari twist."
This is the quintessence of Zollanvari International's success... remaining at the forefront of the fine handwoven design-carpet industry with a resource-efficient and sustainable production – a concept deeply rooted in the company – and forever innovating.
For Zollanvari, the art of carpet making has always exemplified the expression of a culture and a way of life, and as a result, Zollanvari's use of pattern, color, and symbolism has been constantly evolving. What has set them apart is the active encouragement their weavers are given to allow their own aesthetic sense to shine through the designs. Individual, expressive, and unique carpets are the result.