Turquoise Mountain Trust announces its new range of heritage-inspired fabrics created in collaboration with weavers in Myanmar. The new collection will be on display for the first time at FOCUS/22 at Chelsea Design Centre, from September 20 – 23, 2022. It is complemented by hand-knotted rugs and wallpapers inspired by the heritage motifs of Myanmar.
Myanmar has an extraordinarily rich and diverse textile heritage. Many of the 135 ethnic groups have distinct textile traditions. The backstrap woven fabrics, patterns, and designs of rural regions reflect rites of passage and mythical stories passed across generations. While frame loom fabrics originating from the northernmost regions of Myanmar are brightly colored with complex abstract patterns.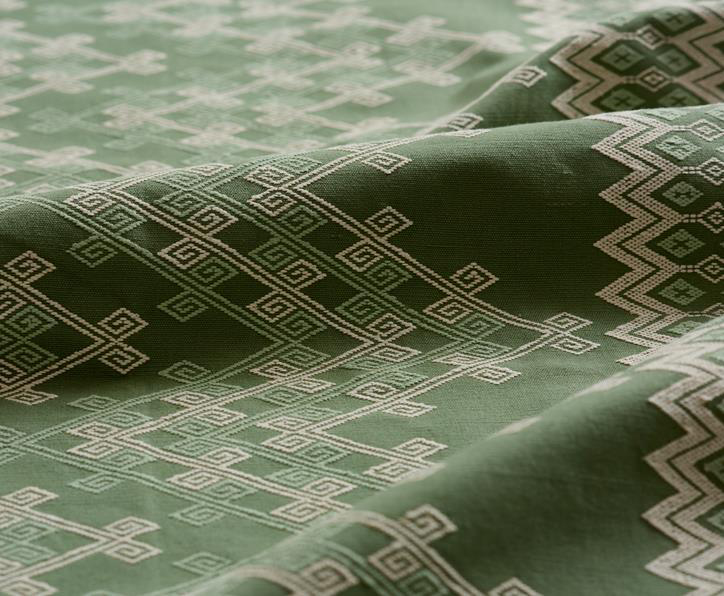 Over the past four years, the Turquoise Mountain team in Yangon has worked with weavers to celebrate this diverse and vibrant heritage, and develop fabrics for interior use. Alongside are hand-knotted carpets made by women weavers in Afghanistan, inspired by the motifs of Myanmar's textile history. The collection is completed by a series of elegant wallpapers and a capsule line of 14kt gold jewelry handmade by local goldsmiths.
Our fabrics have been developed to meet international standards for consistency, durability and fastness and can be treated for fire resistance. The full range of fabrics, carpets and wallpapers are available from the end of September and can be purchased through Turquoise Mountain.
The Turquoise Mountain Textiles Atelier in Yangon has been operating since 2019 and offers bespoke soft furnishings and fabric accessories for clients. The products are handmade and can be developed for clients to both reflect authentic heritage and unique stories, while also responding to trends in contemporary design and industry standards.
Turquoise Mountain works with third-party verifier and partner LABEL STEP to support the growth of the artisan textile and carpet sectors in Myanmar and Afghanistan. Working with weaving communities, LABEL STEP and Turquoise Mountain have developed a set of fair trade and environmental standards to help improve the working conditions of weavers, support local supply chains, and bolster economic growth in international markets.

We are located on the Ground Floor in the Design Avenue during FOCUS/22. Browse the full collection in our catalog.
To attend FOCUS/22, please register here, the company is located on the Ground Floor in the Design Avenue during FOCUS/22. For appointments and to order samples, contact This email address is being protected from spambots. You need JavaScript enabled to view it..
turquoisemountain.org | Instagram
Images ©Turquoise Mountain Trust