For more than 25 years, GoodWeave, a nonprofit organization dedicated to ending child labor in global supply chains, has worked with the rug and textile industry to meet the requirements of the GoodWeave Standard and labor laws related to child, forced and bonded labor. GoodWeave will be exhibiting at Decorex International 2022 in an effort to expand its network of partners and promote the crucial service it provides to the interior design sector.
GoodWeave's work with companies to assure clean supply chains, from factories to outsourced, home-based worksites, enables businesses to highlight their ethical production and sell products to consumers and buyers who are increasingly looking to make purchases from responsible sources. A portion of the sales price of products with the GoodWeave® certification label support GoodWeave's ongoing social programs in South Asian producer communities.
"The COVID-19 crisis put the spotlight on supply chains and highlighted the plight of vulnerable workers worldwide," said GoodWeave International CEO Nina Smith. "It has also exacerbated the risk of child labor. Consumers and companies, now more than ever, want to know who makes their products and that's where the GoodWeave program can help."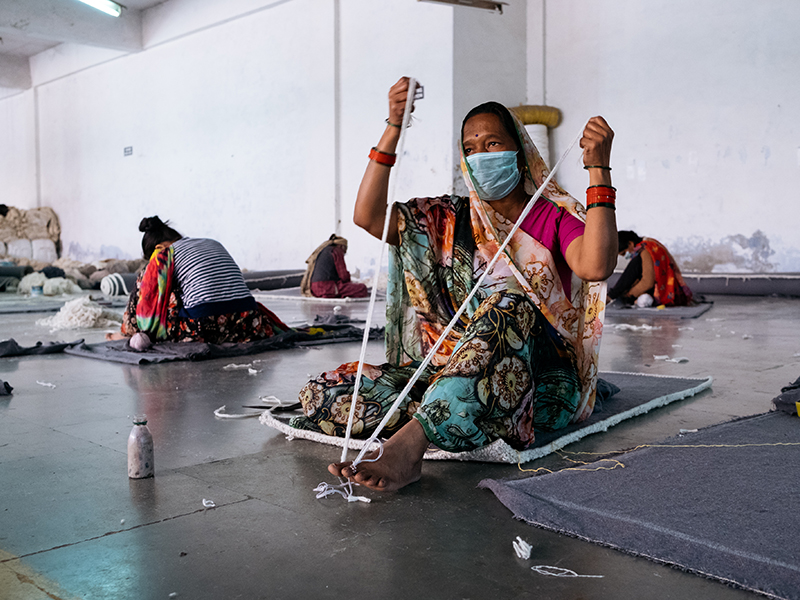 There are currently more than 420 companies in 22 countries including major retailers and international brands, as well as rug designers and trade suppliers, partnering with GoodWeave through a joint commitment to end child, forced and bonded labor in the rug and home textile sectors. These partnerships and the sales of GoodWeave® certified and labeled products have supported educational opportunities for more than 44,000 children since GoodWeave's inception to address the root causes of child labor, as well as other services such as daycare centers for workers and rehabilitation for rescued child laborers.
Business benefits of joining the GoodWeave program as a licensee or industry partner include:
Comply with transparency, modern slavery and human rights legislation by achieving full visibility across high-risk production sites outside traditional audit oversight
Advance corporate sustainability efforts towards Sustainable Development Goal 8.7 to end all forms of child labor by 2025
Gain "peace of mind" that products are not made with child, forced or bonded labor
Improve working conditions in supply chains and producer communities through remediation and social program implementation
Enhance reputation and make/sell products customers feel good about buying
Retain and motivate employees that are proud to work for a company with a broader mission
To source GoodWeave® certified products visit, https://goodweave.org/where-to-shop/. To learn more about becoming a GoodWeave licensee or industry partner, visit GoodWeave at booth number A158 during Decorex from October 9 - 12, 2022 in London or contact Sonny Puryear at This email address is being protected from spambots. You need JavaScript enabled to view it..
---
About GoodWeave
GoodWeave — a nonprofit organization founded in 1994 by Nobel laureate Kailash Satyarthi — is the leading institution working to stop child labor in global supply chains through a market-based system and holistic approach. GoodWeave partners with companies and local producer communities to bring visibility to hidden supply chains; protect workers' rights; provide assurance that products are free of child, forced and bonded labor; and restore childhoods. Look for the GoodWeave® certification label on rug and home textile products. Learn more at www.goodweave.org. Connect on Facebook, Twitter, LinkedIn and Instagram.