Kalaty Rug Corporation announces that its latest licensed area rug series, katie merz x Kalaty, will launch at the upcoming April High Point Market at the company's IHFC showroom (G-369). Kalaty is collaborating with Katie Merz, renowned Brooklyn-born-and-based mural artist, to produce what the company states will be a growing series of area rug collections based on her dynamic, innovative artwork, which offers consumers a new way of bringing art into their homes and onto their floors.
"Kalaty is especially pleased to be collaborating on this new rug series with Katie Merz, an artist whose creativity and talent are both unique and boundless. We are honored to be associated with her and to have the opportunity to interpret Katie's original artwork into a series of truly unique artist-designed rugs," says Ariel Kalaty, a company spokesman.
Katie Merz's dynamic studio ink-and-watercolor works on paper are the inspiration for artwrks and colorwrks, the first collections in the katie merz x Kalaty series, which are making their debut at the spring High Point Market. Kalaty soon will unveil additional collections that will be derived from Katie's acclaimed freehand glyph-art exterior and interior murals for which the artist attributes her influences as "Brooklyn, cartoons, architecture, silence and the kinetic structure of things." Both her works on paper and her murals are described as transformational navigations of space and color using line and continuum.
Collection descriptions: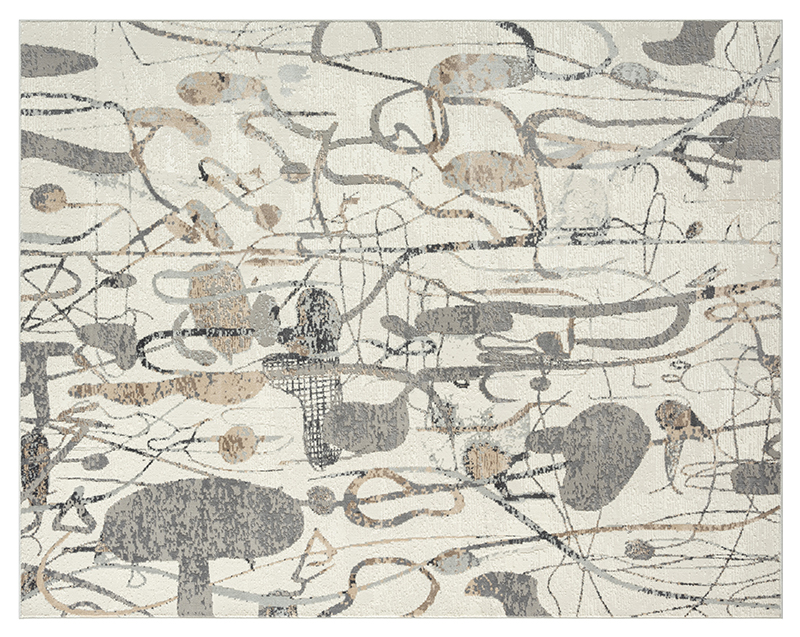 The design featured above is from the new katie merz x Kalaty artwrks series.
artwrks 
Artist Katie Merz brings her fine art background into today's homes and lifestyles through this dynamic rug collection derived from her contemporary ink-and-watercolor works on paper. Power-loomed using a combination of easy-to-care-for polyester and polypropylene yarns, each rug in this collection features a distinctive high-low textural weave that adds further dimension to both the pattern and background.
colorwrks
The vibrant abstract ink-and-watercolor works on paper of noted Brooklyn-based artist Katie Merz have inspired this stylish area rug collection, which translates the artist's distinctive eye for color and composition into modern works of art for today's floors. Power-loomed of long-wearing, easy-to-clean and easy-to-maintain 100% polypropylene yarns.
Katie Merz is the daughter of pioneering architects, a passionate lifelong Brooklyn resident as well as an award-winning artist and professor of drawing at the renowned Cooper Union School of Fine Art. Best known for her contemporary large-scale murals on building exteriors and in public spaces, Katie's works are found in such diverse locations as New York City, Mexico City, Denver (CO), Austin (TX), other smaller urban neighborhoods and most recently in a new urban development in Charlotte (NC). Her spontaneous murals comprise densely sandwiched glyphs and words in wild orientations depicting local themes and icons that most often relate to the history and culture of the location and echo traditional graffiti and friezes of classic public buildings. Katie's iconic work in this style also has been commissioned by such prestigious brands as Starbucks, Union Square Hospitality Group and Chelsea Piers Fitness for walls and spaces in their restaurants, coffee shops, gyms and dance studios and also by Facebook (Meta) to decorate workspaces and a boardroom at the company's Manhattan headquarters. In addition to her line of area rugs with Kalaty, Katie Merz's work is licensed to apparel companies as well as to such home décor and furnishings specialists as John Richards for framed art, Brewster Home Fashions for wall coverings and Design Styles Home for a variety of tabletop products, accessories and homewares.