Secaucus, NJ – With less than two months to go, organizers of THE RUG SHOW are busy with event preparations. The 2022 roster is growing up to the last minute and includes new companies as well as many returning, established 'RUG SHOW' veterans. This year's show is scheduled to take place at the Meadowlands Exposition Center in Secaucus, New Jersey on February 16-18, 2022. As a premier industry fair, The Rug Show offers attendees a place to buy new products, meet new rug makers, learn and build connections through networking.
"This is the only show for hand-made rugs organized by the rug industry FOR the rug industry," says Jack Simantob of Art Resources. "Registration is open and the response has been very positive," he added. "We'll be issuing exhibitor bios with sneak previews of product on our social media channels as well as through industry press releases."
Simantob noted the collective enthusiasm from exhibitors and attendees for the return of the show after global show postponements. "We're excited to see the new innovation and progress of the industry including design, structure, texture, colors developed during the pandemic. Attendance is sure to be high!"
The Rug Show is delighted to introduce and share highlights from its exhibitor showcases. The first group spotlighted features Harounian Rugs International, Caravan Rug Corp., and Art Resources. Stay tuned for additional intros coming soon!
HAROUNIAN RUGS INTERNATIONAL (HRI)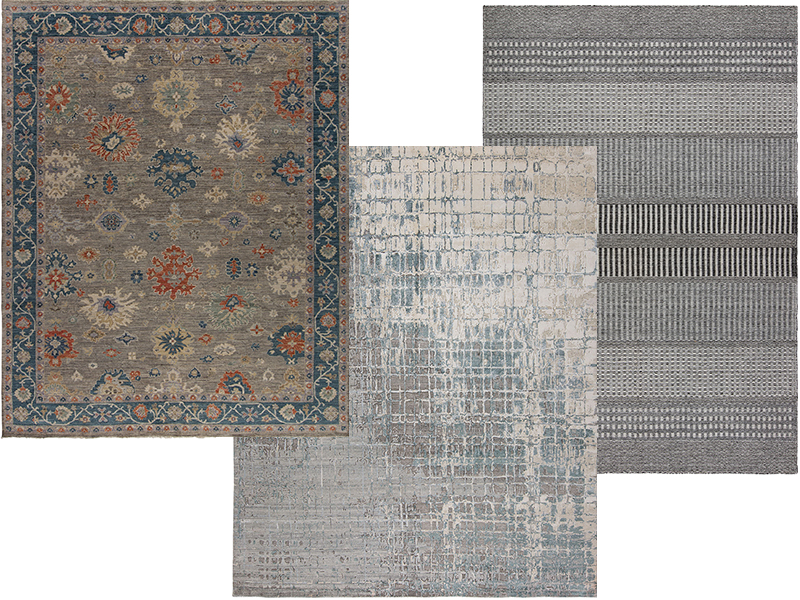 Designs shown (left to right) are from HRI's Majestic Oushak, Charlotte, and Kilim Casablanca Collections.
NYC-headquartered HRI has been a part of The Rug Show since its debut. This 60-year young multi-award-winning brand looks forward to reconnecting with its primary customer base... the accounts that offer fine hand-knotted programmed area rugs that are on-trend Transitional, Contemporary and Traditional looks. HRI caters to the high end, in quality and design, and will be highlighting three new Oushak collections from India and Pakistan, as well several new heavy textured collections of 100% PET yarn. The company's exclusive collections of rugs made of Sunbrella® yarns continue to be expanded with a number of custom and outdoor offerings, all new for The Rug Show.
CARAVAN RUG CORP.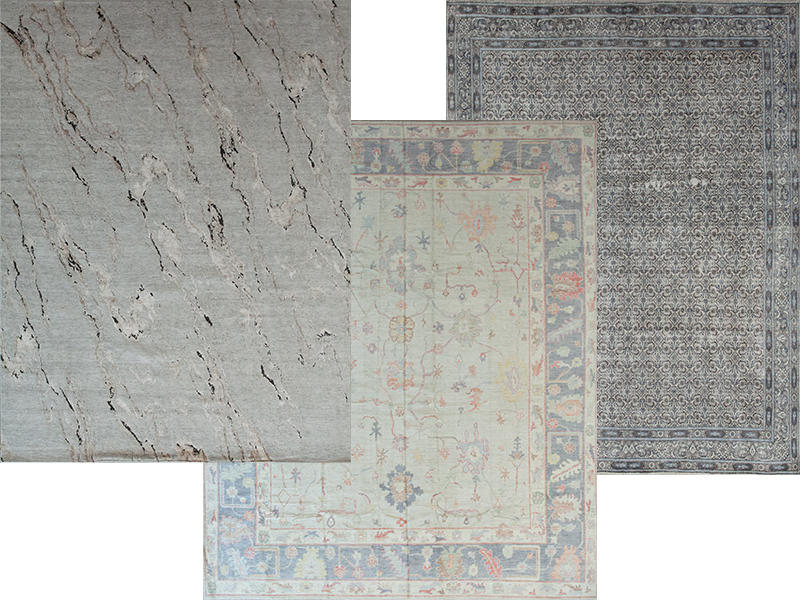 Three noteworthy new productions from Caravan include Onyx from the Hess Collection in wool & silk; updates to Bamyan Collection, Oushak in wool; plus the company's newest collection: Vintage Revival.
11-time exhibitor Caravan Rug Corp. is a leading purveyor of fine, handmade area rugs. The Beverly Hills, CA-based company's rug collections are truly extravagant, featuring hand-carded wool and hand-spun silk varieties, including pure silk, bamboo, and banana silk. Since 1978, Caravan Rugs has been helping designers make their creative visions a reality. The company is heavily stocked in its high-end programs and ready to present its latest creations in Secaucus. 
ART RESOURCES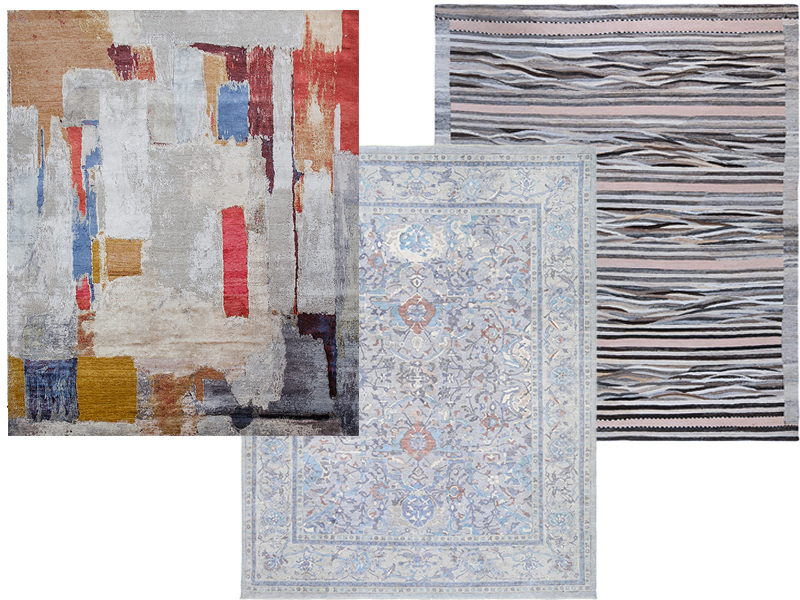 Latest hand-knotted creations from Art Resources include design PJ-8173 from the Emerald Collection, Oushak Collection 3904AB, and Uzbek AR309.
With showrooms in New Jersey and Los Angeles, this rug giant is set to impress in February. Art Resources is one of the very few companies that have a variety of rugs from flatweave, pile, antique, vintage, new, tribal, traditional, European, and modern. Source shapes and sizes ranging from gallery to oversized rugs — all with images and info available searchable online. As one of the fair's senior participants, the 2022 show marks Art Resources fourteenth time exhibiting. Look for the latest fashionable, hand-knotted creations in February.
SHOW HOURS
• Wednesday, February 16 — 9:00 AM to 5:00 PM
• Thursday, February 17 — 9:00 AM to 5:00 PM
• Friday, February 18 — 9:00 AM to 3:00 PM
For more information and to register to attend online, visit therugshow.com, with links to access exclusive hotel discounts during show dates at the Hyatt Place and Courtyard Marriott hotels, both within walking distance of the venue.
The Rug Show is a non-profit organization.