Several dynamic new designs will be making their Las Vegas debut in the Capel Rugs showroom during the summer market being held August 22-26. Buyers can visit the showroom at the World Market Center's Building A, Space A-133.
Introductions include Braymore, a cozy hand knotted collection that puts an updated twist on classic motifs, and and two versatile new braided designs -- Sturbridge and Stockton. The three collections were shown for the first time at the High Point Market in June.
"Retailers and designers who missed us in High Point will get another chance to see these latest high-value additions to our ever-evolving line," said Cameron Capel, president – sales and marketing for Capel Rugs. "With consumers spending more time at home, they are eager for new ideas to make their living spaces more inviting and comfortable. The addition of a fashionable rug provides the perfect way to liven up a room without breaking the bank."

From left: Braymore's Wilona in Ice Blue, Keller in Silver/Ivory and Edison in Pewter.
Braymore is a tranquil, hand knotted collection made in India that reinterprets timeless Ziegler and Ushak designs. Rendered in hushed tones with subtle color gradations created by 100% space dyed wool, this creative new collection puts a fresh spin on classic motifs. Patterns and colorways include Adelaide in ivory/slate, Edison in pewter, Jackson in loden, Keller in silver/ivory and Wilona in ice blue.
Braymore is available in five sizes -- 3' x 5', 5' x 8', 8' x 10', 9' x 12' and 10' x 14'. A 5' x 8' version may retail for under $1,199.
"With 15 knots per square inch and a pile height of one-half inch, Braymore is a lush, lovely collection that can go traditional or transitional, depending on its surroundings," said Capel.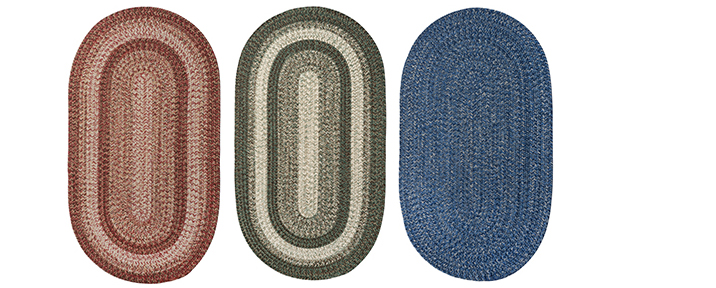 From left: Sturbridge in Maple Red, Sturbridge in Balsam Green and Stockton in Dark Blue.
Also in the spotlight at the Las Vegas Market will be the new traditionally styled Sturbridge and Stockton collections, designed for outdoor or indoor use. Made in the U.S.A., Sturbridge and Stockton both feature 100% polypropylene yarns with a 3/8-inch pile height. The texturized yarns provide a luxurious wool look and feel while also offering easy care and all-weather performance.
Sturbridge is a banded braid design inspired by the classic rug looks of Colonial America. Sturbridge's wide bands of variegated colors create an attractive pattern that is perfect for today's relaxed lifestyles. The vintage yet timeless technique has been modernized by Capel's designers to maximize its appeal and charm.
Five colorways are available in the Sturbridge collection -- balsam green, Coventry gray, Lowell blue, maple red and Berkshire brown. Standard sizes include 20" x 30", 2' x 3', 27" x 48", 3' x 5', 4' x 6', 5' x 8', 7' x 9, 8' x 11', 9'2" x 13'2" and 11'4" x 14'4", in oval or concentric shapes, as well as a variety of round, square and runner options. A 5' x 8' oval rug may retail under $599.
Stockton, Capel Rugs' second new braided design, features the same individual braids used to make the companion Sturbridge collection. Stockton's beautifully updated traditional colors can be used alone, or in combination with each other and Sturbridge.
Stockton offers 15 different colorways from which to choose, including light, medium and dark green; light, medium and dark gray; light, medium and dark blue; light, medium and dark red; and light, medium and dark brown. Standard choices include oval and concentric shapes in a full range of standard sizes, as well as rounds, squares and runners. Coordinating baskets in three sizes also are available. A 5' x 8' oval rug may retail under $599.
Seeking to help retailers and designers spark new business in the late summer and fall selling seasons, Capel Rugs also has added a new onyx colorway to the popular Marmara collection. The hand knotted design features a cascade of beautiful vines dancing across abrash fields of color.
Sourced in India, Marmara is hand knotted of 100% wool. Each end features a lovely one-inch fringe for extra interest. In addition to the new onyx version, three other colorways are available -- pebble, slate blue and mushroom. Marmara may retail under $2,399 for a 5'6" x 8'6" size. Other options include 8' x 10', 9' x 12' and 10' x 14' sizes.
"Marmara offers a very upscale, sophisticated look with an erased, no-border design," said Capel.
For the August market, Capel Rugs encourages retailers and designers to make appointments for their showroom visits, if possible, but walk-ins also will be welcome. Cameron Capel added that the company's sales representatives also can show customers the latest developments in the line via an in-store visit or through the convenience of an online Zoom conference session.