Optimism, confidence and demand for fresh, in-stock product were the overwhelming sentiments of buyers and sellers at the first Atlanta Market of 2021. The nation's largest home and gift trade show is reporting healthy order writing, national traffic and positive projections for 2021 at the close of its eight-day market, January 12-19, 2021.
"Recovery from the pandemic is a journey and after this week in Atlanta, I can confirm that we have taken a giant step forward," said Bob Maricich, International Market Centers (IMC) CEO. "We provided the platform – with safety measures and the return of favorite market experiences – and our buyers and sellers brought the passion, inspiration and dedication that will bring the home and gift industry back. It is onward and upward from here."
Atlanta Market January 2021
Positive movement toward recovery is evident with a more than 150% increase in attendees at the Winter 2021 Atlanta Market over August 2020, reports IMC. The show remains largely regional – with 76% of traffic hailing from the Southeast – along with an encouraging resumption of out-of-region attendance with a 500% gain in buyers from the Northeast and a 200% gain in buyers from the Midwest and West over the Summer 2020 Market. National attendance has returned with buyers from 49 states – all but Hawaii – plus D.C., Puerto Rico and US Virgin Islands. Altogether, attendees came from 21 countries. Additionally, the number of new buyers is close to historic levels, representing 22% of the total buyer traffic.
While buyer traffic has not yet met pre-pandemic levels, spending is rapidly returning to normal. Anecdotally, brands reported 70-80% of their traditional order volume at market, with average order sizes growing 15-50%.
"Buyers came confidently to market ready to look, feel and place serious orders," adds Maricich.
Adding to the excitement was progress on IMC's reimagining of the AmericasMart campus – the Atlanta NEXT initiative – with more work completed on the update to the Building 1 lobby and continuing remerchandising of the gift and home décor showroom collections in Buildings 1 and 2. The Atlanta Market temporaries – which were paused last summer due to the pandemic – returned to positive reviews in a layout optimized for social distancing.
Buyers Back with Enthusiasm
Retailers and designers alike reported excitement for sourcing again at Atlanta Market. Whether they had attended the summer 2020 market or were returning to AmericasMart for the first time in a year, the response was the same: nothing compares to in-person product discovery and Atlanta Market is their venue of choice.
On attending market in person, Jamie Pursell, who owns four Leaf & Petal locations in Birmingham, AL, explained, "You have to use your five senses when buying… you just have to see it in person. As a brick and mortar, our customers are seeing our merchandise in person, so we need to see it in person." A "huge fan of market," Pursell and his buyers have come to every Winter and Summer Atlanta Market for the past 15 years and noted that this market "felt buttoned down, but comfortable," adding, "it's fantastic!"
Buyers starting businesses also attended market for inspiration. Designer Kerry Howard, who is launching his new firm Howard House Interiors in Greenville, SC this year, said, "This market has felt so engaging and efficient. The energy is so refreshing, and you can feel a momentum here… I'm so grateful to be able to attend market and complete some much-needed sourcing."
Buyers also took to social media to share their excitement for market. "[I am] here for market for the first time in a YEAR and I might run around the halls like a crazy grinning person, hopping from showroom to showroom in a flash of Amex Platinum glee. I need the inspo! Need a change of scenery!" posted Jamiee Rose, Jaimee Rose Interiors in Phoenix, AZ on Instagram.
Serious Ordering in Showrooms
The showroom sourcing experience is coming closer to its return to normalcy with 90% of the 1,000+ gift and home tenants open for market. Some 58 new, expanded and relocated showrooms opened at the market, highlighted by the new lifestyle collection anchored by Appelman Schauben and Ivystone on the 11th Floor of Building 2 and continued remerchandising of the Building 1 home décor offerings.
Tenants across the collections saw strong order writing with buying especially healthy in the home décor and decorative accents; gourmet, housewares and tabletop; and seasonal and holiday categories driven by trends in consumer spending during the pandemic.
"The traffic has been unbelievable, and the order writing has been phenomenal. Business is expected to be even with last year," said Justin Kachan, CEO of Sagebrook Home. The home décor company presented some 625+ new SKUs in its new location in Building 1. "We always want the showroom to look fresh and new. Everyone who is coming to market needs new merchandise. We are capitalizing on that and hoping to build lasting relationships."
"We broke our record for an Atlanta show on Thursday," reported David Lee, director of business development for Crestview Collection, which relocated to Building 1 from Building 2. "With the new showroom setup, I think we definitely reached some audiences that we might not have gotten at the old space."
"We came into the market expecting to do about a third of our normal business, but we have surpassed that. We had a line to get into our showroom every day," noted Cynde Stewart, president of seasonal décor brand Raz, which accommodated 250 appointments and 100 walk-up buyers each day and added additional appointments to service all interested buyers. "These buyers are very confident and we are on a great path for 2021."
Accent Décor, presenting both home décor and holiday product, reported a better-than-expected market, driven by the popularity of those categories. "It feels like a normal market, but with masks on. We have been surprised by the traffic and energized by it," said Sarah Bagle, chief creative officer. She reported sales at 78% of what they were last January with the average order value up about 50%.
Gift buyers used the Winter 2021 Market to expand their product mix into gourmet, housewares and tabletop according to representative groups, such as Kitchen2Table. "Ninety percent of the buyers who walked through our doors placed an order. We have seen gift retailers put their toes in the water with gourmet during the pandemic and are now saying that they want to increase that product," said Jonathan Pearson, principal. Verne Bliss, principal of Dugan-Bliss & Associates echoed that sentiment, noting his growth came from retailers confidently expanding their product offerings to include outdoor living and gourmet merchandise.
Across the market center, showroom leaders reported a sense of hope for the next year. "We are optimistic for 2021," said Garry Schermann, SVP of Creative Co-op. "We are happy to be back at market. Our numbers were exceedingly good."
Triumphant Return of the Temps
The Atlanta Market temporaries returned after their summer hiatus to great excitement from brands and buyers. Strategic realignments created new synergies throughout the 400+ temporaries and eight socially distanced exhibition halls.
Mirroring the showrooms, brands in holiday, home décor and gourmet reported record shows. "After the first two days, I had run out of order forms," said Rick St. Angelo, founder of holiday décor brand Standing Stocking by 2 Saints. "I've surpassed my numbers from last January already and I haven't counted it all up yet." Dave Carter of accent rug brand Custom Cordage added, "I had the best trade show day I have ever had on day one. It feels good to be back."
Exhibitors also praised the reorganization of the temporaries – especially the ANTIQUES collection, which moved to Building 3, Floor 1. "The Atlanta Market Antique Category has to be one of the top three shows in the country. The quality of the merchandise along with the buyers makes it a top-tier market for true antique finds and goods," said Brad Johnson of the Willow Creek Gallery. Mitra Kilburn of Art and Antique Hunter noted that in the new location, "the wider isles created a grand and luxurious overview" that was easier for buyer to navigate.
Across all locations and categories, exhibitors expressed gratitude that the temporaries had reopened and intentions to show again at Atlanta Market this summer. "We are absolutely killin' it at this market," said Jared Mehr of Pura Vida Bracelets. "We did more business in the first day than our entire show last show. Super happy this market was put on." Kellie Carlson of O-Venture noted, "Every day we've done more business than last January -- much more. We think that July will be even better."
Restarting Market Experiences
Atlanta Market made major strides in the return of cherished market experiences with a new virtual adaptation of the Demonstration Kitchen, the launch of new Juniper "Preview Pods" and all-new Instagrammable installations at market.
JuniperMarket's "Preview Pods" provided a visual overview of the new B2B e-commerce marketplace. At the Preview Pods and via market registration, more than 7,000 buyers have registered for JuniperMarket since Jan. 1. "[I'm] super excited about Juniper this spring. Can't wait to order from my new iPad!" said Gaynelle Khan of A Place Called Home in Marietta, GA, winner of one of four daily iPad giveaways for buyers who registered for JuniperMarket at Atlanta Market.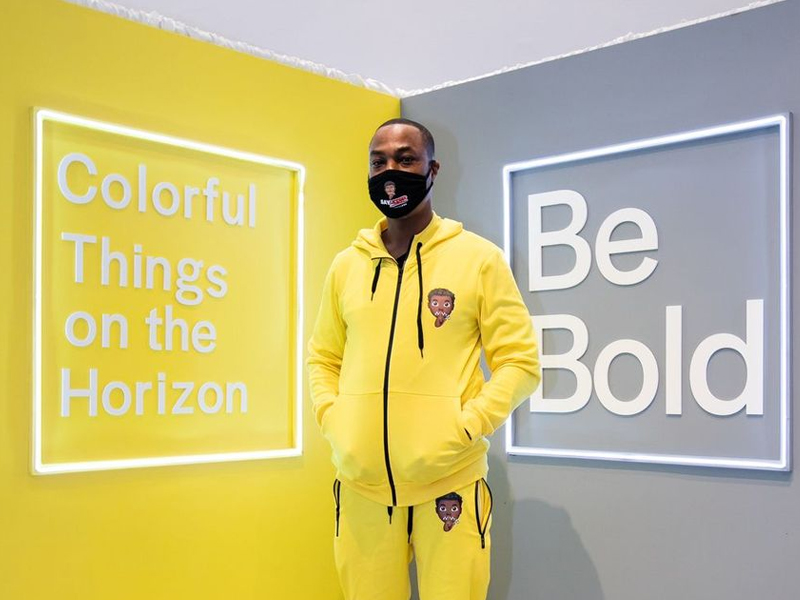 As a reference for buyers, whether at or away from market, five influencers shared their experiences and favorite finds from market tagging their posts with #ATLMKT2021. Carla Hayden (@itscarlabethany) posted "Fun times at Atlanta Market! I must've saw a million things but only saw 10% of all the treasures. I feel like you need to spend at least the entire week at Market if you want to see, feel and touch all the products." In addition to these five influencers, market attendees posted thousands of times using the hashtag #ATLMKT to showcase market moments. Especially popular were the market's Instagrammable backdrops including a display of the PANTONE colors of the year and the market's "Back to Business" mantra.
The Winter 2021 Atlanta Market followed IMC's Together Safely protocols with on-campus safety procedures including the required use of PPE, temporal checks, capacity limits and social distancing measures.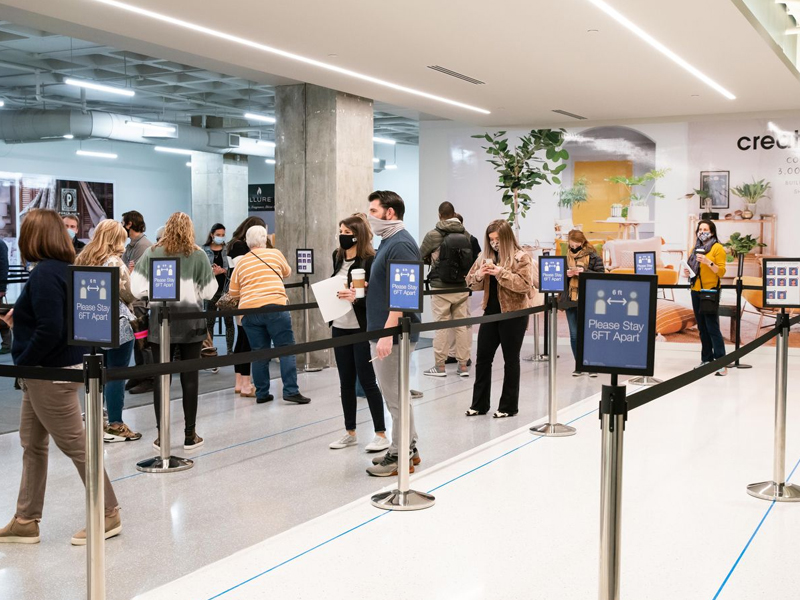 IMC's next market at AmericasMart is Spring Mini Market (Wednesday, March 3 – Friday, March 5, 2021). Spring Mini Market is a mid-season event for buyers to lock in seasonal buying for 2021 from top lines in holiday, floral, gift, garden, seasonal, gourmet, entertaining, tabletop and home décor. For more information, visit AmericasMart.com/Markets/Spring-Mini-Market.
The next Atlanta Market is Tuesday, July 13 – Monday, July 19, 2021 (temporaries Wednesday, July 14 – Sunday, July 18, 2021).
AtlantaMarket.com
IMCenters.com
IMAGES COURTESY OF IMC/ATLANTA MARKET