At the winter 2021 Atlanta market, Kalaty Rug Corporation will present a broad range of new product offerings with something for every customer. Kalaty's newest rug collections emphasize design and color across all style categories in wide-ranging weaves & constructions.
While the company's primary focus remains at the high-end with new heirloom hand-knotted collections and additions to existing best-selling upper-tier heirloom groups, there are new rugs to be seen across all style categories, constructions, weaves and price ranges.
Always a major theme for Kalaty, color continues to be emphasized throughout all of the company's latest introductions for winter 2021. One particularly noteworthy example of Kalaty's attention to color fashion can be seen in the new hand-knotted Adana collection, which features a number of updated-traditional oushak designs rendered in fresh modern color palettes enhanced by vibrant pops of chic trendy colors.
As the company expands its successful licensing partnership with celebrated fashion designer Josie Natori, this winter Kalaty is highlighting the recently launched N Natori series of stylish power-loomed rugs designed and marketed under the respected N Natori fashion label. Winter markets are showcasing the recently introduced N Natori Serengeti and N Natori Bliss collections.
The company's K-TWO series – a group of open-distribution collections that falls into the unique classification of Kalaty-quality products at more popular price points – continues to grow with the addition of the Aurora, Citadel, Denali, Ethos, Lumina, Omnia and Sonoma collections plus new additions to existing K-TWO collections. Ranging in style from casual contemporary to transitional to traditional and in weave from hand knotted to hand tufted to hand loomed to power-loomed, the K-TWO series has now grown to 20+ collections with more on the horizon.
"The many challenges our industry faced in 2020 has changed the way in-person markets are held," says Mike Kalaty, a company spokesman. "We don't have a crystal ball to tell us exactly what lies ahead, but we remain optimistic that the pandemic will subside in the not-so-distant future and that in-person markets and business will begin to 'normalize' somewhat. We plan to open our showroom to customers attending the Atlanta winter market, and for those not attending a market this winter, Kalaty invites new and existing customers to make appointments for virtual showroom tours of all of our latest introductions."
New hand-knotted collections making their winter market debut: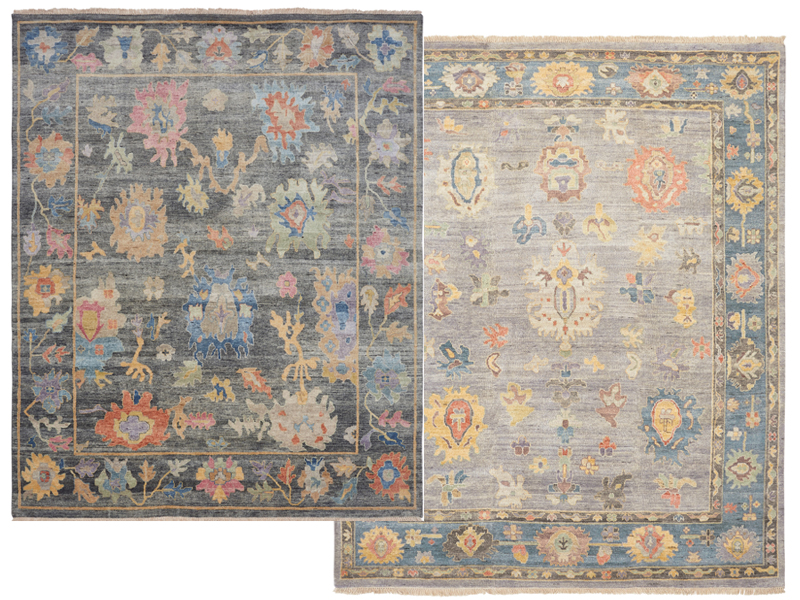 Adana Collection (shown above)
Vibrant pops of energetic colors provide a stylish update to the patterns and motifs of this heirloom-worthy collection of trendy oushak designs. Meticulously hand knotted using a blend of premium hand-spun wool and luxurious Silkette™ yarns, this perennially classic rug genre is elevated to a newly refreshed level of fashion chic.
Ankara Collection
A bold modern palette of colors gives this collection of classic hand-knotted oushak patterns a stylish update. Meticulously handcrafted using a blend of premium wool and Silkette™ yarns, these exceptional rugs capture the essence and unique character of the timeless, popular oushak style genre.
Lilah Collection
A traditional oushak collection that incorporates classic patterns and designs in updated colorways ranging from tone-on-tone neutrals to many of the trendy colors embraced by designers. Carefully hand knotted using fine hand-spun wool yarns in a special Turkish knot style.
Privé Collection
A high fashion collection of modern designs awash in soft muted colors. Meticulously hand knotted in a Tibetan weave using premium hand-spun wool and natural silk yarns, each of these ultra-luxe rugs is carefully carved by hand to enhance its textural look and luxurious feel.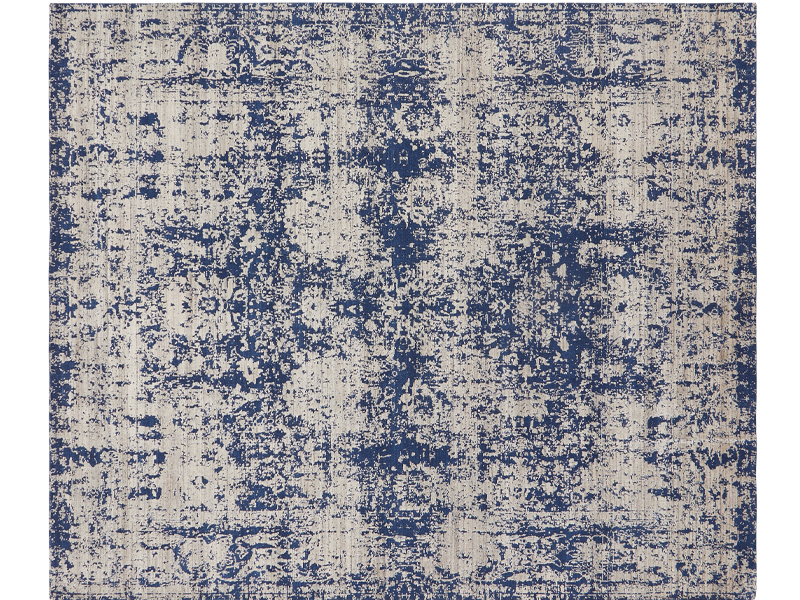 Rivage Collection (shown above)
Crafted by hand in a Lori-Loom™ weave using a combination of wool and Silkette™ yarns, this elegant collection of "erased" vintage traditional and transitional designs replicates the look and feel of fine hand knotted styles.
Heirloom hand-knotted collections with new additions:
Milano Collection
Traditional with a modern vibe is just part of the story in this collection which features meticulously hand-knotted borderless patterns made of 100% Silkette™. Collection highlights include a variety of popular "broken" designs and patterns with casual-yet-sophisticated marbled effects.
Equinox Collection
Modern colors and "broken" transitional motifs fuse together in this artistic collection. Hand knotted in a Tibetan knot weave using a combination of wool and Silkette™, selected rugs feature the added dimension of hand carving.
Infinity Collection
An eye-catching collection of contemporary abstract rug designs perfect for anyone looking for just the right touch of modern flair. Hand knotted using 100% premium hand-spun wool.
Soumak Collection (pictured below)
An eclectic collection of double-sided flatweave designs that includes traditional, updated-traditional, transitional, modern abstracts, boho. tribal and southwestern styles. Hand knotted using 100% premium wool yarns on a cotton foundation, these versatile reversible rugs feature a unique herringbone texture that is characteristic of the soumak weave.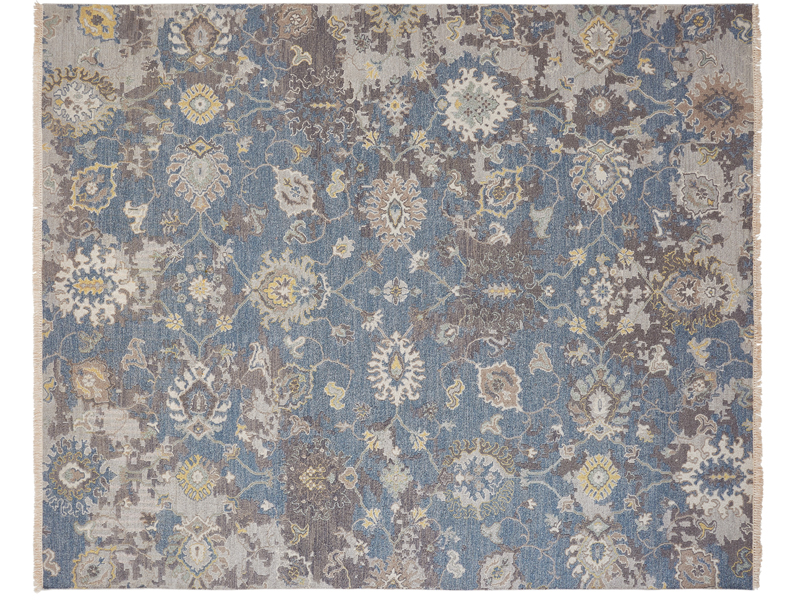 Juno Collection
Modern abstract studies in dimensional texture and high-energy explosions of color. All Juno rugs are hand knotted in a Tibetan knot weave using 100% Silkette™ yarns. Specific designs within the collection are hand carved to impart special high-low textural effects.
Torano Collection
This chic multi-dimensional Tibetan-weave collection exudes elegance on many levels. Hand knotted in a high-low pile using premium hand-spun wool combined with luxurious natural silk yarns, these softly colored rugs with subtly erased patterns speak to both traditionalists and modernists alike.
N Natori collections shown for the first time at Atlanta:
N Natori Serengeti Collection
Featuring animal-inspired prints that tie back to the World of Natori, the subtle color palette provides expression without overpowering your space. Power-loomed of polyester yarns, the knots-per-square-inch (KPSI- 260) of these fine rugs is equivalent to that of many hand-knotted rugs.
K-TWO collections making their winter market debut:

Aurora Collection
Power-loomed of 100% polypropylene in a trendy mix of styles and patterns in a modern fusion of colors and designs that make a bold fashion statement. These chic rugs will provide the ideal base to anchoring rooms in a range of décor options.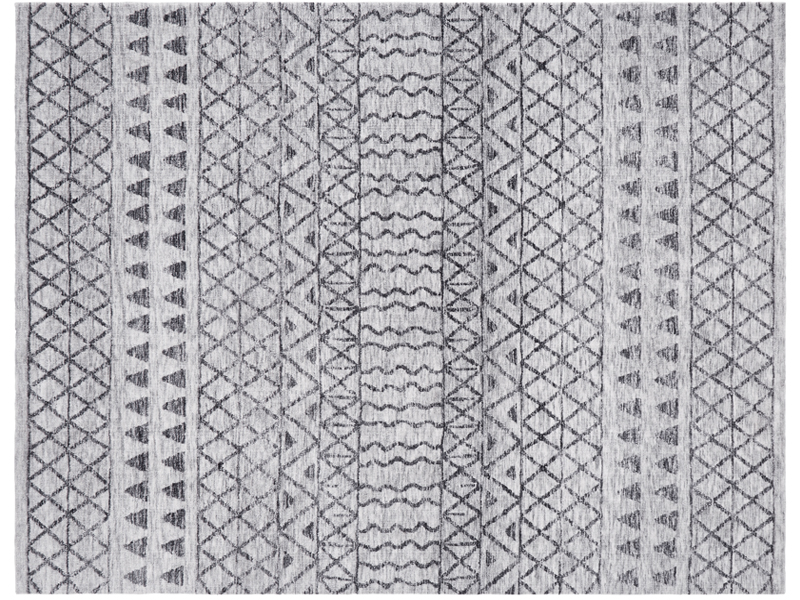 Citadel Collection (shown above)
Distinctive global influences and creative artistry are evident throughout this eclectic rug collection with its trendy assortment of motifs, patterns and styles. Handcrafted of microfiber yarns in textured Lori-Loom weaves, these fashionable rugs offer more than just trendy good looks due to their wearability and their cleanability.
Denali Collection
Power-loomed of 100% polyester yarns, this collection of printed designs includes an assortment of rugs in styles that range from traditional to modern and in colors that range from soft to bold, offering something for nearly everyone to express their own unique personal style.
Ethos Collection
An especially chic collection comprising updated-traditional patterns plus patterns of a more transitional genre, which together suit a variety of décor styles. Power-loomed of 70% viscose/30% polyester yarns, these rugs have a knots-per-square-inch equivalent (320 KPSI) similar to many fine hand-knotted styles.
Lumina Collection
For anyone looking to refresh the look of their rooms, the rugs in this collection are just the ticket. Power-loomed using a combination of polypropylene and polyester yarns, these stylishly simple modern designs and updated-traditional patterns provide an abundance of mood-changing looks to reinvent any space.
Omnia Collection
Color is key to this collection of printed power-loomed rugs made of 100% polyester yarns. Each of these abstract rug designs features fashion colors that are fused together in ways that are uniquely … and simultaneously … both modern and traditional.

Sonoma Collection
Power-loomed of 100% polyester, this exciting collection of worldly traditional and tribal designs exudes a uniquely global vibe. The various colors, patterns and distinctive motifs found in these bordered and borderless area rug designs will greatly elevate both the look and enjoyment of every room.
K-TWO collections with new additions for winter market:
Modena Collection
Stylish updated-traditional designs in modern fashion colors have been added to this eclectic indoor-outdoor rug collection, which now includes a mix of contemporary, updated-traditional and tribal/southwestern designs. Power-loomed 0f 100% polypropylene yarns, these versatile rugs add artistic color and pattern to any indoor or outdoor living space.
Polaris Collection
New designs have been added to this handcrafted collection of 100% wool rugs that feature a thick shag-type of pile. This exuberant collection of delightfully casual modern abstract designs includes a range of fun fashion colors that are an ideal complement for many of today's popular modern furniture styles.
Theory Collection
The high-quality plush pile of these special rugs provides comfort underfoot and an artistic anchor for a variety of today's trendy furniture styles. Power-loomed of 100% polypropylene, styles in this collection range from contemporary abstract designs to transitional to updated-traditional patterns that feature today's popular "erased" effects.
Headquartered in Hicksville, NY, Kalaty Rug Corporation was established in 1979 in the USA by Mirza Kalaty. Mirza's five sons – Ramin, Mike, Farshad, Ariel and Kamran – today run the company along with a new generation that recently entered the family business. Kalaty continues to set the gold standard in design, innovative coloring and finishing, as well as through its commitment to provide customers with heirloom-quality products and unparalleled service. Kalaty consistently maintains a vast inventory of its area rug collections in all categories and style ranges, while proudly offering same-day shipping on most products.
Showroom locations: New York (295 Fifth Avenue, Suite 508); Atlanta (AmericasMart, 4-G-14); Las Vegas (World Market Center, B-455); High Point (IHFC, G-369). For dealers and designers unable to attend in-person markets, the company now offers by-appointment virtual showroom tours so that customers can remain up to date on all new product introductions.