Francesca Gasparotti, of SoFar SoNear Studio, is among a dozen artists and designers who have been invited to present their work in the exhibition 'In Women's Hands', a tribute to female creativity. The show is open to the public from September23 at MyOwnGallery, Superstudio Più, Via Tortona 27 bis, Milan, and runs through to October 29, 2020.
'In Women's Hands' is an exhibition project made up of two complementary segments: 'I Fiori della Materia' and 'Narcisi Fragili'.
'I Fiori della Materia' presents the singular visions of Isabella Angelantoni Geiger, Vera Belikova, Mavi Ferrando, Francesca Gasparotti, Adriana Lohmann, Ilaria Marelli, Paola Navone and Elena Salmistraro. Curated by Gisella Borioli, the show, according to the official Press Release, "brings together designers and architects of very different ages and backgrounds: from decorative items to sculpture to architecture, each woman presents her own being and her work, leaving disciplinary boundaries free, as well as preconceptions and limits of sex and gender." The focus of the exhibition is on the attentive use of raw materials by the 'creator artists' – from handling to enhancement and experimenting with new solutions in treating materials with 'personality' and in an extraordinary fashion.
Francesca Gasparotti has chosen to display Sunrise from the Ghashgha'i meets Bauhaus Collection which SoFar SoNear created for Zollanvari International. The full collection was launched at DOMOTEX Hanover in January2020 to enormous plaudits and has been receiving continued international Press attention.
The designer's inspiration
The designer found analogies between the extensive use of geometrical and abstract patterns in the naturally dyed vivid colors of Gabbeh carpets with the studies and learnings emerging from the Bauhaus movement, in particular, one of its key masters, Josef Albers. He studied in depth the interaction of color and human perception: "Albers's 'square' paintings and artworks reminded us of the geometric designs of Gabbeh carpets and the color interaction between the single elements woven into them..." states Gasparotti.
Bauhaus 100 Anniversary
Bauhaus has always been a source of inspiration for textile designers, reflecting the idea of combining aesthetics, craftsmanship and functionality. Emerging in 1919, just over 100 years ago, Bauhaus was more than an art school and its thinking influenced architects, designers and artist in Europe and in the USA alike. In Albers's universe, color seduced, beguiled, swindled, and these characteristics made colour the most fascinating of art's formal elements. Albers developed an "experimental way of studying color and teaching color," a method based on the idea that only by observing color in the push and tug and pull of context can one begin to understand the nature of color.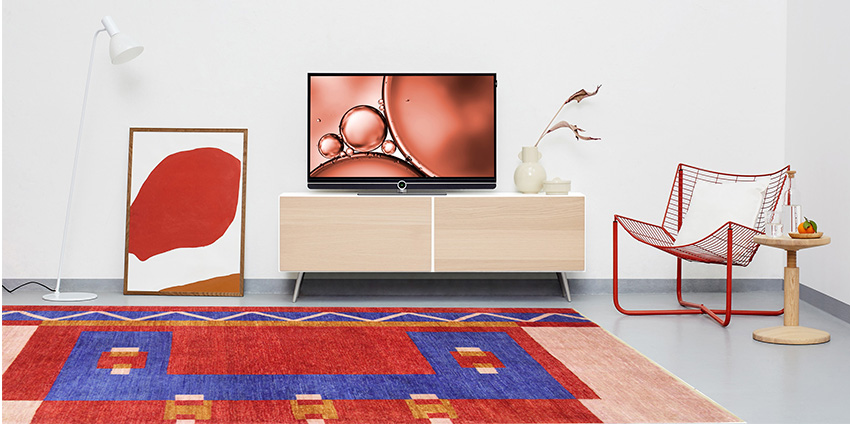 Heritage 1, Ghashgha'i meets Bauhaus,
SoFar SoNear Studio for Zollanvari International
The Ghashgha'i meets Bauhaus Collection
Traditional motifs of woman, man, peacock and lion depicted with triangles, squares and rectangles in colors inspired by Albers and the Bauhaus movement are at the heart of the designer's vision for this ingenious fusion of two artistic expressions in handwoven carpets. According to Gasparotti: "The second step was to work on the interaction of colors; red madder and indigo blue with a shade of rose gave birth to Heritage; ochre, ruby and plum feature in Sunrise and the shades of sea and green were chosen for Reflections – a new graphic language but respecting the tradition of these unique carpets woven by 'those who walk in the wilderness', the tribes of the Zagros mountains on Iran."
Show information can be found at: http://myowngallery.it/index.php?pag=mostra&tpl=mostra&spag=2&idp=50&id=386.