Seeking to help retailers and designers spark new business in the late summer and fall selling seasons, Capel Rugs plans to introduce four dynamic new rug collections at the August 30th to September 3rd Las Vegas Market. Capel Rugs will show in the World Market Center's Building A, Space A-133.
In addition, the company in June began offering 60-day deferred payment terms on all new orders placed by its retail brick-and-mortar customers. The offer applies to all products in the Capel Rugs line, with the exception of drop-ship orders placed via e-commerce.
"This has been an exceptionally challenging period for the entire industry," said Cameron Capel, president – sales and marketing for Capel Rugs. "But brick-and-mortar retailers have been particularly hard-hit by the impact of the pandemic due to store closures and restrictions on person-to-person contact. As shoppers return to stores, we want to make sure that our customers have an assortment of the latest on-trend, well-priced designs to drive new business."

Capel added that the company's sales representatives can show customers the latest developments in the line via an in-store visit or through the convenience of an online Zoom conference session.
Leading off Capel's round of product introductions slated for the upcoming Las Vegas Market is Cliffside. Machine woven in Moldova, the Cliffside collection of rugs are reversible for twice the possibilities. This new collection features transitional styling in five eye-catching patterns — Palm, Braid, Diamond, Striation and Kilim.

The collection is available in 3'11" x 5'6", 5'3" x 7'6", 6'7" x 9'10" and 7'10" x 11' sizes with a ¼-inch pile. A 5'3" x 7'6" rug may retail for under $199. Made of 100% olefin, this reversible collection is suitable for use indoors or outdoors.

"Cliffside's eclectic mix of patterns makes it well suited for a wide range of room settings, from traditional and transitional to Lodge and Southwestern," Capel said. "The colors also are spot on with today's trends and feature a mix of warm browns and natural-inspired greens."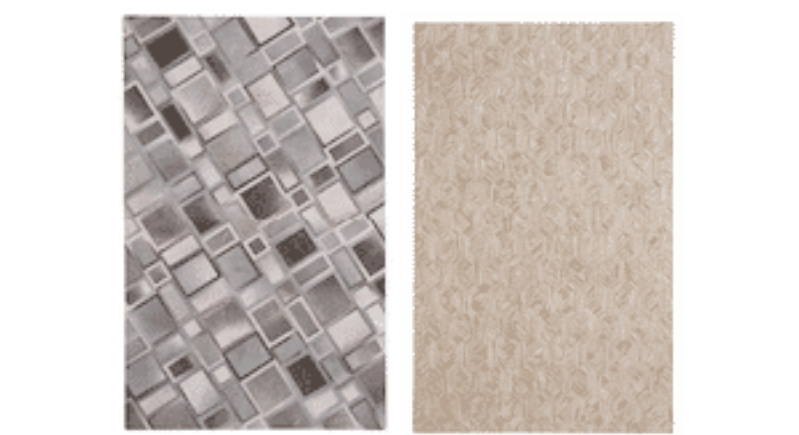 L-R: FROM THE LARAMIE COLLECTION: BRICK IN STONE; POLYGON IN MUSHROOM
Also debuting at the Las Vegas Market are some fresh additions to the Laramie collection. Both rugged and stylish, Capel Rugs' Laramie collection is flat woven in India from strips and squares of quality cowhide leather. The casual, rustic-leaning collection features two new geometric patterns with unique dimensional and textural effects — Brick, in a stone colorway; and Polygon, in a mushroom colorway. Two sizes are available — 5' x 8' and 8' x 10'.

A unique cut and sew treatment gives Laramie its handmade appeal, and a ¼-inch pile adds textural interest. Retailing under $749 for a 5' x 8' size, Laramie delivers an upscale look at a very affordable price.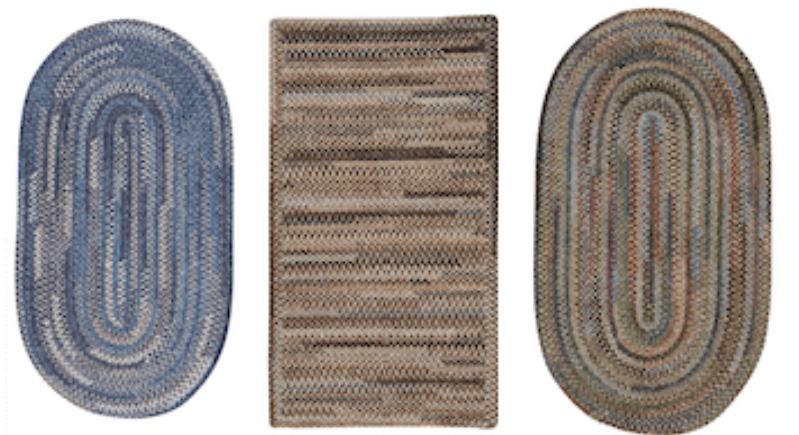 L- R: FROM THE NEW HOMESTEAD COLLECTION: MOODY BLUE; STONE; MULTI.
Capel Rugs will also introduce the latest additions to their New Homestead collection in Las Vegas. New Homestead is an updated take on the company's iconic Old Homestead rug. A current-day descendant of the first chenille braided rug Capel Rugs ever created in 1926, New Homestead features an assortment of today's hottest colors and an updated construction.
Made in a new spin of fibers that mixes polyester, polypropylene and cotton, the New Homestead collection is reversible and available in stone, multi and moody blue. A wide range of sizes are available, from 2'3" x 3' ovals to 8' x 11" cross-sewn rectangular models. A 5' x 8' oval rug may retail for under $449.
"New Homestead puts a fresh twist on traditional braid styling while maintaining the timeless, lasting quality for which we're known," Capel said. "These reversible rugs and made made-to-order here in the U.S. and are built to last."

L-R FROM THE JULES COLLECTION: GABBEH IN MULTI; KESHAN IN IVORY MULTI, SAROUK IN IVORY MULTI; USHAK IN IVORY STONE
The fourth new collection being showcased by Capel in Las Vegas is Jules. A traditional design machine made in Moldova of easy-care olefin, Jules features four patterns: Gabbeh, in a multi colorway; Keshan, in an ivory multi colorway; Sarouk, also in ivory multi; and Ushak, in an ivory stone colorway. A ½-inch pile height adds a touch of plush texture.

The collection is available in 3'11" x 5'1", 5'3" x 7'4", 6'7" x 9'8", 7'10" x 11' and 9'2" x 12'5" sizes. A 5'3" x 7'4" rug may retail for under $299.

"Durable and affordable, Jules adds a touch of flair to high-traffic areas," Capel said. "They are timeless designs updated in today's fashion-forward tones."