At the Atlanta and Las Vegas 2020 winter markets, Kalaty Rug Corporation will debut new collections at the upper end as well as add to the company's more moderately priced K-TWO series of collections.
Kalaty's new product emphasis this winter is primarily focused on the company's heritage hand-knotted styles; however, there are new introductions in a variety of textures, weaves and constructions in all styles and at all price points.
"Atlanta and Las Vegas market customers will find a broad array of updated traditional patterns in modern colorways, new abstract designs in innovative colorations and with unique textural effects – some with carving – as well as sophisticated transitional styles among our newest hand-knotted rugs," says Mike Kalaty, a company spokesperson. "Color, which continues to be one of Kalaty's specialties, is always a critical component of new introductions, and in response to customer requests, we are bringing out a spectrum of innovative bold colors in addition to soft vintage tones at winter markets." 
New hand-knotted collections being shown at winter 2020 markets:
Ankara Collection
A bold modern palette of colors gives this collection of classic hand-knotted oushak patterns a stylish update. Meticulously handcrafted using a blend of premium wool and Silkette™ yarns, these exceptional rugs capture the essence and unique character of the timeless, popular oushak style genre.
Existing hand-knotted collections with new designs being added:
Juno Collection 
Modern abstract studies in dimensional texture and high-energy explosions of color. All Juno rugs are hand knotted in a Tibetan knot weave using 100% Silkette™, and specific designs within the collection have been hand carved to impart special high-low textural effects.
Equinox Collection
Modern colors and "broken" transitional motifs fuse together in this collection that is hand knotted in a Tibetan knot weave using a combination of wool and Silkette™. Selected rugs feature the added dimension of hand carving.
Infinity Collection
An eye-catching collection of contemporary abstract rug designs perfect for anyone looking for just the right touch of modern flair. Hand knotted using 100% premium hand-spun wool.
Soumak Collection
This eclectic collection of double-sided designs encompasses a variety of popular motifs, patterns and colorations ranging from traditional to transitional to boho to tribal and southwestern. Hand knotted using 100% premium wool, these special reversible rugs feature a unique herringbone texture that is characteristic of the soumak weave.
Kalaty's popular-priced series of K-TWO collections covers a wide range of styles, constructions, weaves and popular colorways. K-TWO has quickly become an important asset and category for the company, and with the addition of the Camilla collection this winter, the K-TWO series now totals 16 collections. 
New K-TWO collection for winter 2020 include:
Camilla Collection (new for winter 2020)
Update-traditional designs featuring classic floral motifs with casual erased effects are power-loomed of polyester and Silkette™ yarns. Truly charming, easy to love, easy to clean and to live with!
Existing K-TWO collections with new introductions for winter 2020: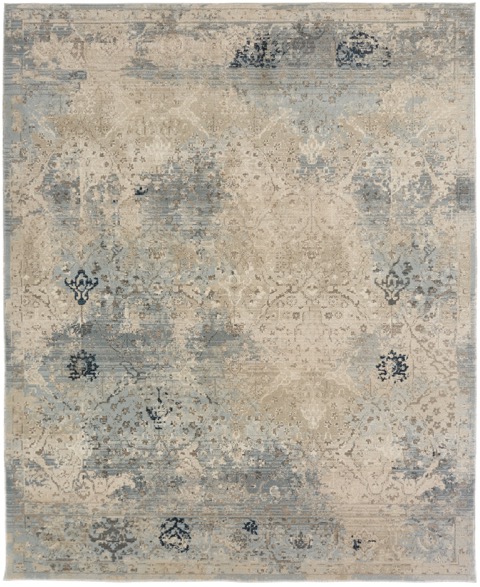 Theory Collection (above)
The high-quality plush pile of these modern rug designs provides comfort underfoot and an artistic anchor for a variety of today's trendy furniture styles. Power-loomed of 100% polypropylene, rug styles in the collection range from contemporary abstract designs to transitional to updated-traditional patterns featuring today's popular "erased" effects.
Modena Collection
New tribal/southwestern-inspired designs have recently been added to this eclectic collection of versatile 100% polypropylene power-loomed rugs. For any indoor or outdoor space, these versatile designs add artistic color and pattern to any indoor or outdoor living space. As easy to clean as they are to live with.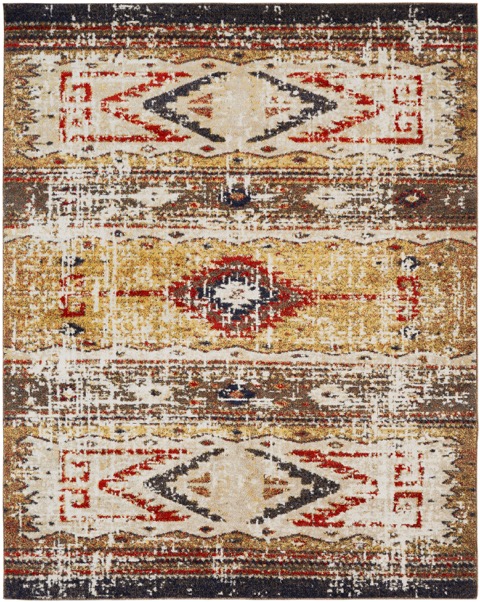 Solstice Collection (above)
Power-loomed of 100% polypropylene, this collection of creative rug designs includes unique artistic contemporary styles as well as handsome tribal and southwestern inspirations that are sure to elevate the wow-factor of any room in most any home.
Polaris Collection
Handcrafted of 100% wool in a thick shag-type of pile, this exuberant collection of delightfully casual modern abstract designs in fun fashion colors is the ideal complement to a variety of today's popular modern furniture styles.

"2019 was a busy and important year for Kalaty Rug Corporation," says company president Ramin Kalaty. "For starters, it was the 40th anniversary of our company's founding in the USA. At the beginning of 2019, we proudly saw a new generation of our family join the business. In April we celebrated our return to High Point with a combination designer seminar/grand opening party at our new IHFC showroom. And in October we brought more new product to High Point than we had ever shown previously at that all-important market. On the marketing side in 2019, we remodeled and updated our website and our popular Kalaty app. And, as our anniversary year came to a close, we have unveiled two comprehensive full-color catalogs, which we're bringing for the first time to the Atlanta and Las Vegas 2020 winter shows."
The Kalaty family Oriental rug business originated more than 100 years ago in Iran under Mirza Kalaty's grandfather. Mirza Kalaty established the company in the USA in 1979, and today he and his five sons – Ramin, Mike, Farshad, Ariel and Kamran – run the company along with a new generation having recently entered the family business. Kalaty Rug Corporation continues to progress through design, innovative coloring and finishing, as well as through its commitment to provide customers with heirloom-quality area rugs and unparalleled service. Kalaty consistently maintains a vast inventory of area rug collections in a wide range of designs, colors, sizes, weaves, constructions and shapes. The company also takes pride in offering same-day shipping on most products.
Kalaty showrooms include: New York (295 Fifth Avenue, Suite 508), Atlanta (AmericasMart, 4-G-14), Las Vegas (World Market Center, B-455) and High Point (IHFC, G-369).
Published verbatim courtesy of Kalaty.