Hannover Fairs USA, the organizer of DOMOTEX USA, today announced that it has published its latest #whyidomotex interview, featuring Jerry Arcari, founder of Landry & Arcari Rugs and Carpeting in Boston. With three stores in the Boston area and an inventory of more than 12,000 oriental rugs and broadloom carpets, Landry & Arcari is a staple of Boston's floor covering and interior design communities. A link to Arcari's interview is located on the DOMOTEX USA retailer's page at domotexusa.com/retailers/.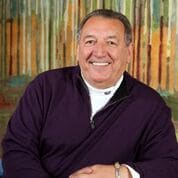 Arcari has worked with floor coverings and carpeting for more than 50 years. He is passionate about delivering to Landry & Arcari's customers matchless antique oriental and custom-order rugs, in-store designs, rare restoration expertise and high-quality pieces.
As part of his #whyidomotex interview, Arcari shares his business strategy for staying ahead of the competition while catering to the fashion-forward interior design community. "To supply designers with new and innovative options, we are always looking for ideas and designing new pieces," said Arcari.
Landry & Arcari staff members have attended DOMOTEX Hannover for 15 years, and the company now looks forward to scouting new products at the inaugural DOMOTEX USA 2019 show. During the show, Arcari will be manning an exhibitor booth for the International Design Guild, a community of artisans and interior designers who curate luxury products.
"We encourage all retailers who want to see the latest innovations in floor covering solutions that will appeal to their interior design clientele to join us at America's Home for Flooring from Feb. 28 to March 2," said Donna Busse, show director of DOMOTEX USA at Hannover Fairs USA (HFUSA).
To read Arcari's interview, go to domotexusa.com/idomotex/from-artisan-hands-to-american-homes/. To register to attend DOMOTEX USA 2019, go to domotexusa.com/reg/.
Published verbatim courtesy of Domotex USA.