Barclay Butera talks with Rug Insider's Alex Milstein about the inspiration behind his new book and his new Jaipur Living rug designs. Barclay Butera has built his name in the industry not only as an interior designer and founder of his own company and brand, but as a true collaborative partner to several well-known home furnishings brands like Lexington Home Brands, Castelle, Nourison, and Jaipur Living.
Yet, despite his busy schedule, he manages to carve out time for writing and has written several books.
In his latest, "The New Traditional," Butera presents new work through 15 homes and tells the story of the new traditional style. 
As Barclay says, "Good design to me is a combination of yours, mine and ours. I believe there should be history in a room, whether it be a piece of art, a vintage rug or a family heirloom." 
In the book, Butera shines a light on homes with an artful inclusion of heritage pieces that blend seamlessly alongside distinctive furnishings,
pattern-on-pattern fabrics and bold textures—all elements of Barclay's iconic style. He also cites the power of living in a beautiful environment and the positive effect of surrounding yourself with the things you love has on you. 
Rug Insider caught up with the industry influencer to talk about his new book, how he collaborates with brands, and what new designs to expect in his latest line with Jaipur Living. 
Rug Insider: What's the focus of your new book? 
BB: "The New Traditional" is by far my most sophisticated book to date. It represents all of my most recent projects, most of which are much more transitional than I have designed in the past. I like to say it's "me grown-up"!
RI: Why did you decide to write and publish it? 
BB: With each book, I try to show the evolution of my design aesthetic and how my firm is growing and adapting to the luxury market. In the last few years, my style has become clean, serene and very unfettered. The cover sets the tone; white linen, chic modern furnishings, and simple black font. No gimmicks, no flash; and paging through the projects I am very proud to share with the community how we are designing for today's discerning clientele.
RI: What do you hope the interior design industry will take away from the book? 
BB: Since I grew up in the business, my greatest wish is for the industry reader to see the progression and evolution of my work. Even though my designs are classic and timeless, there is definitely a new flare for the glamorous yet comfortable lifestyle I have been sharing with my clients over the last few years.
RI: Tell me more about your latest collaboration with Jaipur Living? 
BB: Honestly, my rug collections with Jaipur Living are completely unique. Not only are they stylish and chic, but each design works perfectly in traditional, transitional and contemporary rooms alike. Each rug includes handpicked colors and materials that not only make them unique, but will fit the needs of designers today.
They are diverse in design and extremely versatile, with unmatched quality. Needless to say, I am thrilled with the collections and look forward to many more exciting collaborations with Jaipur Living!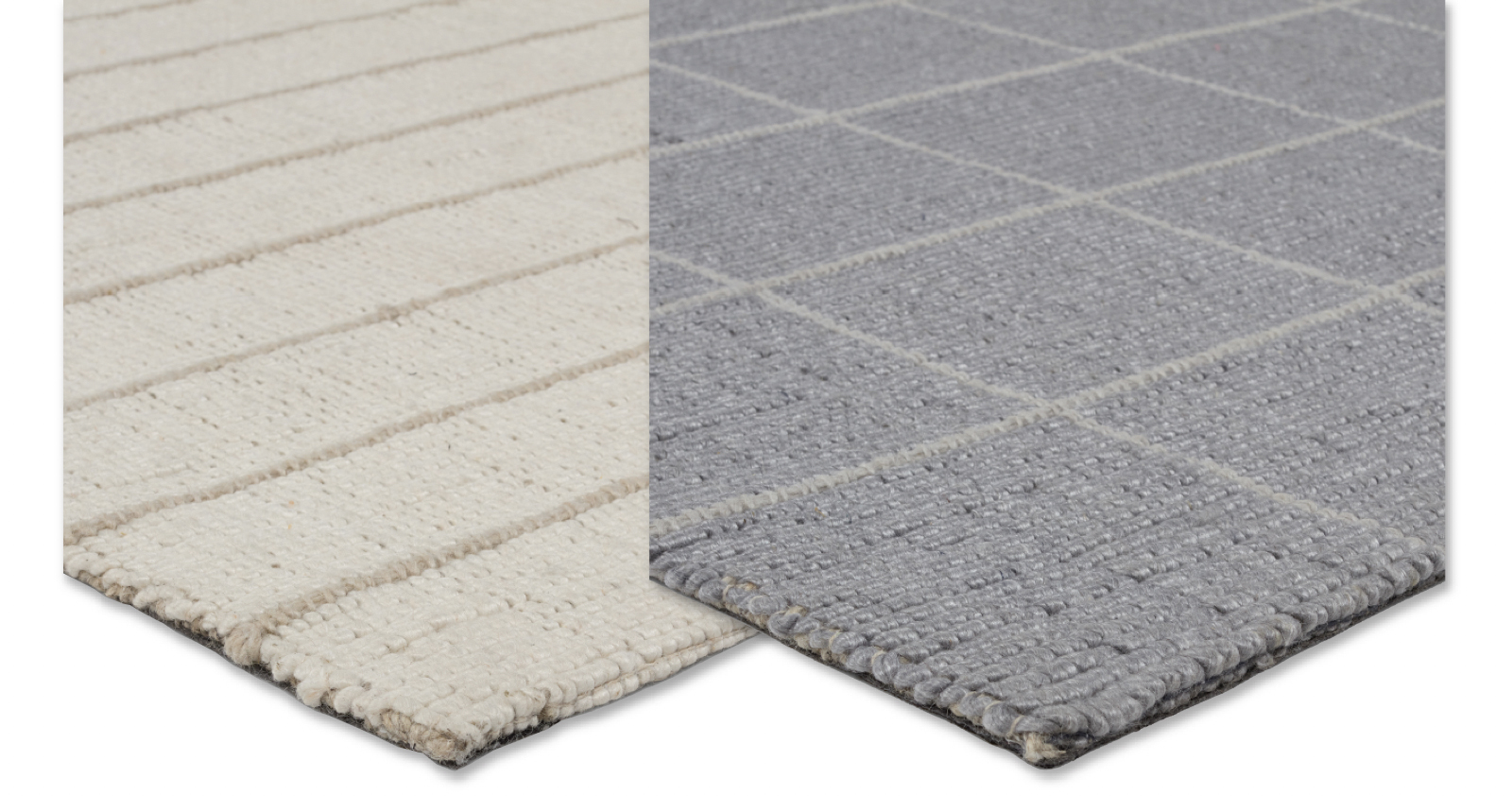 Elegant and casual, the Jaipur Living's Oxford collection by Barclay Butera introduces handwoven accents to an array of spaces. The Highgate (left) and Club designs feature linear patterns in industrial-chic colorways. Tight-looped pile in natural, undyed yarns is suitable for high and low-trafficked spaces.
RI: Did anything, in particular, inspire the collection? 
BB: Inspiration is everywhere! I have been blessed to travel the world and I've found inspiration with each and every trip. Product design ideas pop up sometimes where you least expect them; including in a London church, the Paris antique markets, or even a cocktail napkin from a swanky hotel! I try to think about how I, and other designers, will use my designs from Jaipur Living.
RI: How do you work with Jaipur on the designs? 
BB: It's a wonderful process and they are an incredible team. Some of the designs are from various visual inspirations, some are actual original art.
We present, they interpret and tell us what is and isn't possible from a manufacturing standpoint. So far each rug has been a huge hit, so something is absolutely working!
RI: What are you most excited about going forward? ­­­
BB: I am excited for the future in general and I think the end of this year and 2023 are going to be a turning point for the industry. At Barclay Butera Inc., we have an incredible history and we are building on that knowledge, that success, with a strong team and big initiatives coming down the pipe. I am blessed and honored to say the future looks bright!
barclaybutera.com
jaipurliving.com

IMAGES COURTESY OF JAIPUR LIVING AND BARCLAY BUTERA