Using an antique carpet in an interior setting should not be an intimidating affair. Sure, the Metropolitan Museum of Art is filled with rare and early examples that aren't suitable for day-to-­­­day use, but there are enough available antique and vintage rugs on the market to cover the globe end to end.
The main factors to consider when purchasing an antique carpet are size, condition and design. But more importantly, a carpet is a main design feature in your home and it should speak to you and make you happy.
Conventional wisdom dictates that a rug should follow the shape of the room and be surrounded by a border of one to two feet of exposed flooring, be it wood, tile, or other material. A square carpet in a rectangular room can look awkward and ill-fitting as can a carpet that is wall-to-wall. Having all the feet of furniture resting on your carpet looks best, especially in a dining or living room.
Antique carpets come in a variety of states of condition. If perfection and full pile are your preference, there are plenty of options but they can come at a premium price. However, if you are more forgiving, there are plenty of carpets waiting to find a home in a variety of price ranges, generally below the cost of a new carpet. I personally, prefer a carpet with some "patina" or wear, as it has character and is a welcome counterpoint to newer furniture or art.
If you are buying from an auction house or dealer, ask for a condition report. Terms to look out for are reduced in size, restoration, re-piling, re-weaving, and tint. Many large or "palace"-sized carpets that fit comfortably in larger homes at the turn of the century no longer can be accommodated in today's more modest-sized houses. Carpets that have been cut are often in more useable sizes and can be less expensive than ones that are in their original size. The seam where the cut took place may not be so visible so it's important to know where it is and if it is visible, you may want to consider where it will be vis à vis the furniture layout.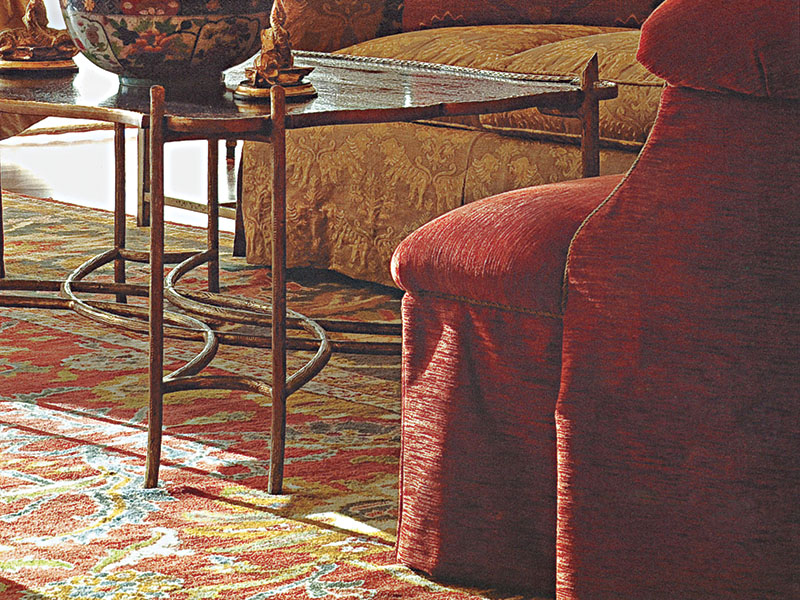 PERFECT PATINA An antique or vintage carpet can add a level of interest and impermanence to interiors as seen here with this Antique Oushak Carpet shown in situ.
Re-weaving and re-piling occur when the original pile of the carpet gets low and needs to be restored. Re-weaving is when the foundation (warp and weft) are gone, as in a hole, and the underlying grid needs to be re-created as well as the pile. Re-piling, is when the warp and weft still exist and just the knot or pile needs to be restored. Tint is an inexpensive restoration technique that is best used when the pile is very low. Colored paint, matching the knot color, is used to disguise the white warp and weft. Although not ideal, the paints used these days do not wash out or fade with time and use. Assessing your level of acceptable restoration is important, as well as knowing what restoration has been done to your carpet for future care.
The question of natural and synthetic dyes is a complicated one. I like to think of it instead as good dyes vs. bad dyes. There are plenty of antique carpets that use a mix of synthetic and natural dyes and the difference between the two is not that discernable. There are a few synthetic or aniline dyes to watch out for as they are not color fast and can bleed easily, in particular a hot, bright orange and pink.
Another factor to consider when buying an antique carpet is design. Very broadly, antique carpets can be divided into two groups: intricate, dense floral designs and bold, over-scale geometric designs. Persian (or Iranian) Tabriz, Kirman and Kashan carpets fall into the first group. I like to think of these carpets as having designs without a knot out of place. Heriz, Mahal and Ushak carpets have designs that are larger s­­­­­cale with more of the ground color exposed. Another design trait to consider is whether you want an overall design or a medallion design. Both can work in a room but some feel that with a medallion design, furniture needs to be perfectly centered whereas with an overall design, there is more freedom for furniture placement.
There are some cases where these rules can be broken to help create a dynamic space that defy tradition. In smaller spaces, like an entry hall or hallway, leaving a smaller perimeter can look better. Or if you have fallen in love with a rug that is too small, placing it on a larger neutral carpet, like a Sisal, will add color and texture and the size ceases to matter. If your room is an unconventional shape, display your rug at an angle, a tactic that works well in a bedroom ensuring that the beauty of the rug isn't hidden by a bed. This can be especially effective when the carpet itself, or its design, isn't perfectly symmetrical. One of my favorite trends today is the use of an antique Persian or Turkish rug in a kitchen or bathroom. I became a convert when I moved our hall rug into our kitchen. Not only did it provide relief for my feet from our granite floor but it added color and pattern to a fairly sterile and monochromatic space. As a bonus, crumbs are hidden until our natural vacuum, dog Gypsy, comes along to clean the carpet. Once I did that, I added small antique rugs to our bathrooms and even to our laundry room and I admit, they make me happy when I am either giving the kids a bath or folding laundry.
Not ready to have an antique carpet on the floor? Try adding some depth to your space by using an antique rug as upholstery to cover an ottoman. Using one with a thick pile brings an element of texture and warmth. Or a thin rug, draped across the bottom of a bed or over a headboard can bring a global taste of elegance into the room. Hanging a textile or a rug can also be an ideal way to bring color to bare walls providing statement-making coverage.
Contrary to popular belief, antique carpets are extremely sturdy and can withstand an enormous amount of foot traffic. However, kilims and other flat-weaves aren't ideal for a dining room or areas with heavy use since they are more susceptible to tears. Adding an antique or vintage carpet to your home can add authentic texture, international taste and an interesting narrative and I promise you, that the right rug, picked correctly, will make you smile.
Images courtesy of Parisa Rugs & Décor and Nazmiyal Antique Rugs