For three generations, spanning more than eighty years, the company and family behind the newly rechristened brand Exquisite Rugs has continued to stand for tradition, craftsmanship, and innovation. Here's a peek as the firm prepares to return to the High Point Market after a near decade absence.
From humble beginnings selling off prized family carpets in order to seek a better life, to the modern era which has seen the firm making private label carpets for some of the biggest names in retail, the commitment to relationships remains a driving force behind Exquisite Rugs' President Hersel Bani-Esraili's business ethos. "We cannot be selling to everyone." begins Bani-Esraili, "and we work very diligently to ensure we are not over-saturating any one market with our carpets." The firm does this by offering its dealers protected distribution and, as Bani-Esraili repeatedly emphasizes, by simply making carpets which are "extraordinary, unusual, out of the ordinary with an eye toward what is en vogue and trendy."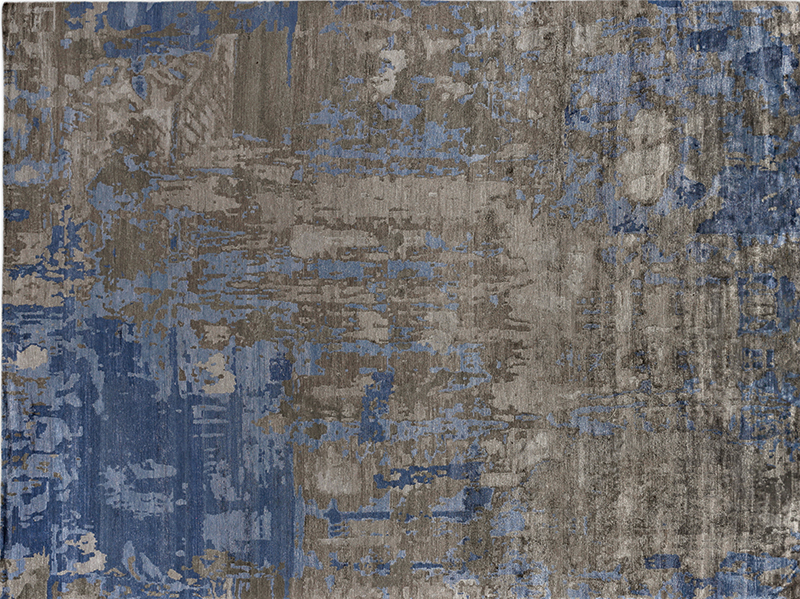 Exquisite Rugs Abstract Expressions
For those who don't yet know Bani-Esraili or the Exquisite Rug brand, opportunity awaits as the firm will be opening its new High Point showroom D431 in the Design Center, Floor 4, of the International Home Furnishings Center during the forthcoming Spring 2018 market.
"We had been at High Point for twenty-six years until 2008" says Bani-Esraili. Then known as Orient Express Rug Company, the firm made a strategic shift to focus on its private-label work, work the firm remains committed to today. "We're very excited to be back at High Point, and we're looking forward to introducing buyers to seventeen new collections which debut at High Point."
Bani-Esraili further stresses his firm—which he owns with his brother Daniel —remains committed to its existing buyers and is not just looking to sell rugs to anyone. While this can be perceived as having an air of arrogance about it, Bani-Esraili reminds it is more about crafting a sustainable distribution model for his firm. "We're looking for dealers who like ease of buying backed by inventory and custom capabilities—we can make up to 20' x 45'—and for those who want to buy into the Exquisite Rug brand." Further, the firm still welcomes opportunities to custom design private label collections for larger retailers and large design firms, with Bani-Esraili noting "We have a large United States and foreign design team always working on new and
potential collections."
This twofold approach is perhaps indicative of the broadly shifting dynamics of the rug and carpet industry, ones which continue to challenge traditional distribution models, but also ones which present new opportunities. "The market is flooded with rugs that all look the same." says Bani-Esraili. "My father—who at 93 years old still comes into the office everyday—inspires us to be different. So much of the market competes on price, but not us. Yes, we offer diversity in our line across various pricepoints, but it's not about compromised quality or materials." Rather, Bani-Esraili stresses, it is about providing the medium to higher-end consumer an "out of the norm, diverse selection of rugs" backed by quality, service, and dependability through a "cherry-picked selection of better quality dealers." In short, the firm strives to offer exquisite rugs for those who seek a competitive and unique advantage in an overcrowded marketplace.