Award-winning manufacturer Feizy Rugs is well-known for creating on-trend groupings that span style and price spectrums. Over the past 47 years, a discerning clientele has come to expect nothing less than the most innovative designs from the company, which has grown to become one of the country's largest rug manufacturers, and the highly anticipated new introductions being made at the upcoming High Point Market are sure to please.
The new Karina Collection will have you dreaming in soft and romantic colors. The yarn's abrash, blue-grays and lavenders paired with rust and cyan, evoke a sophisticated, feminine color palette. Organic floral medallions are surrounded by a strong border in these Oushak-inspired designs with a delightful color twist. Delicately hand-knotted in India, the soft fringe brings a bohemian flair to each rug. Beautifully constructed of 100% wool, the Karina Collection is resilient enough to handle high traffic areas.

Feizy adds two new designs and colorations to one of its best settling groupings, the Piraj Collection. Inspired by Nordic illustrations, Piraj's winding vines and blooming petals intertwine with its geometric borders. Such visual intricacy paired with the saturation of unexpected, space-dyed hues, breathe life into the traditional patterns. The collection's sizable, single-wool knots create an affordable elegance, durably fit for high traffic areas. Rediscover your palette for traditionals with these refreshed designs.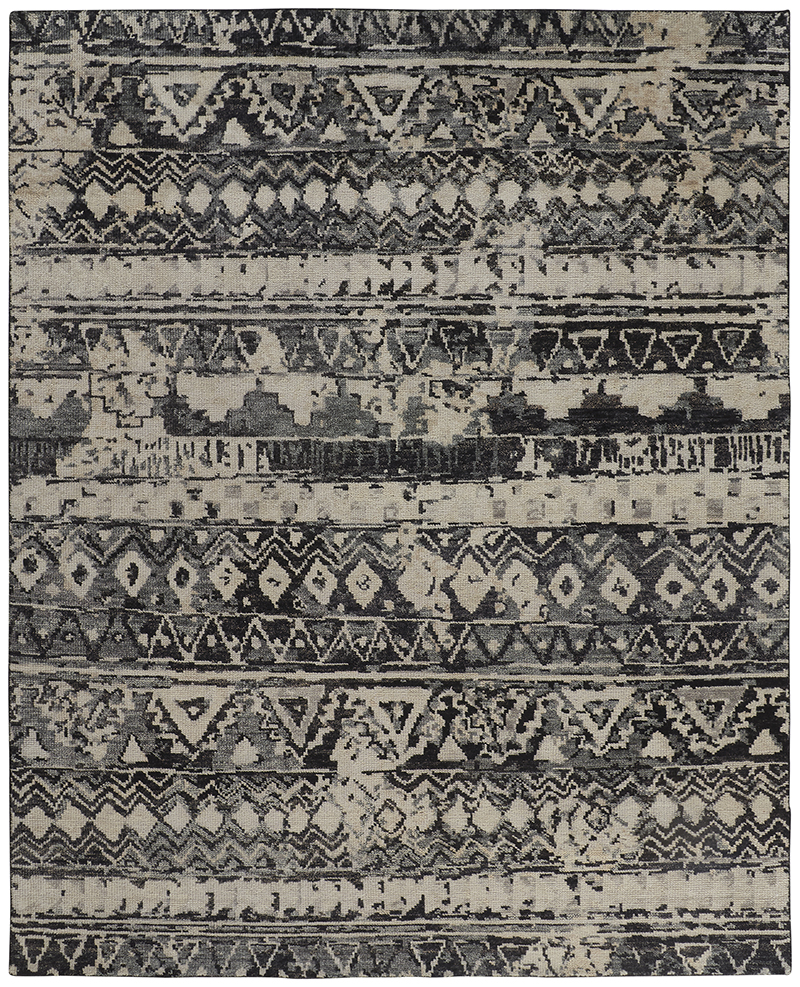 Feizy debuts their new hand-knotted collection, the Palomar Collection (design featured above). The hand-drawn geometry and delightful asymmetry are reminiscent of the woven handiwork of various nomadic cultures. Beautifully versatile shades of ink, charcoal, silver, and denim are accented with ivory, warm beige, and cocoa. These colors vary further within the abrash to create a faded, stone-washed look. Palomar combines the integrity of a tribal heirloom with a fresh perspective to fit today's aesthetic. Find the modern nomadic treasure you seek with the Palomar Collection.

The Percy Collection was so well received at the Las Vegas market, that Feizy has added two new designs, making this a 10-piece collection. A dazzling display of the most intricately crafted carpets from all over the world, the Percy Collection boasts the breath-taking appearance of antique authenticity in each design. Silken shades of tradition in indigo, rust, cream, and black mingle with the more brilliant and bold magenta, gold, and aqua to create a collection that appears to be procured from an exotic bazaar. An opulent aesthetic with superior styling, Percy is the answer to today's need for affordable luxury in the home.

In addition to these new High Point Introductions, our Las Vegas Introductions will also be shown: the Anica Collection, the Atwell Collection, the Beall Collection, new Berkeley Collection additions, the Elias Collection, the Keaton Collection, the Marquette Collection, and the Reddington Collection. Our Spring 2020 Introductions will also be displayed, which include Caldwell Collection additions, new Bhatia Collection additions, and the Fallon Collection.

As always, Feizy will have a large, curated offering of the one-of-a-kind pieces for which the company is most well-known. For more information or to schedule an appointment, please call 800.779.0877 or email This email address is being protected from spambots. You need JavaScript enabled to view it..

feizy.com