A fresh array of fashion colors takes center stage at Kalaty showrooms during the winter 2019 Atlanta and Las Vegas markets. The company's latest heirloom quality area rug introductions feature updated colors for every style genre, weave and construction. Color palettes that range from warm & spicy to cool blues & greys to rich jewel tones to soft pastel shades ensure that Kalaty has something for everyone within their latest traditional, transitional and modern rug offerings.
New collection introductions for winter 2019 include: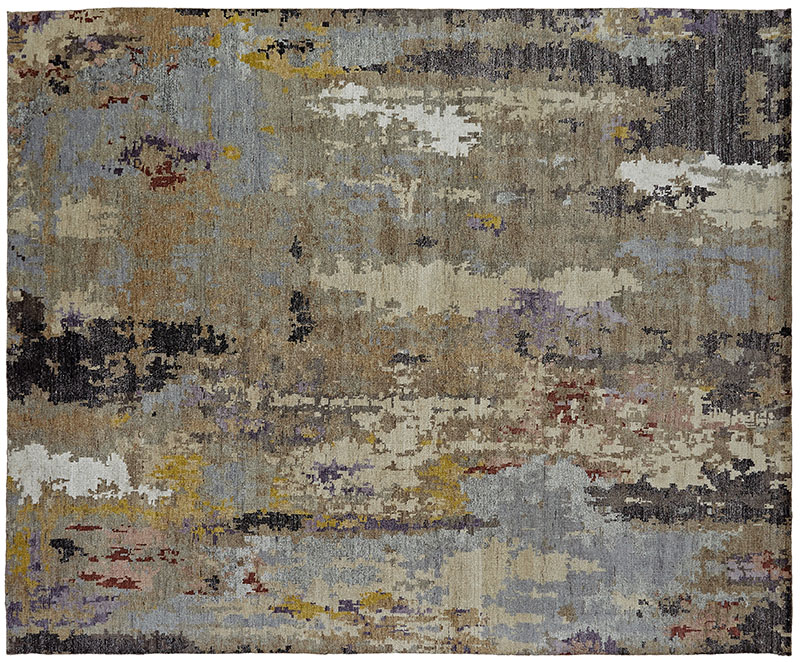 Harlow Collection
Meticulously hand knotted using a combination of premium hand-spun wool and Silkette™ in a fine Turkish knot weave, each of these modern abstract rug designs has the unique look and feel of an artisanal contemporary masterpiece (design HW-955 shown above).

Best-selling collections expanding at 2019 winter markets:

Oushak Collection
Hand knotted in a Turkish-style weave using 100% premium hand-spun wool, these perennially popular rugs remain in a special class all their own! While colors within the collection range from traditional classics to updated modern tones more in keeping with today's tastes and lifestyles, all of these timeless designs and motifs retain the unique characteristics prized in antique Oushaks.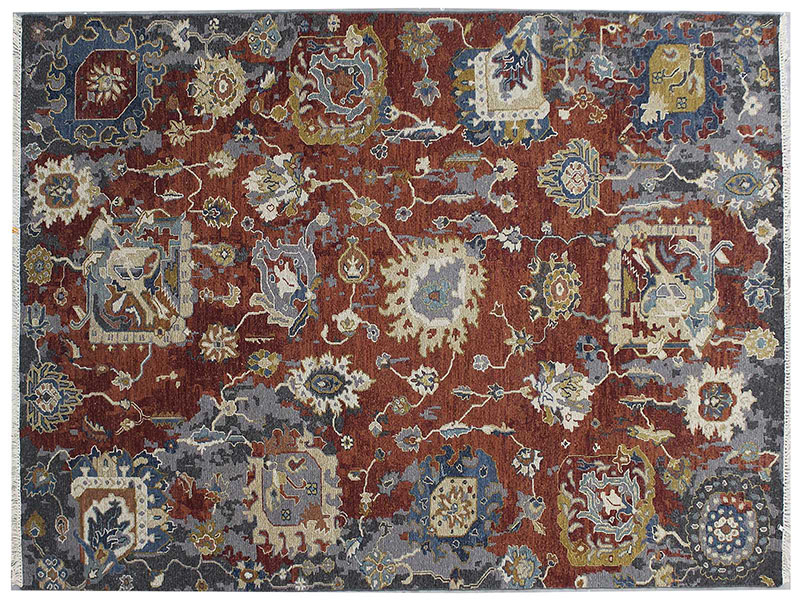 Soumak Collection
Hand knotted of 100% premium wool, double-sided flatweave Soumak rugs by Kalaty display a unique herringbone texture that is characteristic of the soumak weave. Inspirations for this eclectic collection consist of a variety of motifs that display classic Sultan, Mahal, Nomadic and other tribal-influences (design SU-490 shown above).

Capri Collection
For those who appreciate the modern side of traditional, this collection of borderless "broken" Oushak designs in popular fashion colors is hand knotted in a Turkish-style weave using a combination of premium wool and Silkette™.

Horizons Collection
A fresh modern idiom comes to life in these traditional patterns thanks to special tonal erased effects and an intricate high-low texture. This high-quality collection of updated antique floral designs is hand knotted using a combination of premium wool and Silketteä.

Oberoi Collection
Modern meets traditional in this heirloom-quality collection of fashion-forward borderless designs. Hand knotted using 100% premium hand-spun wool, the collection features classic inspirations in stylish colors, motifs and patterns that are further enhanced by artisanal erased effects.

"2019 will be another year of growth for our company on a number of fronts," says company spokesperson Ariel Kalaty. "In addition to expanding our line, we are in the process of updating our website as well as publishing a new 400+-page comprehensive catalog. And, in April, we will celebrate the grand opening of our new High Point showroom at the IHFC. So, winter markets are just the beginning of Kalaty's exciting plans for this year."
The Kalaty family Oriental rug business originated more than 100 years ago in Iran under Mirza Kalaty's grandfather, and in 1979, Mirza Kalaty established the company in the USA. Mirza Kalaty and his five sons – Ramin, Mike, Farshad, Ariel and Kamran – today run the company. Kalaty Rug Corporation has recently expanded as a new generation has proudly entered the family business, which continues to progress through design, innovative coloring and finishing, as well as through its commitment to provide customers with heirloom-quality area rugs and unparalleled service. Kalaty constantly maintains a vast inventory of collections, sizes and shapes and takes great pride in offering same-day shipping on most products. Kalaty operates showrooms in New York, Atlanta, Las Vegas and High Point.
Published verbatim courtesy of Kalaty.