After nearly a year without trade shows, rug exhibitors were excited to return to High Point Market and introduce the new product they've been working on.
Spirits were high and rug exhibitors had a stellar High Point Market as the industry gathered for the first market since the CDC lifted mask requirements. Everyone was excited to see each other's whole faces, but above all, business was booming.
"It's been a great market so far," said Danny Shafiian, CFO of French Accents. "We moved into our new space a few markets ago, and product has been accumulating. This is the first market for us in about a year, and we have close to 90 new rugs to show in each category."
Other exhibitors seemed to be in the same position as well, as nearly every company brought new products to market to help satiate hungry buyers. Several exhibitors also moved showrooms to accommodate for more space or new business models.
Tamarian, which had been at the Suites at Market Square for well over 15 years, moved into a new showroom on East Russell Street. Owner Ryan Higgins said the new space is 2,400-square-feet, which is comparable to the company's old space. But because of the showroom's permanent status, it's nearly in a standalone building.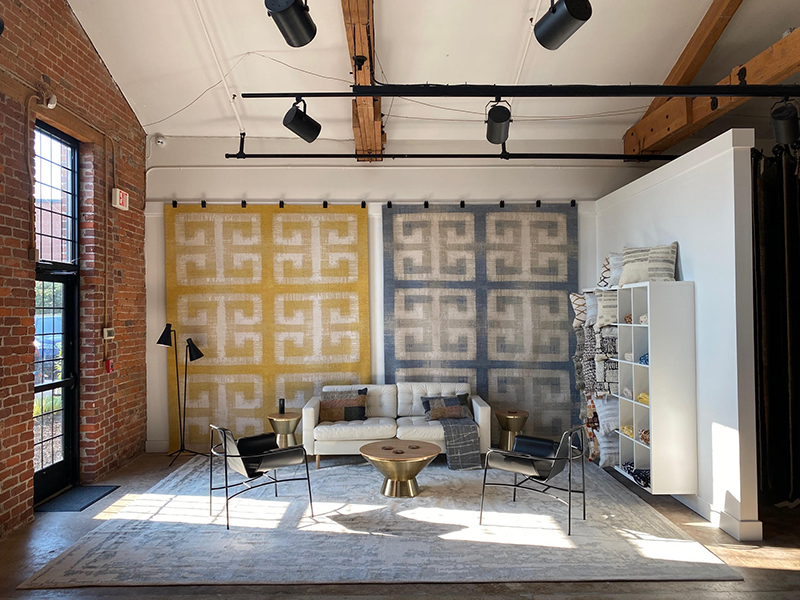 "We moved into the new space so that we could have it year-round and have a little more intimacy to it," Higgins explained. "We don't sell to designers directly, so we're really working with our dealer base, and the benefit of the new showroom is that we're totally focused on our dealers when they're in the showroom and can provide opportunities for them to visit throughout the year."
In the showroom, Tamarian debuted 40 new never-before-seen designs. The company also had a soft opening party, which Higgins said was attended by twice as many people as he expected, and he said both the market and the tradeshow exceeded the company's expectations.
"We had mild expectations for the market to begin with, but the people who came in were definitely buying," Higgins said.
Art Resources moved to a smaller space in Market Square in order to concentrate on its program rugs.
"We have little in-stock product right now, so we're concentrating on program rugs," said Owner Jack Simantob. "And because of the programs, we don't need as much space to stock things."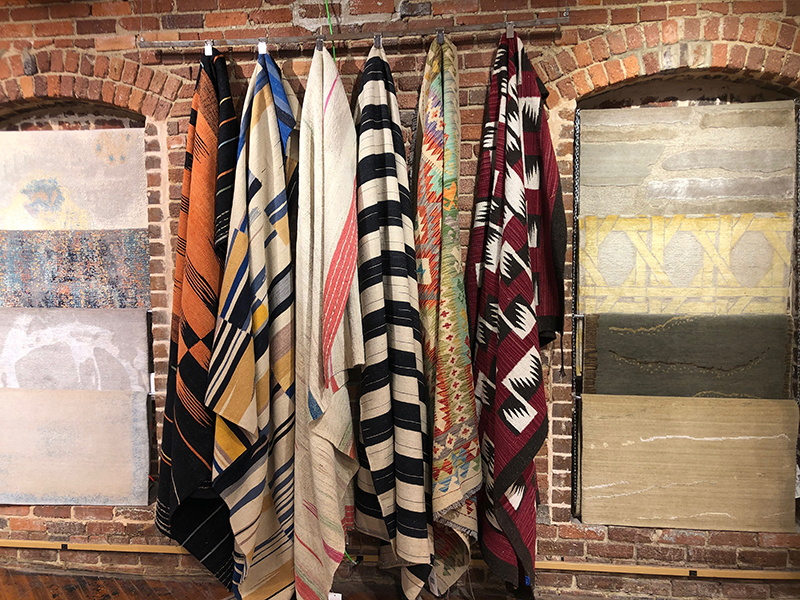 One wall of the showroom was dedicated solely to program rugs, and unique to Art Resources is a QR code label for each that can be used to let retailers or customers know exactly what is available—from the size, to what's on the loom and when it will be finished.
"We're one of the very few who has the technology to do that," Simantob added. "We're accurate to the second as to when everything comes in or goes out. It's immediately there."
The company also introduced new product in a variety of styles, from hand-knotted modern to flat weave to Swedish reproduction-style rugs.
Bokara moved to a new showroom on the first floor of Market Square, which makes them more visible to passersby and doubles the amount of space they have to show new products, of which they had many. They introduced over 500 new designs ranging from Nepalese woven silks to higher-end hand-knotted pieces.
"In terms of trends, we continue to see blues, grays, and golds being popular," said Vice President Jonathan Soleimani. "We continue to stay fashion-forward and bring in the new styles."
New Products
There was no shortage of new product at the market, and rug exhibitors pulled out all the stops when it came to fresh, innovative collections.
At S&H Rugs Inc. the company displayed a variety of rug styles, from traditional oushaks to modern hand-knotted pieces, in multiple patterns, from abstracts to vintage Persian rugs. They even took over the booth next to their current space to show even more designs.
"Vintage is happening look," said President Ori Wilbush. "It went out a little bit, but it's coming back. And unlike the real antiques, the price point is a fraction of the real old ones, so it fits a lot of pockets."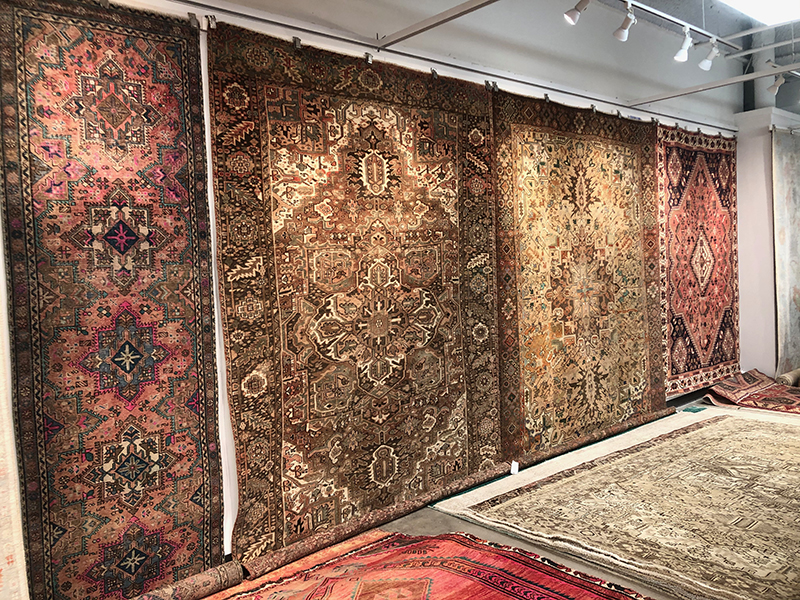 S&H's Persian rugs are color-reformed and treated with different herbs and teas to get the final result. This process can take months, but it's well worth the wait.
Overall, Wilbush said the company was happy to be back at market and interact with people in person. "The demand is there," he said. "All the people who have been at home for a while now are out buying things. The area rugs and hand-knotted rugs are popular categories as more hardwood floors need to be covered. There have also been a lot of special orders from people who want more color. Business is there for whoever is there to take it."
Creative Touch also said they've had success with vintage rugs, and this market they set up a small bazaar across from their main space to show Persian styles.
"It's in now for sure," General Manager Baki Ildiz said about vintage rugs. "People like the look, it's distressed and bohemian. Ours are a little more colorful, but it's quite popular and eyecatching."
The company also introduced new colorful and high-style patterns in four of its licensed collections.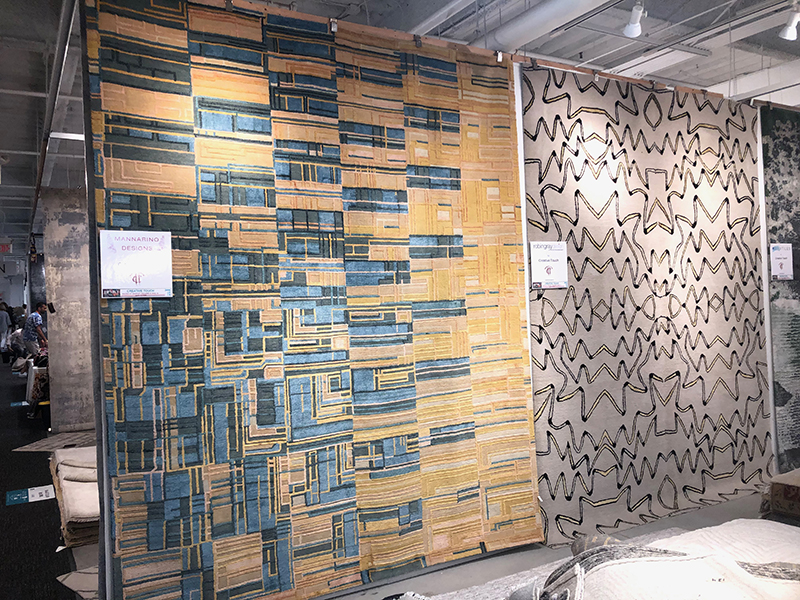 Styles in Robin Gray and Mannarino Design's collection range from bold geometrics to plaid-like patterns in colors like yellow and blue, while Artxtiles introductions are a little more subdued in an elegant black and white colorway.
"Gray is a wonderful designer, Artxtiles does amazing art that we've adopted into our pillow and rugs line, and Erin V, our fourth licensee, is energetic and has rugs come in at a more promotional price point," Ildiz adds.
Speaking of collaborations, Jaipur Living showed off its new Kevin O'Brien hand-knotted collection, which is based on patterns designer Kevin O'Brien had accumulated and then translated into rugs. There's also a power loom version of this collection so that Jaipur can hit two price points with one line.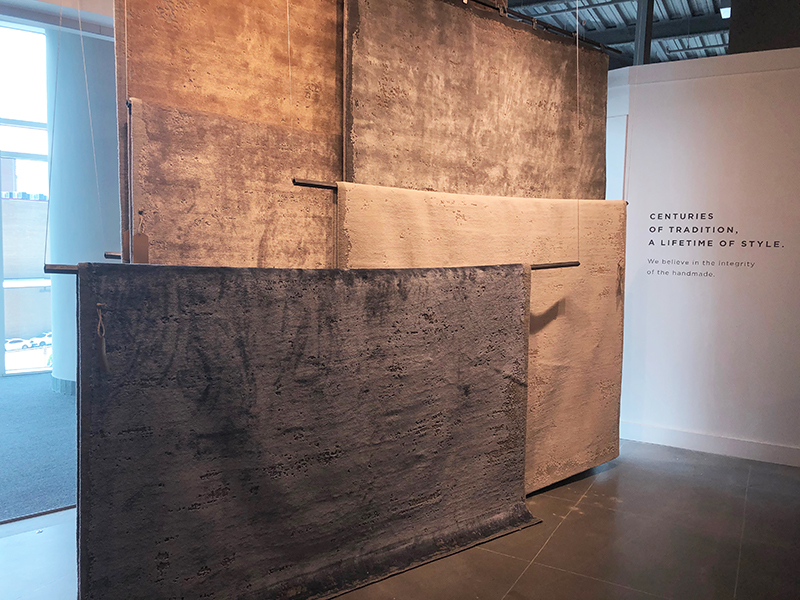 "There's been a great response to this line," said Marketing Manager Sasha Wallace. "The main thing about this line is that he's pulling inspiration from nature—land, sea, and sky—and how all those elements come together."
Jaipur also introduced the new Urban Pause by Kavi (pictured below), a line created by the founder of Jaipur Living's daughter, Kavi, featuring different muted tones lots of texture.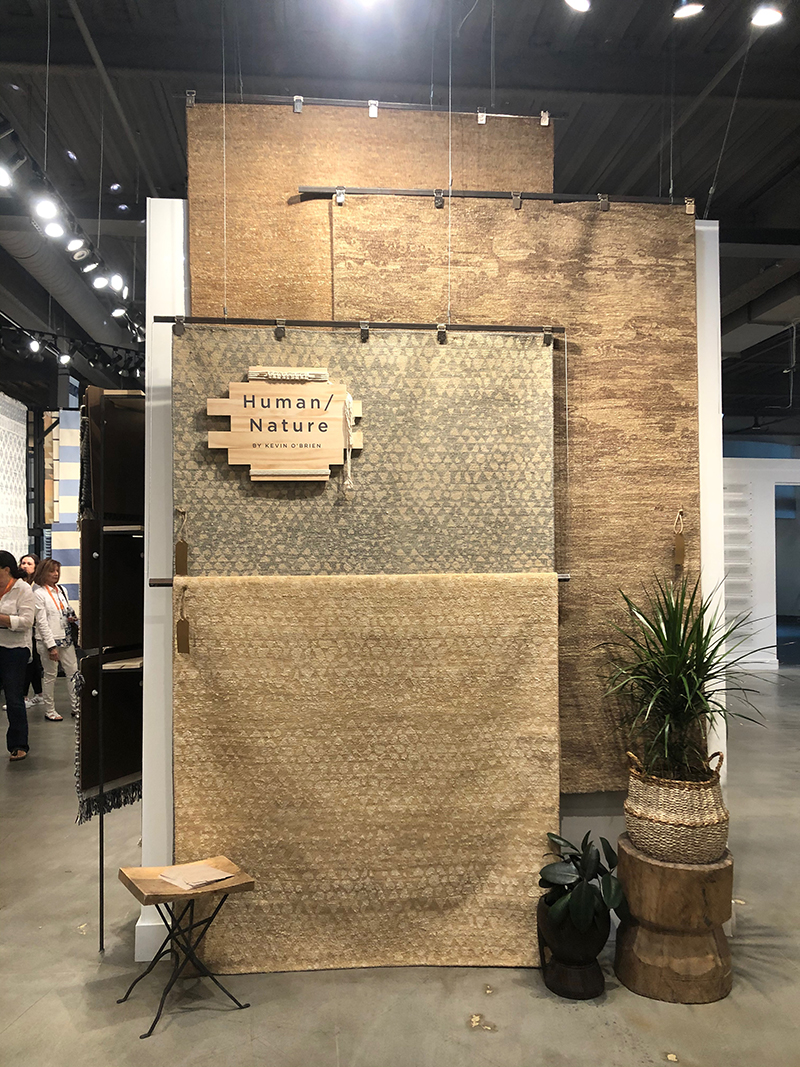 In July, Jaipur will launch a program called Designer Edit, which will feature exclusive collections—including Urban Pause by Kavi—that won't be available on e-commerce sites. Wallace said this will help build trust between consumers and designers.
Alex Peykar, president of Nourison, said it was great to have the market back on track and see people in person again.
"Our business didn't suffer, and we flourished without having any shows," he said. "But the way we are trained, we prefer to have a personal touch with our customers and get a smile out of them that makes our day a little more pleasant. It's good to have that back. "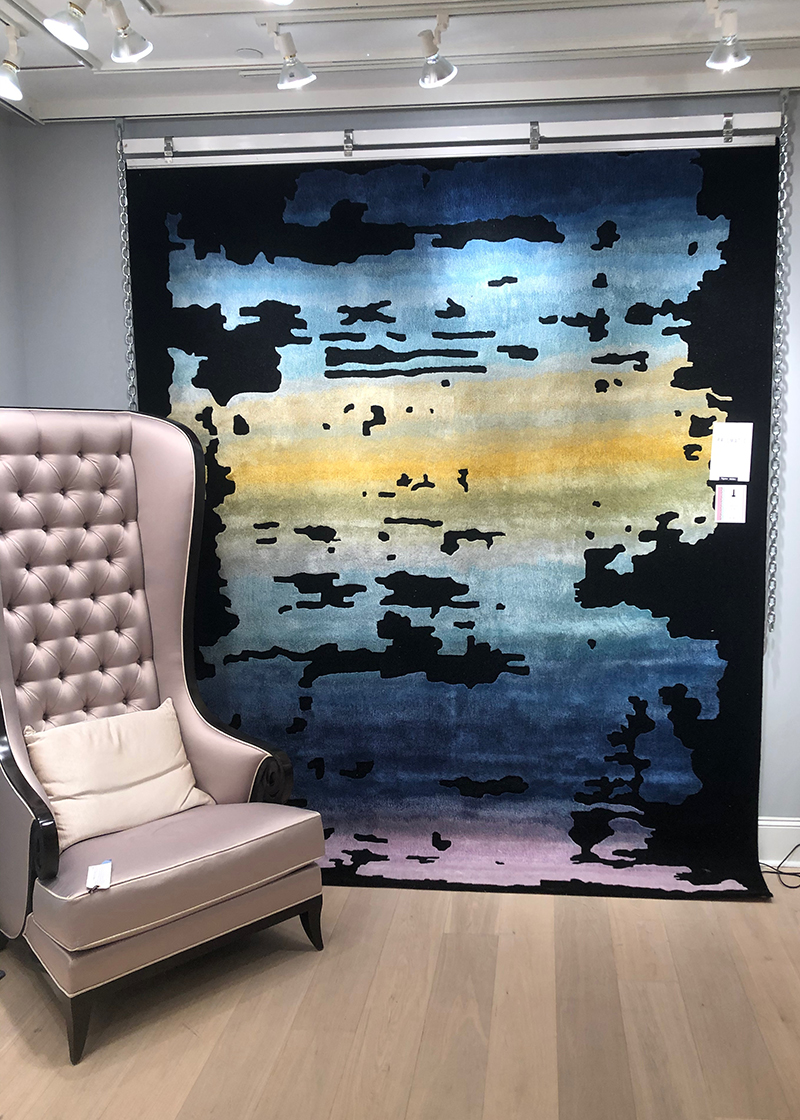 This market, Nourison introduced new additions to its bold Prismatic collection, as well as a new line of rugs from designer Michael Amini called Star.
Drawing from natural landscapes and architectural styling, Star—which comes in three designs—is hand-tufted using cut and loop construction that creates a 3D visual effect. It's made from a blend of wool, lurex and silk-like Luxcelle, and is available in four colors and six sizes.
"The new collection with Michael Amini has had an unbelievable reaction," Peykar said. "It's a beautiful product at a reasonable price point."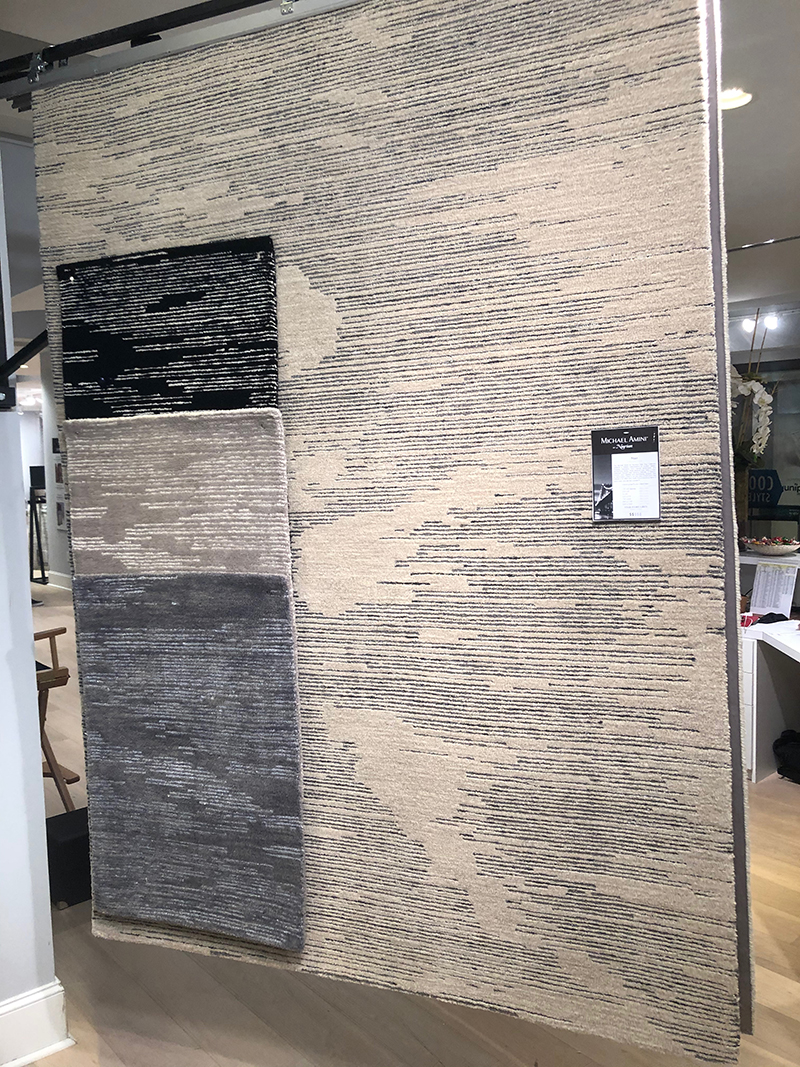 At Harounian Rugs International (HRI), wool and viscose rugs in the new Vivian collection made their debut, and the Charlotte, featuring a Nepalese weave, which was introduced in Vegas with great success.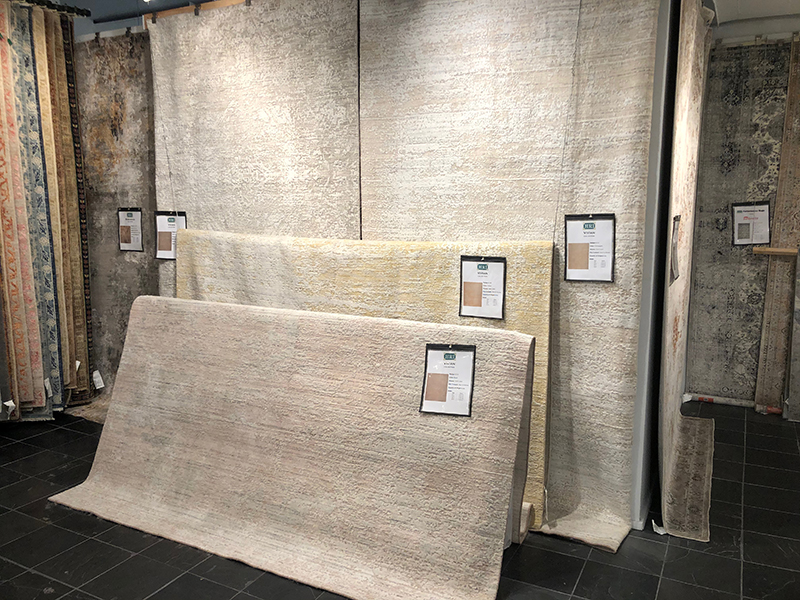 The company also added new PET yarn rugs in its Brooks collection and expanded its popular collection with Sunbrella.
While machine-made rugs created from Sunbrella fibers were created about a year ago for the company, HRI introduced hand-made versions this go-round, and President Lee Harounian said the collection has been well received.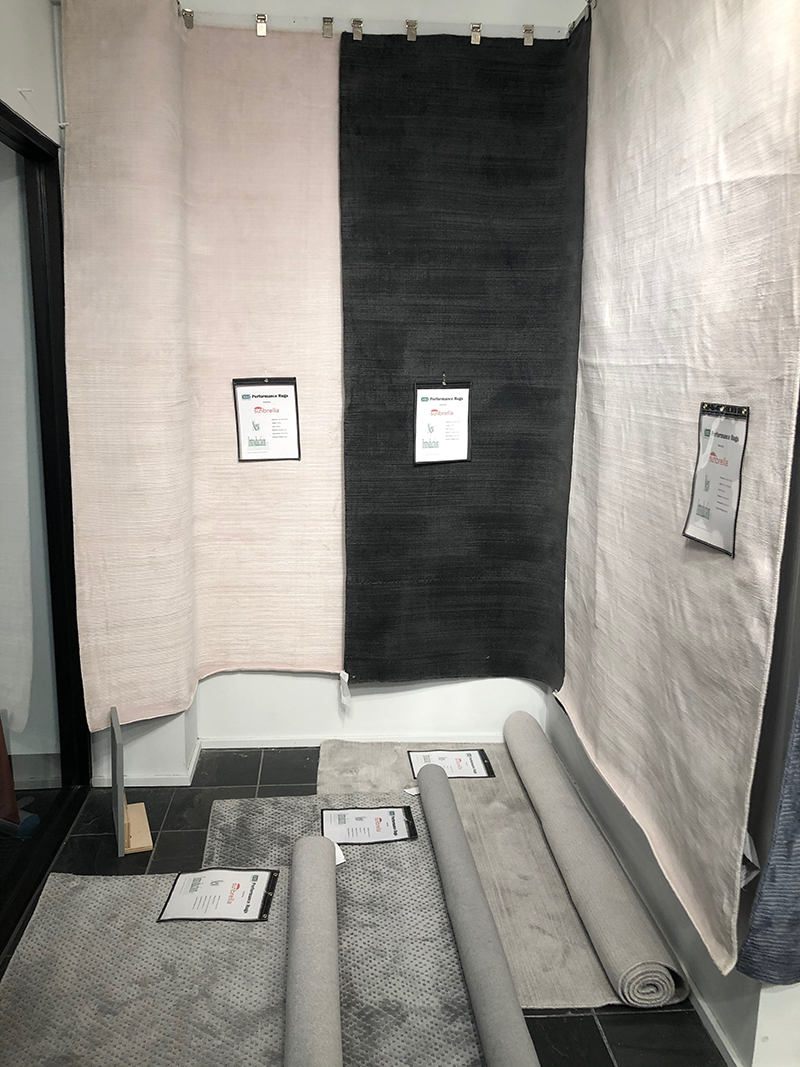 And look out for HRI's new showroom at the next market. Lee said the new location will be three times the size of the current showroom and that it will give the company more visible to passersby.
Feizy also made a move to make themselves more visible by partnering with interior designer and TV celebrity Thom Filicia for a new 11-piece capsule collection that has colors exclusive to Filicia.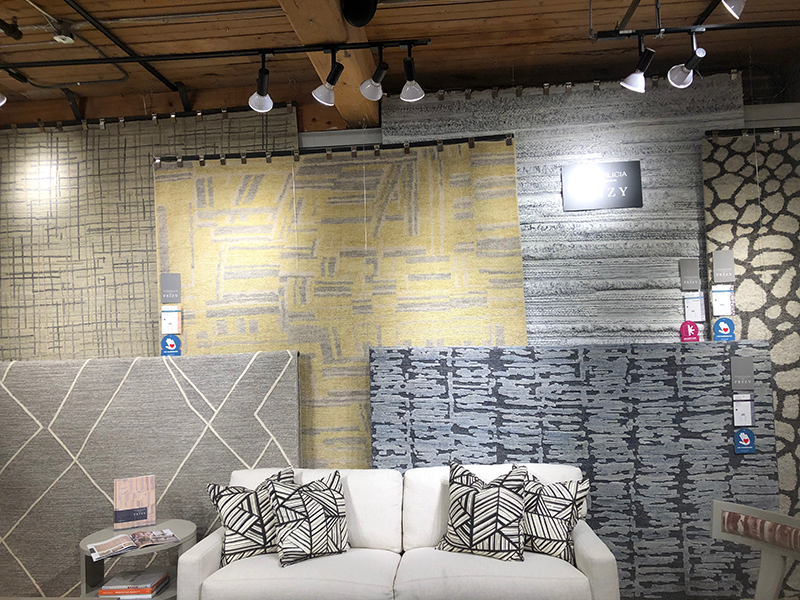 Rugs in the line range tufted entry-level price points, to middle handloom, and fine hand-knotted. The company said hand samples will be here in about a month, and they will be fully in stock by the end of November.
Feizy also introduced its indoor-outdoor Alden collection, which features two colors exclusive to Thom Filicia and two Feizy colors.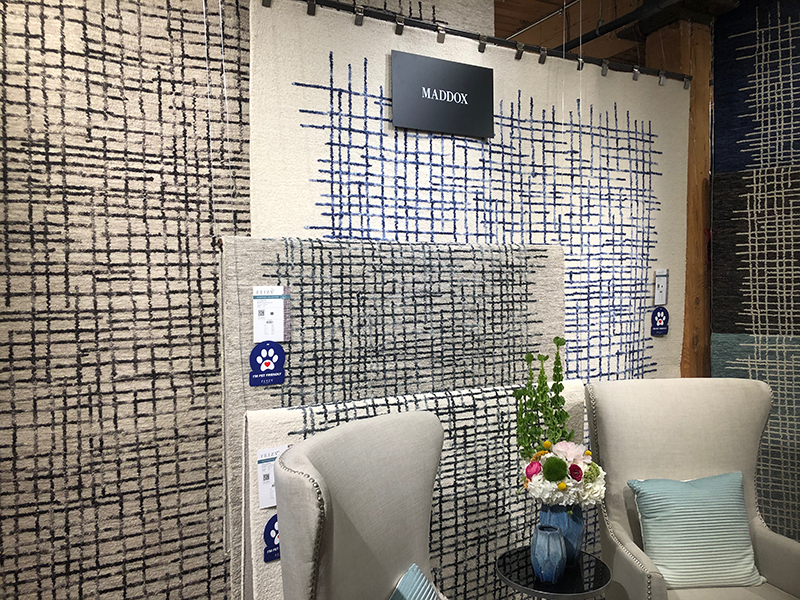 "We've been seeing a lot of ask for carrying the indoors out," said Brand Manager Leighton Lloyd. "A lot of outdoor rugs are kind of scratchy, mostly flatweaves, and dont have the best design aesthetic for a designer. So we wanted to fill that niche and we've had a great response."
Capel Rugs went big on the indoor-outdoor designs as well by introducing the Stockton and Sturbridge collections.
The company started with braided rugs, and Sturbridge is a banded braid, which means its band of colors. The design comes in five colorways and a rectangle or oval shape.
Then Capel took each of these bands and did light medium and dark colors so buyers can get the banded version and also a companion piece that will match. The rugs are made of texturized polypropylene that Capel has texturized or naturalized so it feels more like wool.
"We think more people will use this inside because it has an indoor look, but can be used outdoors, and it's reversible," said President Cameron Capel. We're really excited about this because of its applications and how it can be used. Someone can have one in the living room and then a matching one in the breakfast room and a runner for the kitchen. That's how we expect it to be sold."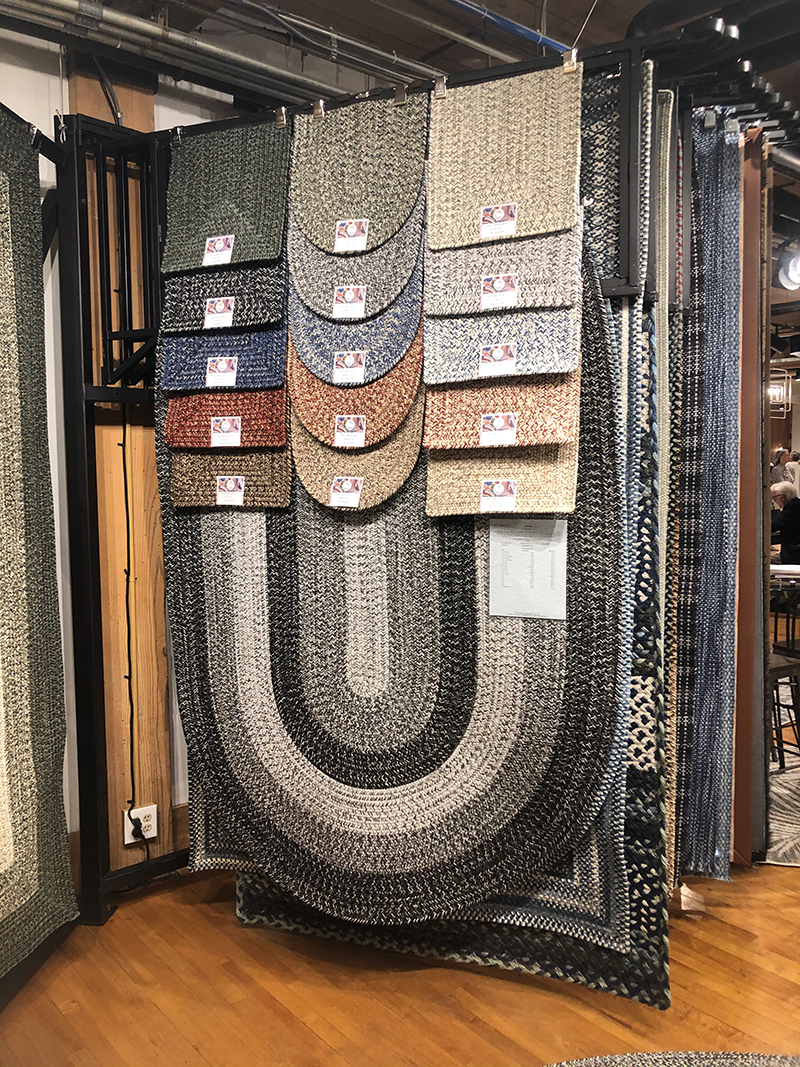 And as a sneak peek into the future, Capel displayed a preview of its two licensed collections with Geneive Gorder and Coco Cozy. From textural flatwovens out of India to PET yarns from Turkey, Capel said the lines will be very different and unique.
Momeni also recently expanded its designer partnerships with The Novogratz and Erin Gates and brought several new additions to the market.
The Novogratz pieces are machine-made and have a vintage style, while Gates' pieces have a more organic feel reminiscent of deserts and mountains.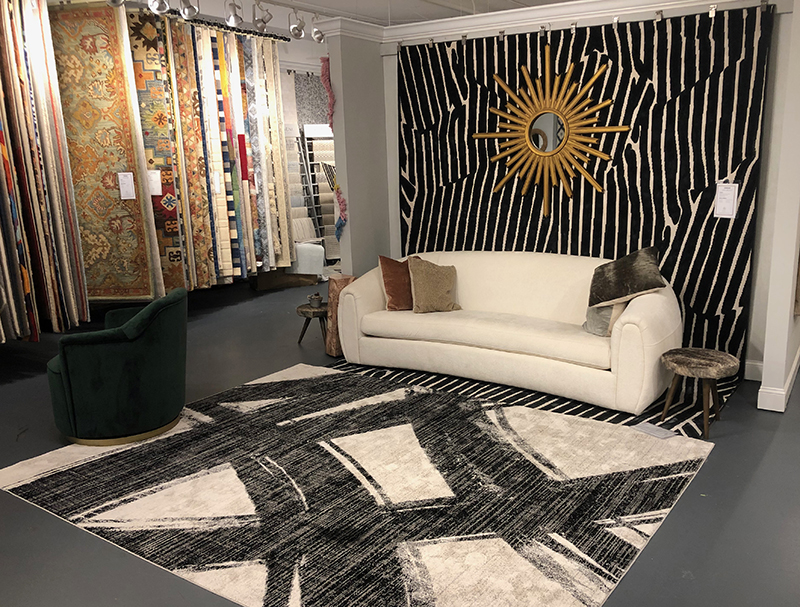 On the other end of the spectrum, Momeni displayed its Xander and Noho rugs, which feature bold black and white patterns that the company's president Reza Momeni said are in right now.
Also available in black and white—as well as several other colors including a deep blue and earth beige—is the new Simba collection, which was also popular for Momeni this market.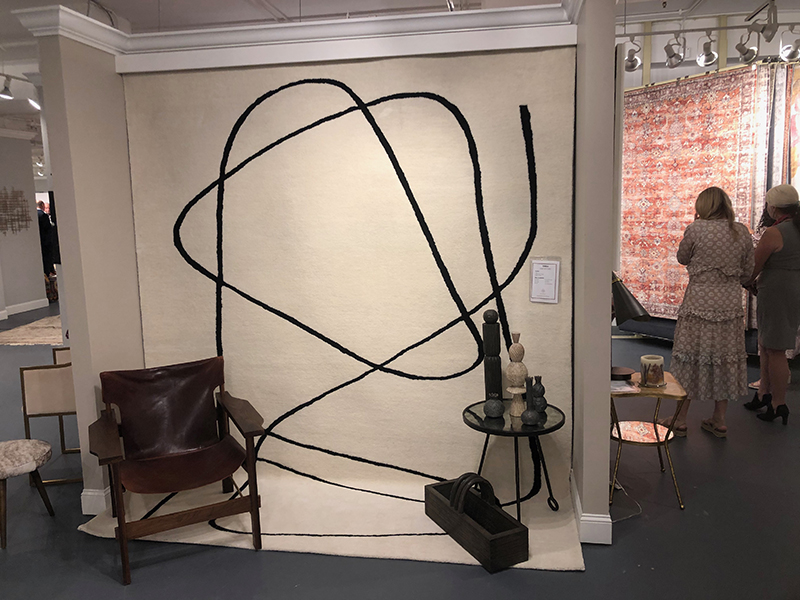 With this many new introductions and the exhilaration around the return to a feeling of normalcy, the future looks bright for the rug industry. And the next market is sure to bring even more excitement.