David Samad, co-founder of the venerable wholesale rug firm, Samad, has been in the area rug industry his entire life. And while he hates to admit it, his 47 years in the business make him an industry veteran.
But rugs aren't Samad's whole life.
In 1994, David signed up to run the New York City Marathon in honor of Simon Banilevi, a dear friend of his who had lost his fight to cancer the year before. When it came time to run in November of '94, he completed the 26.2-mile feat—Samad's first marathon and the longest distance he'd run to date.
"If you'd asked me to sign a waiver at the end of the race to say that was the first and last marathon I'd ever do, I would have signed on the dotted line," Samad says.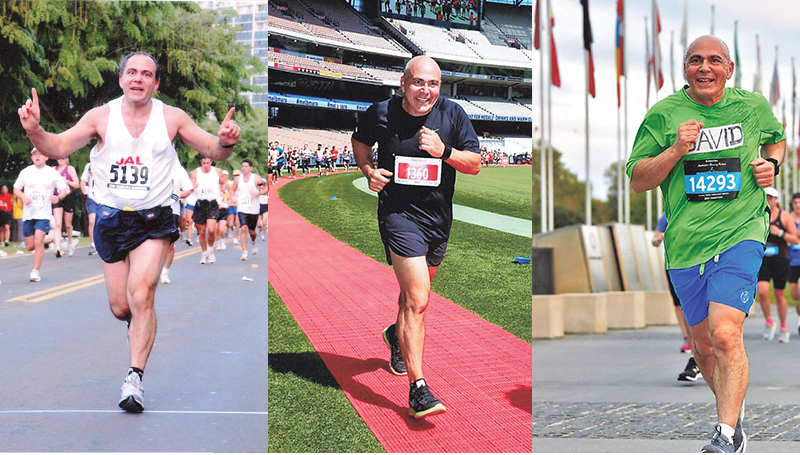 2004 HONOLULU — 2015 MELBOURNE — 2019 CANBERRA
But now, 28 years later, he's completed 82 marathons in 18 states across the U.S. and in 10 different countries around the world.
It became more of a challenge for Samad, and he wanted more. That led him to London, and eventually India, Australia, France, Israel, Cambodia, Singapore, Hong Kong and Canada.
"It was intriguing, and I started getting very serious about it," he says. "I started running four to five marathons a year. And actually in 1995, I ran my personal best—3 hours, 21 minutes and 34 seconds."
So, is he crazy?
"It's just one of those personal challenges that I think I want to keep doing as long as I can," Samad says. "Although I have to say it's not getting any easier."
While Samad is personally interested, he also says marathons have intrigued the minds of many people all over the world and have become a nice healthy hobby. He says that it became a personal goal for him and one that he loved accomplishing simply for himself.
With a diagnosis of Asthma in his twenties, running, as his doctor told him was the best thing he can do.
"In a way it's been the best medicine for me, to keep my lungs healthy," Samad says. And when I see my pulmonologist he says I'm defying what someone in my condition should actually be, and it's an amazing thing. So honestly, it's for my own good."
He also says there's a connection between the rug industry and marathons.
"Marathoners say the race begins at mile 20 and endurance is key. Like the rug business, It's not a race, it's a journey­."
"There''s an old saying that seasoned marathoners say: the race begins at mile 20 and endurance is key," Samad explains. "In many ways, I equate that to owning our own business and the ethic behind that. Like the rug business, the marathon is not a race, it's a journey. It's all about competing, and you want to do it right, but at the end of the day, it's more about showing up! Am I ever going to win a marathon? Certainly not. But again, it's a courageous thing to do to just compete—it is precious."

Is there an ultimate goal Samad has in mind? "My goal is just to do one at a time, just get one more under my belt and keep crossing the finishing line with a smile on my face, it's a long road but a really rewarding one."

David is married to his lovely wife Johanna and they have three children and one grandson.